Glass & Window Protection
Read This Today! Why You Need Jobsite Window Protection Right Now
October 24, 2022
We care about the construction professionals we proudly serve. So, when we see a risk developing with the potential to make a huge dent in client profits we want to shout about it from the rooftops!
This is one of those times.
Why? Because due to the rising cost of glass and the expense of replacing aluminum frames, some of the repair bills for damage repair we've heard about from construction pros are truly the stuff of nightmares.
The good news is that the cost of repair is now at an all-time low vs the cost of prevention.
We've compiled some simple recommendations to immediately remove the risk of damage…
Jobsite Window Protection: A 'Perfect Storm' (And How To Avoid It)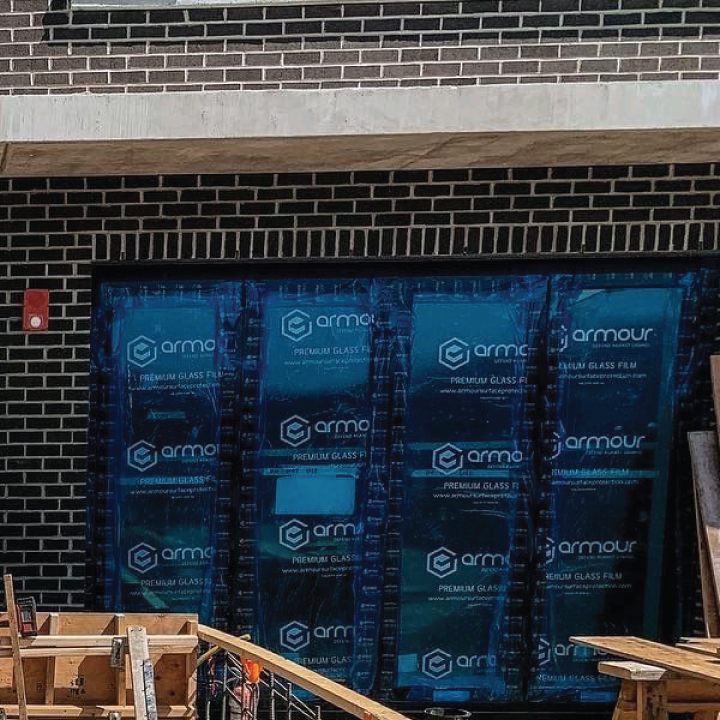 All it takes is for someone pushing a cart past a window and becoming distracted, or a trade with a tool belt losing their footing, and damage to a window or frame can happen in a flash.

In Axiom HQ we're even starting to believe in 'Murphy's Law' as this damage always seems to find the biggest and most expensive window on the site!

But what makes this scenario even more of a problem for construction professionals than usual? Simple…

• Glass price increases: The cost of glass itself has risen dramatically due to the expense of transporting raw goods.

• Cost of metal window frames: For similar reasons, window frames – often made from aluminum – are an expensive item to replace right now and could be a jobsite budget-destroying undertaking as a damage repair.

• Location of damage: Curtainwall glazing (the large-scale windows found on the mid and hi-rise projects many of our clients work on) is particularly costly to replace, making damage something to actively avoid.

Thankfully, jobsite window and glass protection products purpose-designed to avoid the risk are tried, tested and can be relied on to perform.

Recommended protection for window frames…

• 1, Proven scratch protection: Armour Multi-Use Protection Tape is effective on aluminum, PVC and even wood frames thanks to its easy application and clean removal. A thick protective surface means scuff and scratch protection at a great price.

Tip: Three different widths are available to make it easy to match the right size of tape to your project. 
• 2, Or upgrade to awesome impact resistance: Our clients LOVE the effectiveness of Armour Foam Edge Protectors O Profile and U Profile thanks to their simple friction fit (so no tape is needed!).

Tip: Don't forget that foam edge protectors are super-reusable and can be kept for use time and time again.
• 3, Protect frames AND glass with one product: A protection solution every construction pro should see due to its ingenious application method, Armour Liquid Mask is painted on then peels off when the project is completed!

Tip: Although only designed for indoor use, your liquid mask can also be used for bathtubs, showers, sinks and other hard surfaces making it a superbly cost-effective product.
Recommended protection for glass…

• 1, Glass film with UV protection: You can trust Armour Premium Glass Film 90 Day and 180 Day for an easy-fit, effective solution designed to be applied directly to the glass itself.

Tip: A great choice for scuff and scratch protection with your choice of clean removal duration.
• 2, Impressive impact resistance: Be sure to assess the impact protection offered by Armour Protection Board – Translucent for the reassurance of shock resistance without blocking natural light.

Tip: A simple 'cut to size and fit' product, Armour Protection Board – Translucent can be removed and reused again and again.
• 3, New! Self-Adhesive high impact protection: Our innovative new Armour Pro-Tack Felt product has enough sticking power to cling to glass for 90 days but will remove cleanly. The felt features spill protection too.

Tip: Remember, you can request a sample of this high-performance solution.
• 4, Dust protection and jobsite privacy: For areas with lighter traffic or where you need to block the public's view of your jobsite while work is ongoing, Bulldog Board Paper is an awesome option.

Tip: Keeping a role of this versatile product close to hand means you can also use it for walls, cabinets and more.

Not sure which solution is right for your project? Request project assistance or a quote from our temporary surface protection specialists here.
Jobsite Window Protection: Psst…One More Thing!
Windows are often installed early during a building phase (for obvious reasons!), meaning a number of trades are still working on the project when the windows are already in place.
Remember to check whether you need light to transfer through a window while the project is ongoing as using a 'workaround' solution instead could leave everyone on the jobsite working in artificial light!
Also, keep in mind that temporary surface protection solutions are MUCH easier to test for yourself when you see the product in person. Request an Axiom Sample Box here and we'll even include a free pack of candy to say thanks!
Effective Window Protection: On Your Jobsite As Fast As Next Day
Based in North America? Simply order online today and you could have your window protection as fast as tomorrow. Our dispatch process begins the second an order is received!
We don't just supply window protection, our superb range is separated into eight protection types for your convenience:
✓ Floor protection: Including custom-printed Armour Protection Boards
✓ Door and edge protection: Including Armour Door Protection Sleeves
✓ Stair tread and riser protection: Including Armour Stair Tread Protector
✓ Kitchen and bathroom protection: Including Bathtub Protection Liner
✓ Adhesive protection tapes: Including Armour Multi-Use Protection Tape
✓ Glass and window protection: Including Armour Premium Glass Film
✓ HVAC protection: Our recommendation? Armour Premium Duct Film
✓ Dust control: Including Zipwall Dust Barriers
✓ Installation tools: Including Carpet Film Applicator
Remember: there's NO need for guesswork when it comes to figuring out the best products for your next jobsite, simply call our free Project Assistance service.
Whether you order right away or reach out for advice first, we'll be proud to help you save time, save money and look good on your jobsites. It's what we do!
See also: Everything You Need to Know About Temporary Surface Protection Tape, Revealed! Our Most Popular Temporary Surface Protection Products