Hints & Tips
Why Surface Protection Can Fail In High-Traffic Areas! (And How To Avoid It)
June 27, 2023
The key to lasting temporary surface protection in a high-traffic area of your jobsite is really (really!) simple: the surface is only protected IF the protection stays in place.

Why is it so important to check that a product will do this? Well, if your surface protection isn't well-selected and up to the level of traffic expected it can come loose at any time, leaving you with a sudden risk of finished surface damage or even an instant trip hazard underfoot.

Keep reading to discover the essentials you need to know about high-traffic surface protection…
High-Traffic Surface Protection: Assessing The Risk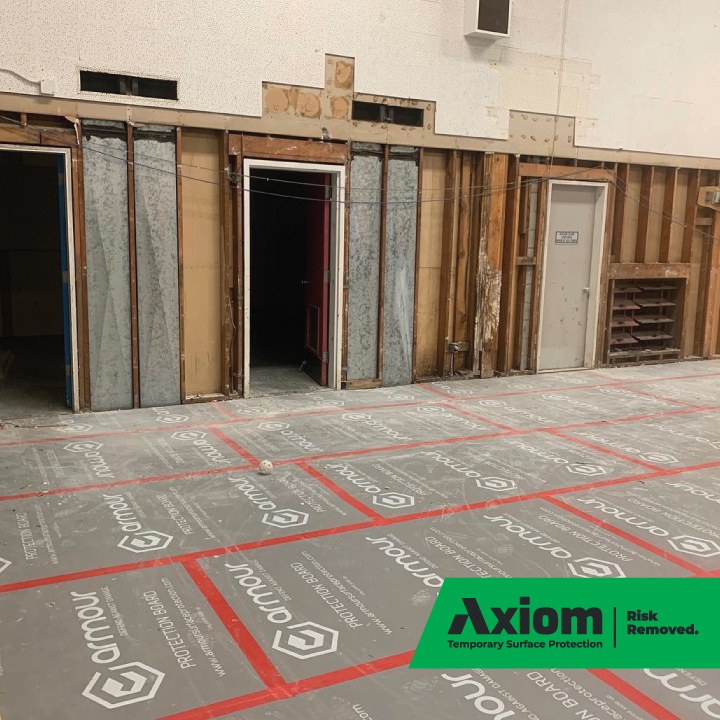 Look at it this way: areas like elevator lobbies, hallways, entrances and stairways attract the most abuse on a jobsite.
In other words, they are the most vulnerable to damage and also the most likely to fail if a low-quality or poorly matched surface protection product is used.
Thankfully, picking the level of surface protection you'll need (Tip! We offer FREE project assistance to help) is pretty straightforward.
Just ask…
• How long will the high-traffic area attract so much activity?
• What type of traffic, such as foot traffic, lifts and carts or heavy equipment perhaps, will be in the area?

• How valuable is the floor needing protection?

• What level of durability does the floor itself offer?
• Are there moisture challenges including a risk of rain or dirt being tracked in?
These five questions will help to gauge the performance you'll need from temporary surface protection to be assured of a super-reliable level of protection.

Tip: Don't forget that edge protection may be needed to keep corners safe from trades constantly brushing past with tools and equipment.
High-Traffic Surface Protection: Choosing The Right Products
Carefully selected temporary surface protection that's been made for high-traffic areas means lasting risk removal and safer walking surfaces. The result? Your protection products will immediately secure the integrity of the area and maintain that integrity during work.

Purpose-made surface protection products for high-traffic areas include films, tapes and boards but – ultimately – the key features to look for across any solution will tend to include the level of tear resistance and impact protection you'll need.

Tried and tested solutions you can trust to perform include:

• Armour Defender-Guard: Super durable and will last for long periods of time under heavy foot traffic with high tear resistance and waterproofing performance too.
• Armour Protection Fleece: Offers great durability and value with a soft non-abrasive side as well as an anti slip design so it stays in place. Also available in breathable version.
• Armour Protection Board – Black: Choose from Black 2mm thick, Translucent 4mm Thick, Grey 4mm thick high density or even the NEW Armour Protection Board – Green HD for the ultimate long-lasting protection solution.
• Armour Pro-Tack Felt: A newer option offering amazing durability for long-lasting situations.
Another way to approach your choice of product is to think about 'durability, installation and effectiveness'. Finding the right balance between lasting performance, ease of installation and risk removal specification is a sure way to benefit from the ideal solution for your unique jobsite risks.

Reminder! A free Project Assistance option for quicker, easier selection of the right risk removal products is available for construction pros.
Assured Protection For High-Traffic Areas: Your Next Step
There are two awesome ways to make your surface protection super-easy to choose and order.
Accessing our latest catalogue – available as a PDF or printed version – means you can plan all your temporary surface protection for a jobsite at a glance.
Simply use our free Axiom Sample Box service to try a product before you buy.
Why trust Axiom? Well, we're the marketing leading temporary surface protection specialist thanks to…
✓ More choice: We never stop searching for the very latest innovations to add to our range
✓ Buying direct: Our solutions come straight from the manufacturers, meaning we can work together on pace-setting news ideas
✓ Market-leading expertise: We're renowned as experts because temporary surface protection is all we do!

Most of all, we're passionate about helping you save time, save money and look good on your jobsites. And we think it shows in everything we do.
See also: 5 Ways Axiom's Complete Surface Protection Delivers for You, A Surprising Cause of Jobsite Surface Damage!