Hints & Tips
A Surprising Cause of Jobsite Surface Damage (You Might've Overlooked!)
May 23, 2023
Construction pros like you often contact our temporary surface protection specialists after something like a paint spill, impact damage or broken custom glazing has caused chaos for their budget and schedule.

The one thing these jobsite accidents always have in common? The real cause of the damage happened before the person even started work on the jobsite!

Read on to find out why…
Jobsite Surface Damage: A BIG Error to Avoid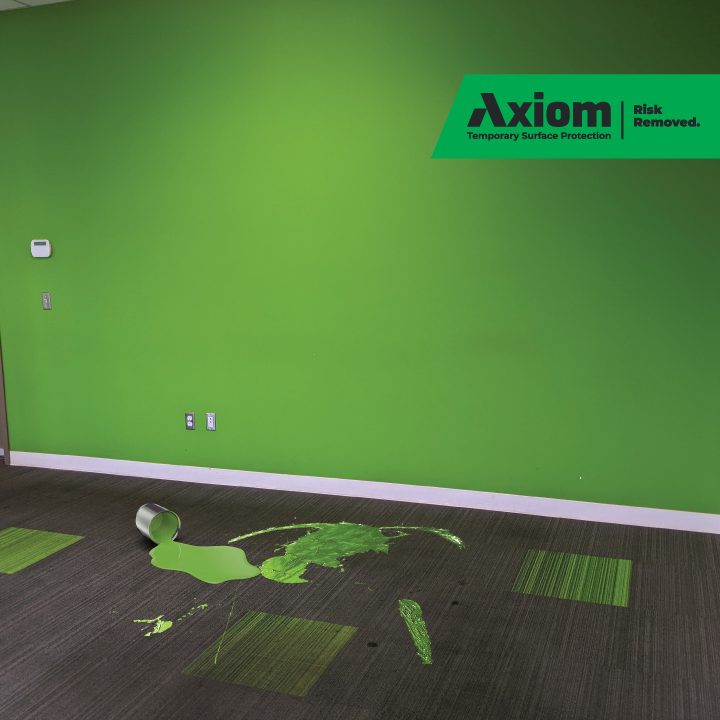 When we hear about a jobsite problem like a destroyed carpet or a damaged bathtub we can usually guess that one thing was the ultimate reason: too much haste and not enough speed when planning jobsite finished surface protection!

The issue? The construction pro will have rushed their choice of surface protection, used a generic product or – most of all – failed to use the free personal support available to find a rapid solution they could trust to perform.

Here's why this is such a costly way to go about organizing surface protection…

1. The risks are too high for guesswork: As someone who knows construction inside out, we know you're also a pro when it comes to managing projects.

But although relying on individual experts is a regular occurrence in construction it can be tempting to guess the right surface protection solution instead of speaking to a specialist. The result, at a time of squeezed budgets and labor shortages, can be extremely costly in terms of dollars, your schedule and even your reputation too.

2. One size doesn't fit all: You'll probably be aware – for example – that one type of floor protection is made for carpet and another, with a different adhesive, is available for tiled floors. And you'll have seen what happens when floor protection without waterproofing becomes ripped and soggy underfoot.

This is why professional temporary surface protection can't be a case of 'use whatever is in the truck!'. Discovering too late that a floor has been left covered in adhesive from the wrong product or – worse – someone on a jobsite has tripped over a floor covering that's torn up in the wet is always a gutting experience for a construction pro.

3. Expert help is rapid…and free: Using Axiom's knowledgeable personal support doesn't need to slow you down, in fact, help that's super-fast by design is ready and waiting.

This means quick access to samples and pricing plus project assistance (or even a site visit!). Axiom personal support also works how you want to work, through video calls, a face-to-face site meeting, text message, phone call or whatever suits best! Finally, fast shipping from local inventory is available direct to site as fast as next day.

That's why using specialist personal support means the reassurance of high-performance temporary surface protection with damage risk removed from your jobsite. Plus, leveraging all the services available means a speedy solution too.
Jobsite Surface Damage: A Professional Solution Looks Like This…
The key thing? Knowing that temporary surface protection is as much about the personal service behind choosing the right product, AND a rapid supply to your site, as it is about the product itself.

That's why a professional approach to surface protection worthy of the risk level on your jobsites should look like this…

✓ 1, Before: Free project assistance is there to be used! Your Axiom specialist will ask questions about the finished material needing protection, how long the surface needs to be covered, the type of traffic putting the finished surface at risk and more.
Also, using a product for the first time? Ask for rapid-shipped samples so you can touch and feel the risk removal solution for yourself.

✓ 2, During: Expect your products to arrive wherever you need them (including on your jobsite) as fast as next day with updates on processing and delivery.

Our tip? Always ask where your nearest distribution centre and inventory are located so you'll know how close you are to both your products and also to any more of the same solution in case you need it.

✓ 3, After: A professional supplier will want to follow up to check on the delivery and confirm the product is performing for you.
In the case of Axiom, we go one step further by making sure – in the unlikely event you aren't happy with the product – we stop at nothing until you're 100% satisfied with your surface protection.
Ultimately, we do all of this because we know it makes a difference for our clients at a time when running an efficient jobsite is super-important.

The results when we work with a construction pro simply speak for themselves…
• "Outstanding customer service! Axiom Premium Carpet Film installs better and is more durable over other carpet protection…"

First General Branch Manager, ON
• "We are pretty confident this product gave us major protection. Also we were amazed how fast they were to order…"

Armour Protection Board buyer N.X.II Holding, BC
• "Axiom provided us with premium protective tape thousands of dollars in dealing with aluminum frame damage and scratches…"

Assistant Superintendent, EllisDon Construction, ON
• "These protectors (Armour Stair Tread Protector) are AWESOME. I can't believe how well they have held up against…three weeks of constant abuse. I'll be honest, my Superintendent was a little skeptical when I told him the cost, but these have performed as good or better than anything we've tried that's multiple times more expensive"

Project Engineer, PC Construction, USA
We think we've made saving time, saving money and looking good on your jobsite through temporary surface protection easier than ever. But if you have a suggestion to improve our service to you even more simply tell us! We take every idea and all feedback on board.
(Images: CPS Flooring, Rogers Centre project, Toronto).
Faster, Specialist Temporary Surface Protection: How It Happens
Because time is money on your jobsite (and now more than ever!) we've built our entire customer service and dispatch network around giving you the right products wherever and whenever you need them. Every time.

And thanks to distribution centres in BC, AB, MB and ON we can serve construction pros across Canada AND into North America too.
✓ Direct-to-jobsite delivery
✓ Arrives as fast as next day
✓ Shipping process begins the second your order is received

For most clients, this means any advice or formal quote needed happens super-quickly then every order we receive – including instant online orders from our website – is rushed to the closest Distribution Centre to the project for rapid dispatch.
As always, whether you order right away or reach out for advice first or an Axiom Sample Box first, we'll be proud to help you save time, save money and look good on your jobsites. It's what we do!
See also: Order Your Axiom Sample Box here!, Explore Your Axiom Pro Tips Archive