Case Studies
How Do You Protect Floors On A $100+M Jobsite? This One Product Was Key!
November 14, 2022
When Bird Construction specified temporary surface protection for their astonishing Brookfield Residential YMCA at Seton project in Calgary, the sheer scale of the 333,000 square foot jobsite combined with their lean construction methods meant any waste of time or money was off the table.
That's why Bird Construction worked with their Axiom temporary surface protection specialist to make sure their solution would be installed quickly, work beautifully and look professional. Every time.
Read on to discover what made the Brookfield Residential YMCA project so special and why one product became a keystone finished surface protection solution during a project with little margin for error.
Introducing: Brookfield Residential YMCA
The Brookfield Residential YMCA at Seton, or Seton Recreational Facility, took four years to develop and features a water park, competition pool, diving, ice rinks, gymnasiums, theatre, art space and full-service regional library!

It's worth taking a moment to appreciate the full attractions list for the facility:
• Two NHL size hockey arenas
• Three gyms with running track
• A surf simulator
• An Olympic size pool with a movable bulkhead (making it possible to split into two pools)
• Olympic-sized diving pool with diving towers with platforms at four levels
• Water park with 'lazy river' and two water slides
• City of Calgary Public Library (25,000 square feet)
• 178-seat production theatre
• Fitness/aerobic studios
• Art studio and gallery space
• Two dance studios
• Daycare facilities for 68 children
• LRT station for mass transit
For the three stories high building, set into the side of a hill, Bird Construction pre-qualified thanks to the company's experience working on the contract for Remington YMCA Quarry Park Recreation Facility, also in Calgary.

The schematic design for the Brookfield Residential YMCA at Seton project is available here.
Two Problems: Scale And Process
Every construction professional knows that damage to a finished surface can play havoc with a jobsite budget and schedule, even creating a knock-on effect.

That's why a $121m project couldn't risk the disruption of finished surfaces needing to be repaired or replaced. In particular, the scale of some of the flooring across 333,000 square feet of jobsite made major repair works unthinkable.

Plus, Bird Construction insisted on running an ultra-professional jobsite with planning based heavily on virtual design and communication built around the use of tablet computers.

Part of this professional ethos included the use of lean construction to reduce labour and avoid wasting materials.

Any temporary surface protection solution, therefore, had to have saving time and saving money at its core. Which created an opportunity for one particular product to shine.
The Solution: Armour Protection Fleece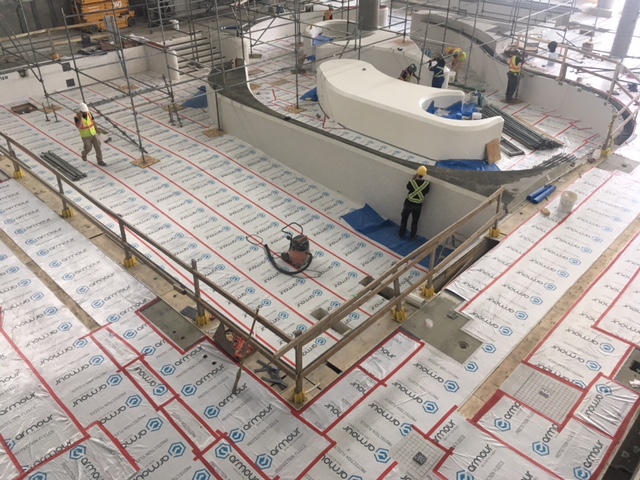 The experts at Bird Construction found that the flexible capabilities of our Armour Protection Fleece offered a high standard of performance on the Brookfield Residential YMCA jobsite.

One Bird Construction Supervisor explained that the product, featuring 160gsm non-woven synthetic fibres with a tacky anti-slip coating on the underside as well as a waterproof layer on the top side, offered "versatility and protection" beyond any other.

"I have not found another product that offers the versatility and quality of protection that Axiom Fleece provides. The ease of installation and removal is also a huge advantage and saves time and money.
To add to this the waterproof protection is second to none and I have yet to have an issue with paint etc. seeping through to the finished floor beneath. All around a great product at a reasonable price," he added.
Armour Protection Fleece works particularly well for hard floor protection, such as polished concrete, hardwood and LVT, for three big reasons:
• Non-abrasive surface underside
• Stay-grip design
• Protection against liquid spills

However, it is commonly used to protect cabinets, countertops, shower bases, stairs, and much more.

Available in two sizes as part of the Axiom floor protection range, the product can even be used with custom printing for the ultimate professionalism on a jobsite.
Armour Protection Fleece: How To Order Yours
Based in North America? Simply request a sample or order online today and you could have your Armour Protection Fleece sample or full order as fast as tomorrow. Our dispatch process begins the second an order is received!
Remember: there's NO need for guesswork when it comes to figuring out the best products for your next jobsite, simply call our free Project Assistance service.
After all, we're the marketing leading temporary surface protection specialists:
✓ Choice: We never stop searching for the very latest innovations to add to our range
✓ Direct: Our solutions come straight from the manufacturers, meaning we can work together on pace-setting news ideas
✓ Expertise: We're renowned as experts because temporary surface protection is all we do!
Whether you order right away or reach out for advice first, we'll be proud to help you save time, save money and look good on your jobsites. It's what we do!
See also: Why You Need Jobsite Window Protection Right Now, Fall Weather = Jobsite Damage! How to Protect Your Work