Floor Protection
Fall Weather = Jobsite Damage! Three Ways To Protect Your Work
October 6, 2022
If you can afford the time and money to do work twice over on a jobsite (and especially in this economy) then we'd love to know your secret! For everyone else, protecting finished surfaces from damage is simply a no-brainer.
This becomes even more important during Fall when more damage risks start to creep into a jobsite and the chances of a finished surface being destroyed are at their highest. The good news? This scenario is very, very preventable.
We asked our jobsite temporary surface protection experts for three must-see ways every construction professional can keep Fall damage away from their jobsites. PLUS! A reminder of an easily-overlooked Fall risk factor your surface protection products can help address….
Fall Jobsite Protection: Three Essential Pro-Tips
The biggest Fall surface damage risk? A hugely increased likelihood of rain, snow, ice, mud, dirt, grit and rocks being tracked into a finished space.

This means stopping these surface-wrecking risks from going everywhere is a priority for an efficient jobsite.

Here's how to make it happen using three layers of protection…

• 1, Stop snow, dirt and grit at the door: Walkways approaching a building can be turned into active mess-stopping areas by using Armour Grip-Terra Mat.

How it works: Armour Grip-Terra Mat uses a high-performance rubber material to let water and dirt pass through while turning rough terrain into a safe walkway. The product is simple to clean and completely reusable.
• 2, Cleaner boots mean risk removed: Once inside, a proven secondary prevention mechanism can be trusted to deliver awesome results. Use Armour Tak-Mat Pads to grab any remaining dust or debris from footwear for a cleaner jobsite with less surface damage risk.

How it works: Armour Tak-Mat Pads are especially effective for jobsites in the finished stages. Supplied in a pad with 30 sheets, simply peel away the top sheet each time to reveal a new, clean sheet beneath.
• 3, Surface protection defends your finished work: Your normal choice of temporary surface protection products should now be used as the last line of defense against damage.

How it works: The right professional temporary surface protection products for Fall use will include waterproof features to stop the elements from, for example, soaking through the floor protection and going right through to the floor below. It's vital to choose wisely as some products, like paper-based protection, can weaken over time in Fall conditions.

Need help finding the right combination of protection? Request project assistance or get a quote from our temporary surface protection specialists here. 
Fall Jobsite Protection: An Important Reminder!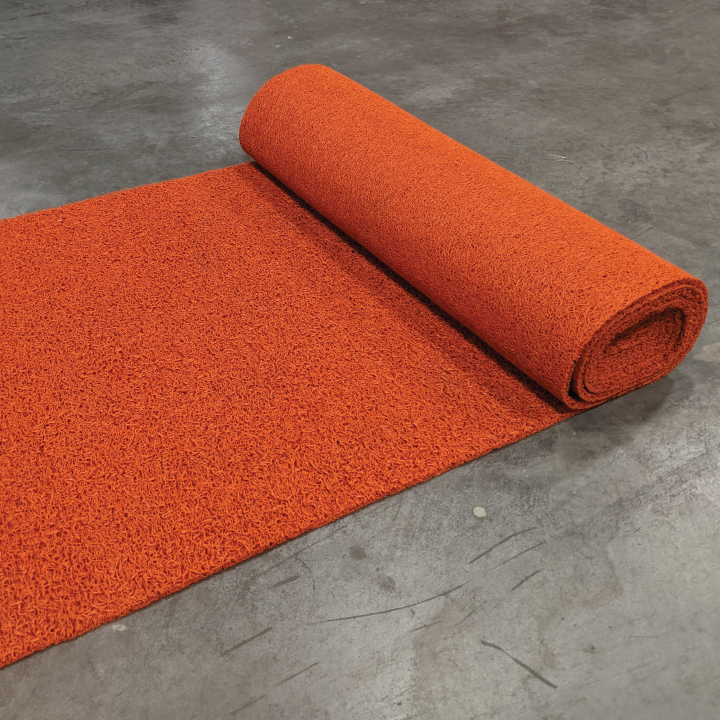 The impact of Fall weather on health and safety for staff on a jobsite can be easy to underestimate.

After all, slippery ground plus uneven surfaces plus snow and ice make for a dangerous combination.

Thankfully, temporary surface protection can be a huge safety enhancer onsite as tidier, clearer, dryer and more even surfaces deliver much, much safer surfaces for walking between jobsite areas.

For example, the Armour Grip-Terra Mat features a bright orange design for awesome visibility and will create a cleaner walking area with better grip thanks to its 1/2in thick heavy-duty permeable rubber material.

Temporary surface protection products are MUCH easier to assess when you can try them for yourself. Request an Axiom Sample Box here and we'll even include a free pack of candy to say thanks!
Fall Jobsite Protection: On Your Jobsite As Fast As Next Day
Spending time searching around for the right temporary surface protection product is time wasted! Here's why our market-leading temporary surface protection range delivers everything you'll need within a few clicks…
✓ Choice: We never stop searching for the very latest innovations to add to our range
✓ Direct: Our solutions come straight from the manufacturers, meaning we can work together on pace-setting news ideas
✓ Expertise: We're the market-leading experts because temporary surface protection is all we do!
Based in North America? Simply order online today and you could have your temporary surface protection as fast as tomorrow. Our dispatch process begins the second an order is received!
Remember: there's NO need for guesswork when it comes to figuring out the best products for your next jobsite, simply use our free Project Assistance service.
Whether you order right away or reach out for advice or an Axiom Sample Box first, we'll be proud to help you save time, save money and look good on your jobsites. It's what we do!
See also: Our Temporary Surface Protection Insights Archive, What Makes These Our Five Most Trusted Floor Protection Solutions?