Hints & Tips
Not Using Surface Protection Product Samples? You're Missing Out! Here's Why…
July 11, 2023
Taking a moment to order a product sample as part of your jobsite temporary surface protection plans might be a step you're tempted to skip. But you'd be losing out on way more benefits than you might think!
The temporary surface protection experts at Axiom – home of the original Axiom Sample Box! – strongly recommend using samples as part of temporary surface protection evaluation.
Read out to find out why the benefits of using a temporary protection surface make 'try before you buy' a no-brainer for your next jobsite…
Temporary Surface Protection Samples: Three Reasons To Order Yours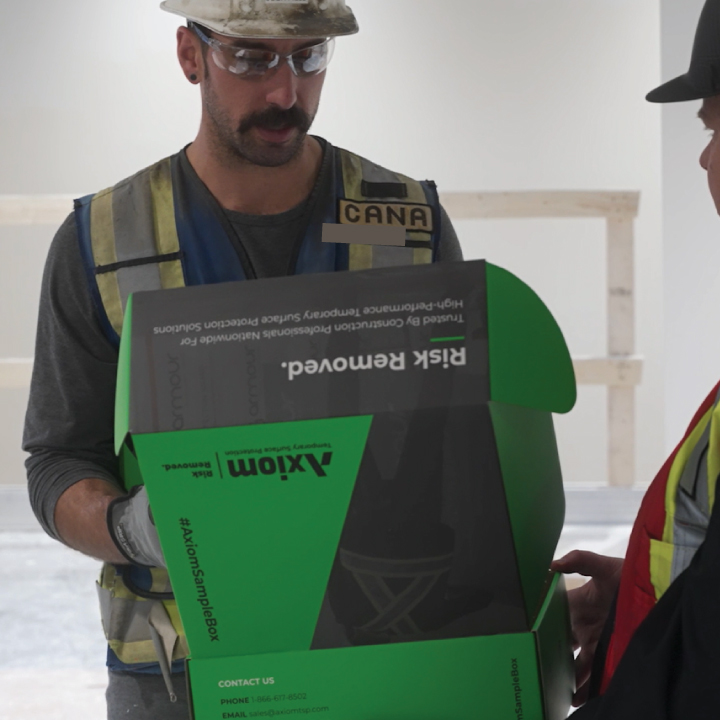 Once you think about ALL the benefits of temporary surface protection samples it'll change how you evaluate surface protection for good!
Tangible Experience: Say goodbye to guesswork! With samples in hand, you can actually touch and feel the product. This eliminates the need to rely solely on online spec sheets, photos, and videos, allowing you to make informed decisions based on firsthand experience.

Complete Evaluation: Don't leave anything to chance. Temporary surface protection samples enable you to conduct complete evaluations encompassing quality, performance, and suitability. By performing small tests, you can ensure the product is the perfect fit for your specific jobsite requirements.

Saves Time (and even prevents possible damage!): Avoid time wastage and potential damage. By trying out samples before making a purchase, you save yourself from the inconvenience of sourcing a replacement if the chosen product doesn't meet your needs. Furthermore, this proactive approach prevents the costly repercussions of using the wrong surface protection, protecting your surfaces and preserving your project's timeline.
By incorporating temporary surface protection samples into your planning process, you gain confidence, save time, and mitigate the risks of inadequate protection. Most of all, having confidence in your temporary surface protection order means you can start work on a jobsite knowing that finished surfaces are properly protected.
The Axiom Temporary Surface Protection Sample Box: How It Works
Our Axiom Sample Box service is famous on jobsites across Canada (and not just because of the free pack of candy we include as our thanks to everyone who orders one!).
Each box usually includes the sample-size testers of your choice from our most popular temporary surface protection solutions, such as…
Armour Protection Board – Black
Armour Protection Board – Translucent
Armour Protection Board – Grey
Armour Protection Board – Green HD
Armour Tape
Bulldog Board Tape
Armour Defender-Guard Lite
Armour Defender-Guard
Bulldog Board Lite
Bulldog Board
Armour Protection Fleece
Armour Neoprene Floor Runner
Armour Pro-Tack Felt
Armour Foam Edge Protector – O Profile
Armour Foam Edge Protector – U Profile
Armour Foam Door Jamb Protector
Armour Multi-Use Protection Tape
However, we can also supply other product samples and even full-size samples. You can request these via our website or from your Key Account Manager.
Our primary objective at Axiom is to support you in making informed decisions for your jobsite. The Axiom Sample Box, measuring 12in X 10in X 5in, is carefully curated to provide the right amount of product for confident evaluations.

However, our focus is not just about quantity; it's about ensuring you have the right tools to make the best choice for your specific needs. If you require additional samples to conduct a more comprehensive evaluation, simply let us know! We are dedicated to offering convenience, flexibility, and an adequate supply of products through our Axiom Sample Box, enabling you to effectively assess our temporary surface protection solutions.
The Axiom Temporary Surface Protection Sample Box: How To Get Yours
Construction professionals can access our Axiom Sample Box service in three easy ways…
• Build your Axiom Sample Box online: Click here to start.
• Request Key Account Manager help: Your Axiom point of contact (there's a Key Account Manager for every region in North America!) will be glad to assist.
• Contact us: If you don't have a Key Account Manager, simply contact us by phone, text, or email. Whatever works best for you.
And what about the small print? Well, there is no small print! There's no charge, no obligation and no hidden surprises.
Remember, for even more help to put a damage risk removal solution together for your jobsite, our optional Project Assistance service makes finding exactly the right combination of solutions as simple as booking a call.
Why trust our specialists? Well, we're the market-leading temporary surface protection specialist because we eat, sleep and breathe temporary surface protection.
Questions? Let's talk temporary surface protection!
See also: Why Surface Protection Can Fail In High-Traffic Areas!, What Is Complete Temporary Surface Protection?