Dust Control
Three Ways Dust Control REALLY Delivers on Your Jobsite
January 13, 2023
Jobsite dust control does much, much more than 'just' keep harmless materials from going into your lungs (although that on its own is a good enough reason to use dust control!).
Our jobsite surface protection specialists have compiled the top reasons why dust control is essential for professionals. Why trust our experts? Simple, because they know a well-protected, cleaner jobsite is a safer jobsite and they're renowned for making it happen!
Here are three reasons why jobsite dust control works so hard to deliver big benefits for you (PLUS recommended products you can rely on to perform)…
Jobsite Dust Control: Why It Delivers Big
The features of professional, high-performance dust control products benefit your work in three powerful ways.
1. A better, more efficient working environment
Dramatically reduced clean-up time (after all, there'll be less dust to clear up!) is matched with the potential for rapid access into and out of the controlled zone without stopping or having to put down your tools!
The advantages of these time-saving measures are even more obvious when they're considered with multiple jobsites in mind across – say – one year. Why? Because all those minutes saved turn into hours and days! Plus, you create a better working environment for others on the same jobsite as a bonus too.
2. Safety, safety, safety
It's simple – if dust is in the air, you're breathing it! Containing the dust simply removes the risk at source for as much of your jobsite as possible.

Plus, the danger caused to others outside the dust-controlled area is also reduced as the chances of dust spreading and creating mess, or worse a safety hazard, across the jobsite.
3. Promotes a professional image
Professional dust control really enhances your image on a jobsite.
That's because your work in or near a public space, or even close to other construction pros, gives a great impression if you have a proper dust control set-up in place. In short, the public AND trades AND clients can see that you care and go above and beyond on your jobsites.

See what we mean? Now simply click to discover every dust control product you could need (and all available for delivery as fast as the next day!) or keep reading to discover our highly-recommended dust control products.
(Product shown: Armour Magnetic Entry Kit)
Must See Dust Control Products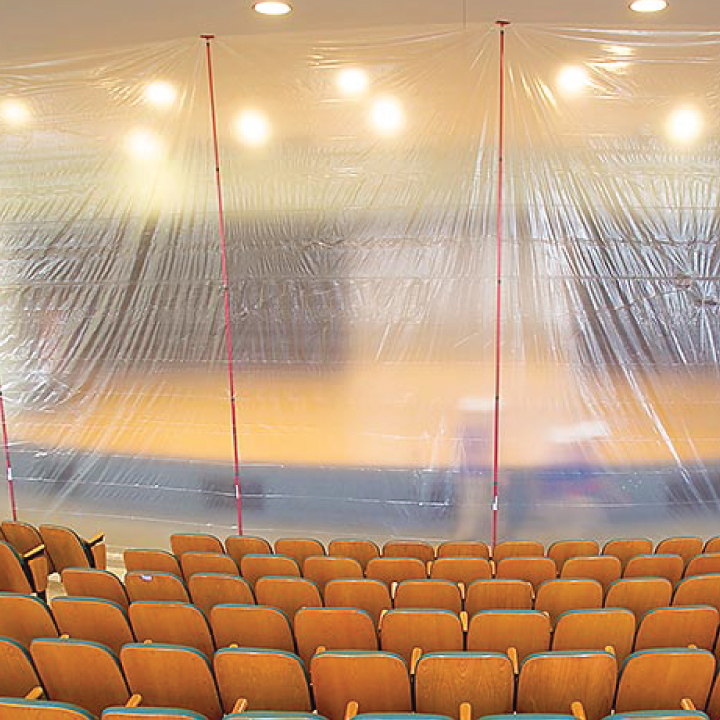 Our construction pro clients across North America LOVE these three popular dust control products, making them a great starting point when you're choosing the right solutions for your work.
ZipWall Poles
Often imitated! But other solutions fail to provide the patented features ZipWall pack into their fast and effective ZipWall Poles.

Available in 20ft, 12ft and 10ft options, each ZipWall Pole uses strong and lightweight stainless steel construction along with an innovative non-skid, non-marketing head and plate. The go-to for countless trades for good reason!

Find a wide range of kits and accessories here.
Armour Magnetic Entry Kits
Our clients constantly tell us how awesome these are!

Instead of using traditional zippers for entry, Armour Magnetic Entry Kits use magnets designed to allow you to walk through hands-free. The result? No need to worry about setting down your tools to zip the barrier.

PLUS the self-closing action of this impressive product ensures no unwanted dust gets through during the time when the dust barrier would otherwise be left open.
Buffalo Booties
Controlling dust can now start at floor level thanks to Buffalo Booties. They might look it, but they're no ordinary boot covers.
Highly durable and much longer lasting than cheap alternatives (making them a great investment) Buffalo Booties make sure dust doesn't track from your boots into finished spaces and vice versa.

To see these high-performance products for yourself, request an Axiom Sample Box. We'll even include a free pack of candy to say thanks!
(Product shown: ZipWall Poles – 20ft)
How To Choose Your Dust Control Solutions
We often hear these three questions from construction professionals choosing the right dust control for their jobsite, making them an awesome starting point when selecting the right products for a specific project.
1. I work with widely varying ceiling heights – help!
It's all good! As we mentioned, ZipWall poles come in 20ft, 12ft and 10ft options meaning the flexibility to adapt to different ceiling heights.

Every ZipWall pole adjusts quickly and securely to the exact ceiling height, even in high rooms needing 20ft of reach.
2. I'm confused by the types of poly sheeting
Let's fix that for you.

Light is great for draping over furniture to protect from dust and medium works really well for things like shorter height temporary dust barriers.
Heavy is perfect for the more demanding jobs with high ceilings or lots of traffic in and around the dust barrier. Finally, there's is Reinforced White offering the most durability for demanding work environments and is great for situations where you don't want anyone to see into the jobsite. That visual barrier is useful for projects like airport jobs.
3. I'm not sure where to start or what I'll need
In that case, it's hard to go wrong with the outstanding ZipWall Dust Barrier Toolkit.
It includes everything you'll need to arrive on a job and set up a dust barrier, up to 16 feet wide and sealed on all four sides, in just minutes. And because every item in the kit is premium quality, the pro-spec of the kit means it very, very much passes the 'buy once, buy well' test.
If you still have questions about your dust control for your jobsite, there's no need for guesswork and there's no cost for accessing specialist help. Simply click below for free answers!
Have a project in mind? We love to help! Contact us to book your free, expert Project Assistance session.
(Product shown: ZipWall Dust Barrier Toolkit)
Where To Source Your Dust Control
Construction professionals trust Axiom to simply deliver for their needs as we've renowned for helping every client to save time, save money and look good on their jobsites.
Here's how…
• Save time: Because jobsite damage means finding time for repairs, we remove the risk of schedule-wrecking delays and revisits.
• Save money: No construction professional likes to see a needless waste of their jobsite budget, making damage protection a no-brainer.
• Look good: Thanks to a smarter, cleaner, safer jobsite designed to make a big impact on clients.
Our superb range of surface protection products, including dust control solutions, is separated into eight protection types:
✓ Floor protection: Including custom-printed Armour Protection Boards
✓ Door and edge protection: Including Armour Door Protection Sleeves
✓ Stair tread and riser protection: Including Armour Stair Tread Protector
✓ Kitchen and bathroom protection: Including Bathtub Protection Liner
✓ Adhesive protection tapes: Including Armour Multi-Use Protection Tape
✓ Glass and window protection: Including Armour Premium Glass Film
✓ HVAC protection: Our recommendation? Armour Premium Duct Film
✓ Dust control: Including Zipwall Dust Barriers
✓ Installation tools: Including Carpet Film Applicator
Based in North America? Simply order online today for delivery as fast as tomorrow. Our dispatch process begins the second an order is received!
Whether you order right away or reach out for advice first, we'll be proud to help you save time, save money and look good on your jobsites. It's what we do!
See also: This Jobsite Error Cuts Into Your Profits, How Do You Protect Floors on a $100m Jobsite?!