Floor Protection
Why "Cheapest-Price" Floor Protection Cuts Into Your Jobsite Margin!
December 6, 2022
Here's a BIG thing about jobsite temporary surface protection: the impact of every product on the speed of installation, effectiveness and safety starts to multiply really, really quickly.
To give one example, picking 'just any' door or window protection material based on price alone might save a few dollars per window or door. But what happens when the extra installation time and damage risk is spread across dozens or even hundreds of windows and doors?! You can't beat those odds.
This warning definitely applies to floor protection too. That's why we'll be using the ever-popular and exceptionally effective Bulldog Board product to explain why picking protection entirely using price is a false economy risking harm to your jobsite margin.
Instead, read on to find four simple floor protection product questions you can use to stay on the right side of price vs quality…
How to 'Think Scale' (And Some Questions to Make it Easy)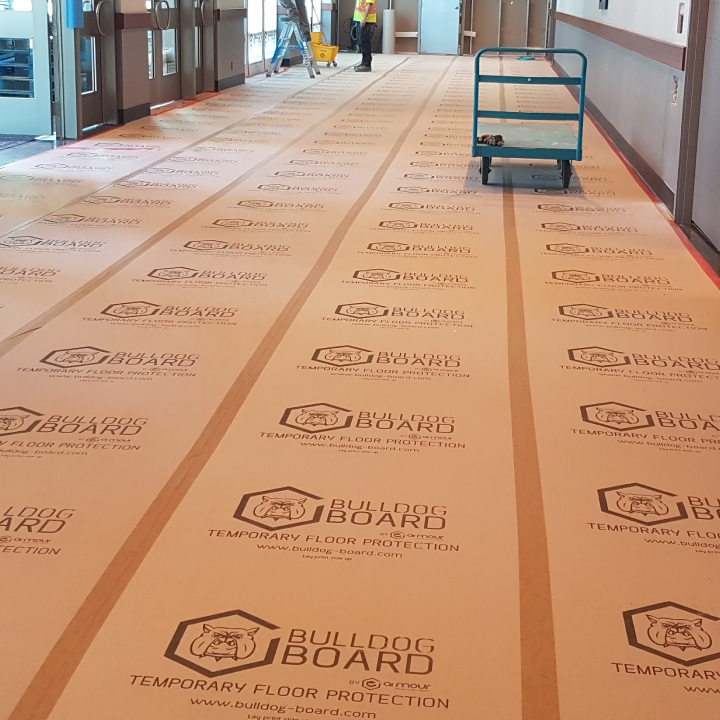 The golden rule? Think about the installation/ clean removal time and damage protection of a temporary surface protection product as something that'll repeat over and over on your jobsite as opposed to being a 'one-time' factor.
To make sure price consideration alone isn't swaying you into a false economy due to scale, these four questions – using Bulldog Board as an example – will show how to use product features and performance spec to protect your time and budget on a jobsite:
• 1, Does the product have enough thickness AND density?
Why it matters: Obviously, typically the more thickness a floor protection product offers, the more protection it'll give the floors beneath… but the density of the product is also just as important! That's why simply comparing price per roll is to be avoided.
How cheaper spec performs: Thin paperboard floor protection may fail and can rip or tear, leading to gaps in protection or even trip hazards.
How quality spec performs: Bulldog Board is made from a 42mm thick paperboard for the reassurance of consistent protection and resistance against the material coming apart in use.
• 2, What TYPE of recycled fibres are used?
Why it matters: Most paperboard floor protection products are made from recycled fibres, but performance-wise not all recycled fibres are equal! Choosing well means the difference between fitting protection once or having to waste time on replacements.
How cheaper spec performs: Paperboard made from materials like newspapers can disintegrate when you need it to perform.
How quality spec performs: Bulldog Board uses recycled cardboard fibres primarily for excellent durability and resistance to tearing. We even test this by parking a lift on the board and showing how the tire can turn without tearing the product!
• 3, Is it a 'lay flat' design?
Why it matters: Some products have a really low-quality 'memory' on the rolls and will spring back when you're trying to install your protection.
How cheaper spec performs: Cheap paperboard can constantly flip out of shape during fitting, a repeated waste of time and effort on your jobsite.
How quality spec performs: Bulldog Board simply lays flat the first time, every time to make installation fast and easy. This simple feature really counts over a large surface area! Plus, the purpose-made Bulldog Board Knife allows the board to be cut rapidly and safely, with no risk of damage to the floor below, thanks to its covered twin blade design.
• 4, Is wall protection included?
Why it matters: The edge of floor protection where it meets the wall is a point of vulnerability and needs extra care to avoid damage.
How cheaper spec performs: Inferior products with no wall barrier feature have a weak edge you can't rely on to stay in shape and keep performing, plus no protection overlapping onto the wall means an obvious 'Achilles heel' on your jobsite.
How quality spec performs: Bulldog Board has a crease in the board approximately 8in from the edge of each roll, meaning you can simply fold the board along the crease and use that 8in of protection up against a wall to protect the wall too. A hugely cost-effective extra value feature.
Want to see for yourself? Simply request a Bulldog Board sample – using our famous Axiom Sample Box service – to try before you order.
Ordering Your Bulldog Board (As Fast As Next Day!)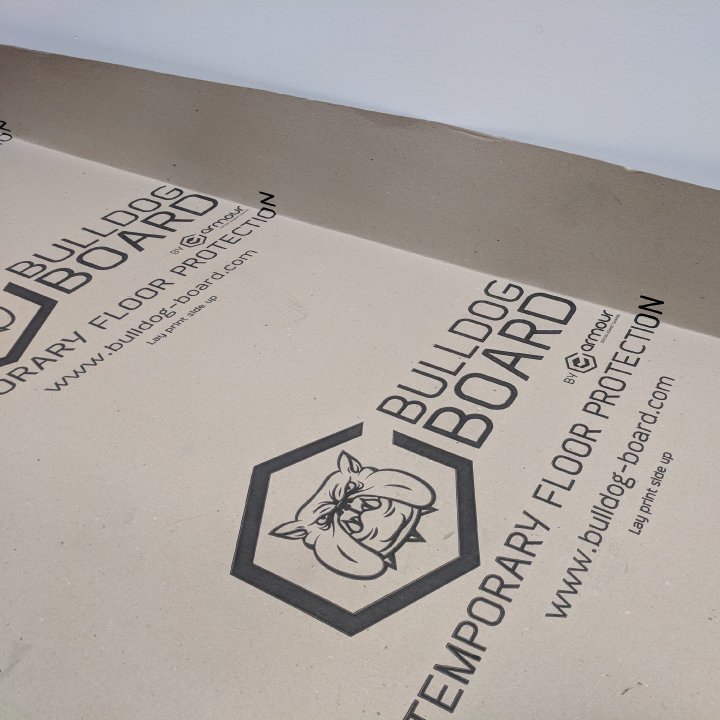 Helping construction professionals look more professional on a jobsite, as well as see the benefits of a clean and tidy jobsite, is what we do!

We help every client to…
• Save time: Because jobsite damage means finding time for repairs, we remove the risk of schedule-wrecking delays and revisits.
• Save money: No construction professional likes to see a needless waste of their jobsite budget, making damage protection a no-brainer.
• Look good: Thanks to a smarter, cleaner, safer jobsite designed to make a big impact on clients.
Our superb range is separated into eight protection types:
✓ Floor protection: Including custom-printed Armour Protection Boards
✓ Door and edge protection: Including Armour Door Protection Sleeves
✓ Stair tread and riser protection: Including Armour Stair Tread Protector
✓ Kitchen and bathroom protection: Including Bathtub Protection Liner
✓ Adhesive protection tapes: Including Armour Multi-Use Protection Tape
✓ Glass and window protection: Including Armour Premium Glass Film
✓ HVAC protection: Our recommendation? Armour Premium Duct Film
✓ Dust control: Including Zipwall Dust Barriers
✓ Installation tools: Including Carpet Film Applicator
Based in North America? Simply order online today for delivery as fast as tomorrow. Our dispatch process begins the second an order is received!
Whether you order right away or reach out for advice first, we'll be proud to help you save time, save money and look good on your jobsites. It's what we do!
See also: FREE Axiom Sample box service, Quick read jobsite surface protection essentials