Floor Protection
Why Using The Wrong Floor Protection May Do More Harm Than Good
October 21, 2020
Construction professionals would all agree that there is only 1 way to go when work is being carried out nearby any finished floor… it must be protected. However, there are many ways to go when it comes to choosing the temporary floor protection solution for that particular project! If you choose the wrong one, it may do more harm than good.
But don't worry, we are here to help you and support to make sure that you #SaveTime, #SaveMoney, and #LookGood on every single project you complete.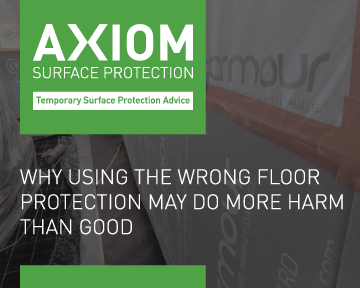 Imagine you've just installed a beautiful high gloss porcelain tile for your client, and decide to lay down a hard surface protection solution such as hardboard to protect it from impact damages. Because of the hard abrasive nature of this product, it's highly likely to cause scuffs and scratches all over the brand new flooring. In this instance, we recommend using a solution like the Armour Protection Fleece which will provide a non-abrasive, soft layer of protection which also stays in place without moving around – therefore eliminating any chance of damage from scratches or movement of a product on top. The above issue can also be caused from not taping or fastening your floor protection in place correctly, meaning that it can move around and slide, even if slightly, causing damage which may be hard to remove or rectify, and laborious and costly.
Let's think about another example – what if you had a project with carpet that needed to be protected from potential damage during a construction or renovation project. Perhaps this is a thicker pile carpet, and you're on a tight budget so you choose to go with a paperboard floor protection… should work great right? Perhaps… and perhaps not. Sometimes with softer floor surfaces such as carpet or rubber (for example), the flex under foot when walked on will cause the temporary floor protection to tear, and before long you have a maintenance nightmare to deal with, just patching and repairing the very product which was supposed to be your solution! What you need is a temporary floor protection solution that offers the flexibility required, that can stay in place as long as you need, and protect as well as you need without needing any further attention during the project timeline.
Axiom is committed to helping construction professionals save time, save money, and look good by using the correct temporary surface protection solutions on projects, meeting budgets and timelines every time.
Thankfully you can use Axiom as a resource to lean and rely on, and call, text, or email any one of our team members at any time to get an answer to your questions. Let us know your specific needs or dilemma, and #TeamAxiom will be more than happy to provide a solution for you… every single time!
We stock the largest range of temporary surface protection products in Canada.
We've got you covered.
If you need assistance in choosing the correct temporary surface protection solution for your project, please reach out to the friendly #TeamAxiom!
#TemporaryFloorProtection #TemporarySurfaceProtectionProducts #CanadaFloorProtection #Construction #FloorProtection #TemporarySurfaceProtection #CanadianConstruction #ConstructionProtection #ConstructionProfessional #SiteSuperintendent #SiteSupervisor #ConstructionManager #ArmourProtectionBoard #BulldogBoard #DefendAgainstDamage #BulldogBoardFloorProtection #FloorProtectionCanada #ConstructionFloorProtection #BulldogBoard #MullionProtection #TemporaryFrameProtection #TemporaryWindowProtection #GlazingProtection #WindowMullionProtection #AluminumMullionProtection #SlabOnGrade #ConcreteSlab #ConcreteProtection #ConcreteFloorProtection #ConcreteSlabProtection #AxiomSurfaceProtection