Floor Protection
The Low-Down On Paperboard Temporary Floor Protection
July 30, 2020
When it comes to temporary floor protection for the construction industry in Canada, it is important to have a basic understanding of the different types that are available… because not all paperboard is created equally!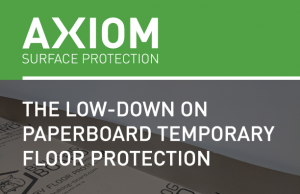 Paperboard is a thick paper-based material, and while there is no rigid differentiation between paper and paperboard, paperboard is generally thicker than paper and has certain superior attributes such as foldability, rigidity, and durability.
There are many different thicknesses of paperboard, and whilst it may seem like an alternative product may be less expensive, the thickness of the product and the density is often overlooked. This is what provides the impact protection, and could make all the difference when it comes protecting the floor from a falling tool or a ladder foot hitting the floor protection with impact, for example.
Paperboard is made from fibrous material which is turned into pulp and processed to create one or more layers of board, which can be optionally coated for different purposes. Certain recycled fibers are less durable in a finished product than others. Take for example if your floor protection is made from recycled newspaper fibers, it will have a different tear strength than if your floor protection is produced from a virgin pulp material.
Not all paperboard floor protection products are water resistant, however some are (See Bulldog Board and Bulldog Board Lite). This is another feature which adds a lot of value when it comes to choosing your paperboard floor protection solution, because if your floor protection turns back to pulp when it gets wet, it won't last near as long as a solution that has water resistance. This could increase your overall floor protection cost drastically by having to patch and repair areas, or replace it altogether before the project is complete.
There are very few paperboard floor protection products on the market that offer added value such as a crease for wall protection. The Bulldog Board and Bulldog Board Lite products come standard with this feature at no extra cost, meaning construction professionals can use this as a wall protection solution as well as a floor protection product.
Lastly, it is important to choose a brand that backs the performance by stamping their logo directly onto the floor protection. As Samuel Nathan once put it, "Always be wary of a company that is afraid of showing their true brand on their product. If they truly believe in the performance of their offering, they shouldn't be afraid to parade it".
If you need assistance in choosing the correct temporary surface protection solution for your project, please reach out to our friendly team!
#TemporaryFloorProtection #TemporarySurfaceProtectionProducts #CanadaFloorProtection #Construction #FloorProtection #TemporarySurfaceProtection #CanadianConstruction #ConstructionProtection #ConstructionProfessional #SiteSuperintendent #SiteSupervisor #ConstructionManager #ArmourProtectionBoard #BulldogBoard #DefendAgainstDamage #BulldogBoardFloorProtection #FloorProtectionCanada #ConstructionFloorProtection #BulldogBoard #MullionProtection #TemporaryFrameProtection #TemporaryWindowProtection #GlazingProtection #WindowMullionProtection #AluminumMullionProtection #SlabOnGrade #ConcreteSlab #ConcreteProtection #ConcreteFloorProtection #ConcreteSlabProtection #AxiomSurfaceProtection