Door & Edge Protection
New Product | Faster Jobsite Temporary Door Protection With The New Armour Door-Guard
July 25, 2022
Rapid Door Protection Is Here
We've never met a construction professional who'd want to spend a minute longer on a jobsite than necessary, and that's what makes our new fast-fit Armour Door-Guard simply awesome!
The best bit? The more doors there on a jobsite, the more time you save.
How does it work? Well, imagine fold-away door protection with no tape, no cutting PLUS a reusable design meaning it pays for itself over and over again.
Read on to discover why the Armour Door-Guard is a massive quick win for construction pros as well our tips for making this most of this exceptional product.
Introducing: Armour Door-Guard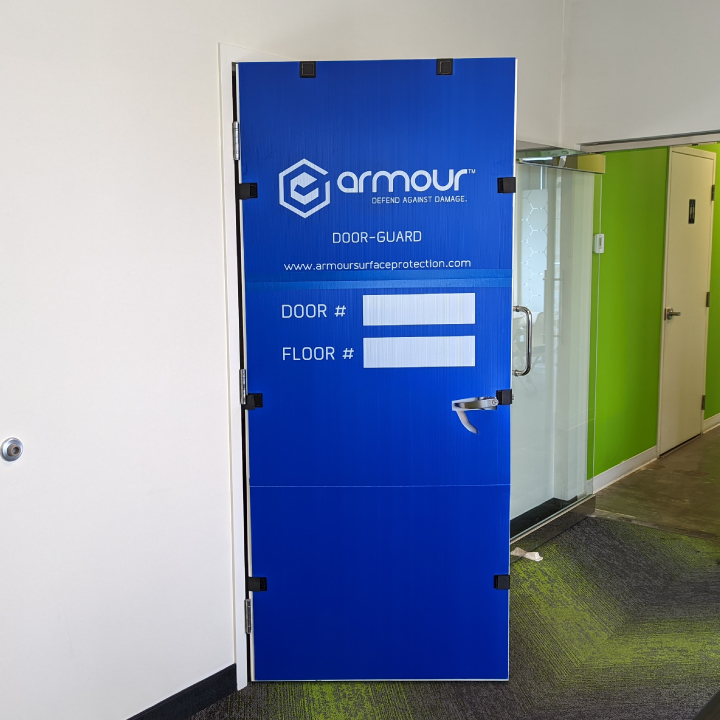 Looks simple, right?! That's what we love about it! Armour Door-Guard does two things really, really well: stores quickly and installs quickly!

Here's how it works…
• Unfold: Simply open the product to its full size
• Fit: Secure across both sides of a finished door with the build-in Velcro straps
• Reuse: Move the Armour Door-Guard to protect another door as often as you like!
The Armour Door-Guard's main construction uses a tried and tested solution already used by many Axiom clients: the high-performance 4mm plastic fluted sheets found in the translucent version of the Armour Protection Board.
Pro tip: Switching to Armour Door-Guard means no cutting-to-size for standard doors thanks to its 35" x 83" design. Also, there's zero time spent removing tape residue from doors or even fixing damage caused by tape.
Where to Use Armour Door-Guard?
If your next jobsite has finished doors, why waste time – or potentially waste a ton of budget – on anything less?
Armour Door-Guard is perfect for any jobsite where doors need to be protected, but it works especially hard for you on jobsites with a large number of doors.
For example, there are two types of projects where our specialists think Armour Door-Guard is an absolute must:
• Multi-family residential projects: Jobsites with a lot of units/ suites in one building and individual suite entry doors are a perfect fit for Armour Door-Guard as the multiple doors mean the minutes saved start to turn into hours saved very quickly!
• Mid-rise and high-rise projects: The reusable design of the Armour Door-Guard is perfect for these jobsites as it can be used across an entire floor then the protection can move up the building as suites are finished.
Reminder: Need protection for a different size of door? If the Armour Door-Guard's 35" x 83" design isn't suitable we recommend using a product like Armour Protection Board. For help to find the right alternative just ask! Speak to an Axiom temporary surface protection expert with any questions by clicking here.
How to Start Using Armour Door-Guard
Ready to remove the risk of damage to a door surface from your next jobsite? Armour Door-Guard makes it quicker and easier than ever!
And our extreme customer service is designed around speed and simplicity too.
To unleash the benefits of Armour Door-Guard simply choose one of the below…
• Option 1, expert help: If you have questions, we'll have answers. Our free Project Assistance means live, expert and in-depth help with temporary surface protection challenges. Every time. Book your virtual session here.
• Option 2, order today, start removing risk tomorrow: Once you're ready to order simply order online or let us know and we'll get you the products you need. Fast.

When you place your order our renowned, rapid delivery service across Canada and North America is now faster than ever thanks to our network of Distributions Centres.
Finally, why trust Axiom? Well, We're the market leaders because we never stop searching for the latest temporary surface protection innovations to add to our product range.

Plus, we help every client do three things:
• Save time: Because jobsite damage means finding time for repairs, we remove the risk of schedule-wrecking delays and revisits.
• Save money: No construction professional likes to see a needless waste of their jobsite budget, making damage protection a no-brainer.
• Look good: Temporary surface protection products help create a smarter, cleaner, safer jobsite and big impact on clients.
Simple.
Let's talk jobsite risk removal! Ask our temporary surface protection specialists about your surface protection challenges today. We're here to help.
See also: How to Audit Your Jobsite for Surface Protection Risks, Temporary Floor Protection – An Essential Reference Guide