Hints & Tips
Maximize Jobsite Profit Right Now In Four Simple Steps!
March 31, 2023
We all know that it's more important than ever to save money and drive the maximum possible profit from every project.

Thankfully, a set of products for professionals like you can act as a 'best friend' in your corner on construction sites. How? By helping you to stay on schedule and on budget.

Read on to discover how to make premium temporary surface protection the tool you can't afford to overlook for maximum jobsite profits…
Jobsite Profit Tip 1: Face Down The REAL Cost of Damage
In a busy and increasingly challenging environment for your work, it's easy to write off damage as 'something that just happens' and deal with it as you go. Or even skip protecting parts of the jobsite to save time.

But here's why this is a false economy: finished floor areas WILL be walked on and easily damaged while surfaces like stairs, doors, kitchens and bathrooms, glass and windows, cabinets and more have the potential to attract damage every minute you're on-site.
And the real cost goes beyond 'an occasional repair'….
• Risk of an imperfect fix: For many surfaces, such as a bathtub, a damage repair doesn't leave the tub 'as good as new' but harms the finish and even structure.
• True cost of replacement: Choosing a new item to replace the damaged surface involves a lead time, the cost of the item, the time and labour of replacement AND the time lost on your ongoing project while the repair is carried out.
• Reputation is everything: Telling a client their work is delayed due to avoidable damage is far from ideal for your reputation, and future word-of-mouth business, as a construction professional.
Reminder: Finished surface damage has a 'domino' effect on your work, budget, time and reputation. Remember to factor these in when considering your temporary surface protection budget.
Jobsite Profit Tip 2: Plan for 'The Human Factor'
Mistakes happen because skilled professionals like you are human!
Budgeting ahead for this truism up front means removing its impact from your work at a time when supply chain and labour issues mean you can ill-afford the unexpected costs it will cause.

An example: even the lowest-cost floors will still cost more to repair or replace than some quick-apply professional floor protection would've cost in the first place!
Reminder: For any finished surface, the inevitable cost of materials and time to fit a replacement overshadows the cost of temporary surface protection by a long, long shot.
Jobsite Profit Tip 3: Learn From Construction Peers

We often share 'behind the scenes' insights from awesome, often mammoth, projects where a relatively small investment in temporary surface protection has paid off BIG for clients.
Here's a small sample…
• THOUSANDS of $$$ saved by preventing aluminum frame damage: Architectural metal specialists Custom Metal Contracting removed the headache of scratches and damage to their frames using premium protective tape from Axiom. The result? Architectural metal worth many $$$Ss was kept damage-free AND the lead times involved in a custom replacement were avoided.
• Less handling time: Our client Farmer Construction told us their switch from plywood as a protective board to an Axiom-supplied alternative meant "the guys can lift ten sheets at a time by themselves instead of two guys moving one sheet at a time". This simple benefit, scaled across an entire jobsite, saves an awesome amount of time (and, therefore, budget).

• New standards of quality: How did using Axiom's Armour board-based products help Crowne Pacific Development? Through an "absurdly low number of flooring deficiencies" during the final phases of their project. Their feedback praised the savings in time, coordination and "most of all $$$" they achieved.
Reminder: Canada's construction giants, who invest heavily in finding efficiency improvements, believe in temporary surface protection for a reason. Follow their example to enjoy the benefits of industry best practice on your jobsites.
Jobsite Profit Tip 4: Remove The Guesswork!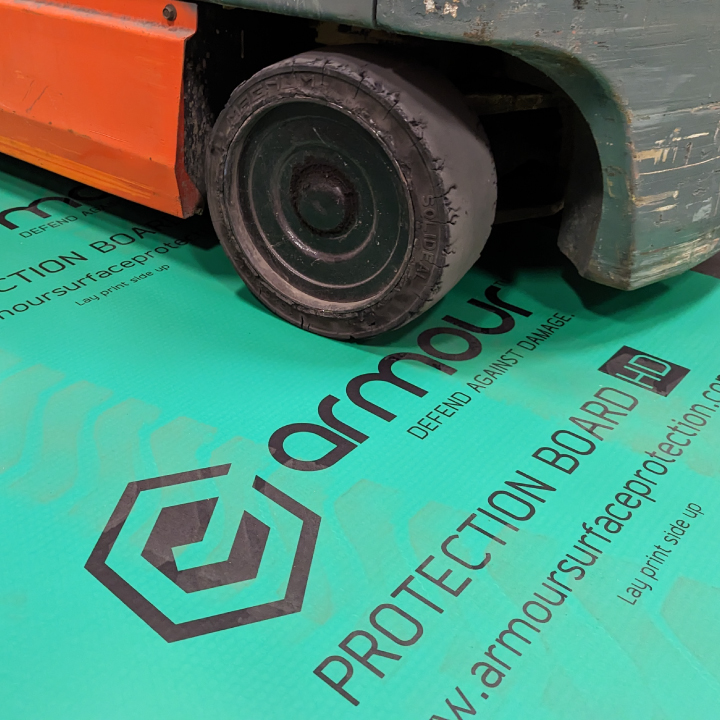 Here's a costly error even the most dedicated users of temporary surface protection might find themselves making: using a product because it's a familiar product or because it will 'probably' work well.
A better approach looks like this…
• Avoid overpaying: Axiom specialists offer a free project assistance service to help calculate the best option based on factors like the level of protection needed, length of time the protection needs to stay in place, the surfaces needing protection and more.
• Try before you buy: An Axiom Sample Box service – also free – means you can handle and assess a product before you order. We'll even include a pack of candy to say thanks!
• Stay one step ahead: Find out about the latest time-saving innovations as they happen by signing up for Axiom's quick-read email newsletter. Our social channels (you'll find links on the same page) are also packed with insights, updates and occasional competitions designed for construction pros.
Reminder: The resources are there to make the process of choosing and using the right surface protection easier than ever. If in doubt, just ask!
Cost-Saving Surface Protection Products As Fast As Next Day!
Construction professionals trust Axiom to simply deliver for their needs as we've renowned for helping every client to save time, save money and look good on their jobsites.
Our complete range of surface protection products is separated into eight protection types:
✓ Floor protection: Including custom-printed Armour Protection Boards
✓ Door and edge protection: Including Armour Door Protection Sleeves
✓ Stair tread and riser protection: Including Armour Stair Tread Protector
✓ Kitchen and bathroom protection: Including Bathtub Protection Liner
✓ Adhesive protection tapes: Including Armour Multi-Use Protection Tape
✓ Glass and window protection: Including Armour Premium Glass Film
✓ HVAC protection: Our recommendation? Armour Premium Duct Film
✓ Dust control: Including Zipwall Dust Barriers
✓ Installation tools: Including Carpet Film Applicator
Based in North America? Simply order online today for delivery as fast as tomorrow. Our dispatch process begins the second an order is received!
Whether you order right away or reach out for advice first, we'll be proud to help you save time, save money and look good on your jobsites. It's what we do!
See also: A Simple Path to Fewer Jobsite Injuries, Three Ways Dust Control REALLY Delivers On Your Jobsite