Latest News
How To Protect Door Frames And Door Jambs During Construction And Renovation Work
March 15, 2018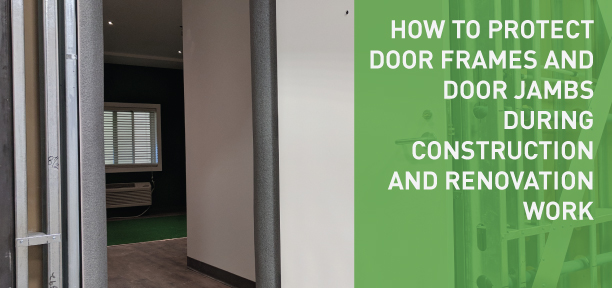 During construction projects and interior renovation jobs, there are many surfaces that require protection. Door frames and door jambs are one of the most vulnerable of these surfaces. Doors are constantly walked through, and often times site personnel are taking garbage bins, tools, equipment, and other items in and out of doorways, whether inside or outside the building.
It's not hard to damage door jambs, especially when they are freshly painted steel or aluminum frames, or when they are wooden millwork. With many different trades on site coming in and out of door openings all the time, it's inevitable that there will be damage to the door jambs at some point during the project progress. However, there is a way to protect those door jambs… and here is how.
ENTER ARMOUR FOAM DOOR JAMB PROTECTORS There are many different types of door jamb protectors out there on the market, however the Armour Foam Door Jamb Protector has proven to be the best, and here's why. The foam door frame protectors will outlast the cardboard ones by a long shot and you can guarantee they give the best protection when compared to cardboard edge protectors. With the thickness of the high density foam, it offers the best protection out there for protecting your door frames. Get them from Axiom today.
#TemporarySurfaceProtectionProducts #DoorJambProtection #FoamDoorJambProtectors #DoorFrameProtection #FoamDoorFrameProtectors #TemporarySiteProtection #DoorProtection #ConstructionDoorProtection #ConstructionSurfaceProtection #RamJamb #DoorJamb