Floor Protection
A Guide To Temporary Floor Protection By Axiom Surface Protection
November 5, 2018
Whilst temporary floor protection is most commonly used in commercial and residential building and renovation projects, it is being used more and more on smaller residential and domestic projects such as redecorating, renovating, or home moving. By thinking ahead and the correct temporary floor protection, you can avoid unnecessary damage and in most cases; extra costs can be avoided.
Floor protection can be used to protect carpets, wood floors, vinyl flooring, VCT, and others. Browse our temporary floor protection solutions here https://axiomtsp.com/floor-protection
Objects like appliances are heavy and normally have sharp corners and adjustable legs on the underside, which makes them prone to creating deep scratches on floors or cracking tiles. When bigger appliances such as washing machines or fridge freezers are moved, they are often 'walked', which is something that should be protected against as it is easy to scuff the floors.
When packing to move into a new house most people will consider protecting ornaments and furniture, such as vases, mirrors and glassware, however the floors are not often protected and can often be damaged easily. It may not be a high priority at such a busy time, however nothing causes more problems than an unhappy buyer with damaged floors.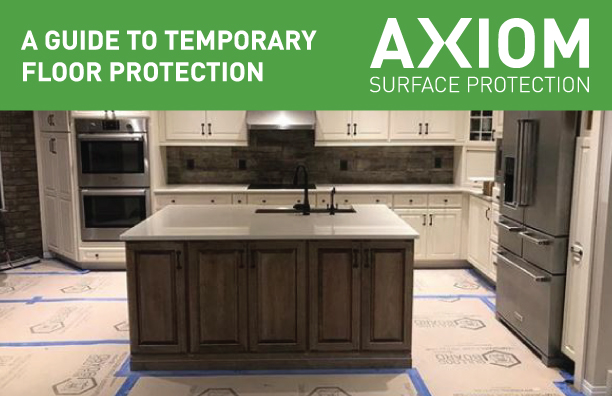 A light weight floor protection solution will usually suffice when renovating, as the main aim is to protect flooring from paint spillages. However, it is imperative to ensure that all flooring is adequately covered as, in most cases, paint will find a way onto flooring or carpet if coverage is substandard.
When you're eager to get started it can be tempting to simply throw sheets down, however there are a few key things to remember. Firstly, make sure the flooring protection is secure. By doing this, it will stop the floor protection from moving around and save time, which would otherwise be spent putting sheets back in place! If your floor protection does come away from edges during decorating, don't be tempted to leave it as this is often the area where paint could be spilled.
On stairs, a flexible floor covering such as the Armour Premium Carpet Film will work best, as it's durable enough to walk on, but also not too rigid to fit. It also follows the contours of the stairs and easily stays in place without causing a slip or trip hazard.
The 'best' type of temporary floor protection depends entirely on what your requirements are. There are typically 3 points to consider when making the correct choice for what temporary floor protection you need… Durability, Flexibility, and Re-usability.
If you use floor protection that's not strong enough for the job, you are likely to run into problems. A thin layer of poly, for example will not protect a tiled floor from the impact of a washing machine being dropped upon it. On the other hand, heavier duty coverings may be overkill for light residential work such as decorating. Make sure you assess your requirements in detail before choosing your floor protection, as it could cost more to protect again with the correct solution, than it would by protecting it correctly in the first place.
Feel free to reach out to our team at 1-866-617-8502 or sales@axiomsp.ca to get your questions answered and to help you find the best solution for your floor protection needs.
#TemporaryFloorProtection #TemporarySurfaceProtectionProducts #CanadaFloorProtection #Construction #FloorProtection #TemporarySurfaceProtection #CanadianConstruction #ConstructionProtection #ConstructionProfessional #SiteSuperintendent #SiteSupervisor #ConstructionManager #RamBoard #BuilderBoard #Caraustar #Protectafloor #Skudo #BulldogBoard #BulldogBoardFloorProtection #FloorProtectionCanada #ConstructionFloorProtection #BulldogBoard #BulldogBoard #RamBoardToronto #RamBoardOntario #BuilderBoardToronto #BuilderBoardOntario #builderboard #ramboard #carpetshield