Floor Protection
5 Costly Mistakes To Avoid When Choosing Temporary Floor Protection
November 26, 2018
When choosing Temporary Floor Protection for your project, it is important to keep in mind the following key points to ensure that you make the correct choice.
Here are 5 costly mistakes to avoid:
USING A MATERIAL THAT IS TOO THIN
If you use a material that is too thin for your project, you can end up protecting your floor and still incurring damage, costing you even more. It is worth the up front cost to use the correct temporary protection and save time and money on not having to repair or rectify damages. Be careful when comparing different products on the market since a lot of companies now supply paperboard at a lower price, when it is in fact half the thickness of the original products which they have copied.
NOT USING A BREATHABLE FLOOR PROTECTION SOLUTION WHEN NEEDED
Axiom Surface Protection has a range of products which offer breathability for newly laid floors and surfaces which need to breath.
NOT BUYING THE CORRECT SEAM TAPE FOR THE SOLUTION
There are different seam tapes that are recommended for each product we sell. Therefore, it is important to make sure that the correct tape is used so that it holds the floor protection products together and creates a complete seal to keep dust and liquids and damage out from getting under the floor protection material.
USING A PAPER BASED FLOOR PROTECTION ON A LONG PROJECT
Paper based temporary floor protection products are a great solution for short term projects, however if you are going to be keeping the protection down on your floors for a long period of time with high traffic, you may want to think about using an alternative product such as the Armour Protection Fleece or the Armour Protection Board.
OPTING FOR MASONITE, HARDBOARD, PLYWOOD, INSTEAD OF THE CORRECT TEMPORARY PROTECTION SOLUTION
Sometimes the up front cost of choosing a different product is more attractive, however these products are a lot heavier and take far more time to install. They often require 2 or more people to install these products correctly, which costs twice the amount. By using lightweight alternatives such as Armour Protection Board, you can significantly reduce your labor costs to install your temporary floor protection.
If you need assistance with choosing the correct Temporary Floor Protection solution, please reach out to us and we will happily assist you with your needs and help you save time, save money, and look good!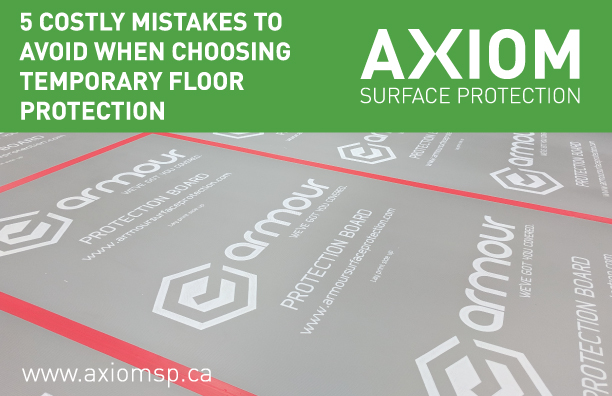 #TemporaryFloorProtection #TemporarySurfaceProtectionProducts #CanadaFloorProtection #Construction #FloorProtection #TemporarySurfaceProtection #CanadianConstruction #ConstructionProtection #ConstructionProfessional #SiteSuperintendent #SiteSupervisor #ConstructionManager #RamBoard #BuilderBoard #Caraustar #Protectafloor #Skudo #BulldogBoard #BulldogBoardFloorProtection #FloorProtectionCanada #ConstructionFloorProtection #BulldogBoard #BulldogBoard #RamBoardToronto #RamBoardOntario #BuilderBoardToronto #BuilderBoardOntario #builderboard #ramboard #carpetshield