Floor Protection
This Year's Biggest Jobsite 'Open Goal'!
January 3, 2023
Excuse the soccer terminology but it has been, after all, Soccer World Cup season! But there's a bigger reason why we're talking about an 'open goal' for construction pros in the office this week.
It's this: we often hear from clients and friends about how their temporary surface protection worked for them on a jobsite. One thing many of them report back to us? That custom-printed floor protection is a no-brainer for jobsites where a super professional look counts.
There are three unmissable reasons for this (and they're reasons we think every construction pro should see!).
Read on to find out why custom-printed floor protection products can unlock multiple benefits on a jobsite…
Custom Printed Floor Protection: Three Reasons Why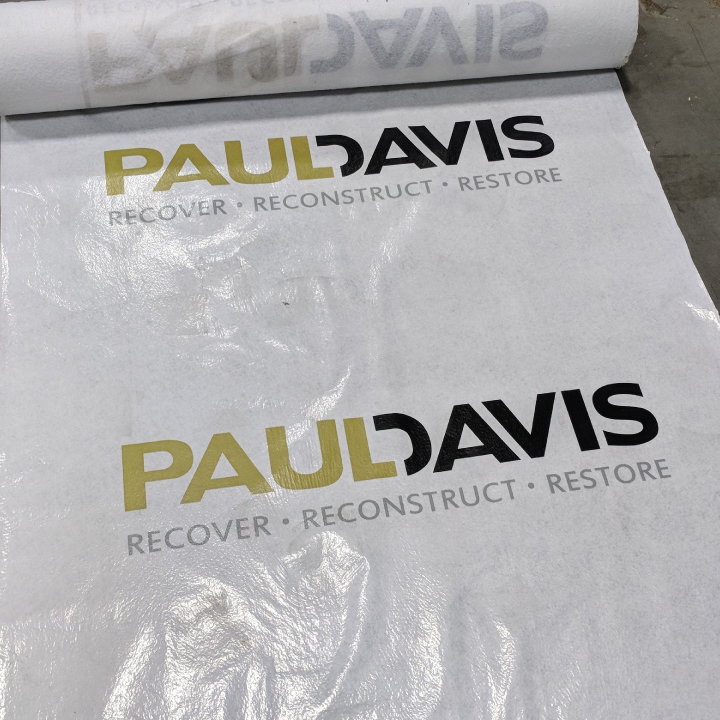 With all the challenges 2022 brought for construction professionals, it became more obvious than ever that making a big impression on a jobsite is simply good for business.
Custom printed temporary floor protection can really help with this kind of impact AND bring some additional advantages too:
Looks Great
Compared to standard print, and especially blank non-printed floor protection, custom-printed products simply catch the eye.

If you believe in your work, why not proudly stamp your name on it?
Speaks Volumes
Custom printed floor protection tells clients, colleagues and the public so much about your ethos.

To show customers (and potential customers!) that tidy working, efficiency and safety matter to you, there are no better ways than putting your brand on professional protection products.
Free Promotion
If you're going to be using floor protection anyway, why not use the space to promote your brand?
The jobsite itself can become a promotional tool and can be working hard to spread the word about your business while you're on the jobsite.
Custom Printed Surface Protection: How to Choose Yours
It's easy to see which temporary surface protection products can be custom printed: simply look for the 'Custom Print Available' label when you explore our range.
Plus, our latest catalogue – available as a PDF or printed version – also has custom printing availability clearly marked, meaning you can plan all your temporary surface protection for a jobsite at a glance.
Remember: there's NO need for guesswork when it comes to figuring out the best products for your next jobsite, simply call our free Project Assistance service.
After all, we're the marketing leading temporary surface protection specialists:
✓ Choice: We never stop searching for the very latest innovations to add to our range
✓ Direct: Our solutions come straight from the manufacturers, meaning we can work together on pace-setting news ideas
✓ Expertise: We're renowned as experts because temporary surface protection is all we do!

Most of all, we're proud to help you save time, save money and look good on your jobsites.
See also: Why Cheapest Price Floor Protection is a False Economy, Why Create a Clean & Tidy Jobsite?