Floor Protection
Using Carpet Film On Your Jobsite? Read This!
August 9, 2022
The Golden Rule for Jobsite Carpet Film!
Carpet protection film is AWESOME and delivers big for our clients, but there's a golden rule you need to know first! It's this: STICK TO SQUISH, CLING TO SMOOTH!
Our simple reminder (read on and we'll explain how it works) will mean carpet film isn't used where hard surface film is needed and vice versa.
Why is this so important? Using the wrong film in the wrong way means the risk of loose film underfoot, poor protection and even time-consuming problems when removing the product.
Our quick read blog explains this simple carpet protection pro-tip AND reveals how Axiom protection films are designed to stop this happening.
Jobsite Carpet Film: The Simple Rule
Ever been tempted to use Armour Premium Carpet Film for a hard surface floor or Armour Premium Hard Surface Film for a carpet? Here's why waiting for the right product (we deliver as fast as next day!) is a better use of your time on a jobsite.

✔Armour Premium Carpet Film: purpose-designed for the carpet's squishy surface and has extra adhesive to make sure it sticks and stays stuck.
✔Armour Premium Hard Surface Film: Has less adhesive so it clings to a smooth surface with enough grip to perform.
But why not use one film for both? Simple…
✖Hard surface film on carpets: there isn't enough adhesive to keep the film in place on squishy carpets causing an obvious issue for foot traffic and for the carpet's protection.
✖Carpet film on hard floors: likely to stick TOO well to a smooth surface, making it hard to remove and perhaps even risking residue on the finished floor.
That's why we remind clients that film should STICK TO SQUISH, CLING TO SMOOTH!
And to help our customers we even label every entire roll of Armour Premium Carpet Film or Armour Premium Hard Surface Film right to the end as well as use different colors for both products.
That's why our carpet film is white! (Plus, the white film makes it easier to see where protection stops and makes marking up easier on a jobsite).
Keep reading to find out more about essential jobsite protection films and, don't forget, you can simply ask an Axiom specialist if you've any questions. We're here to help.
Picking the Right Floor Protection Film: What You Need to Know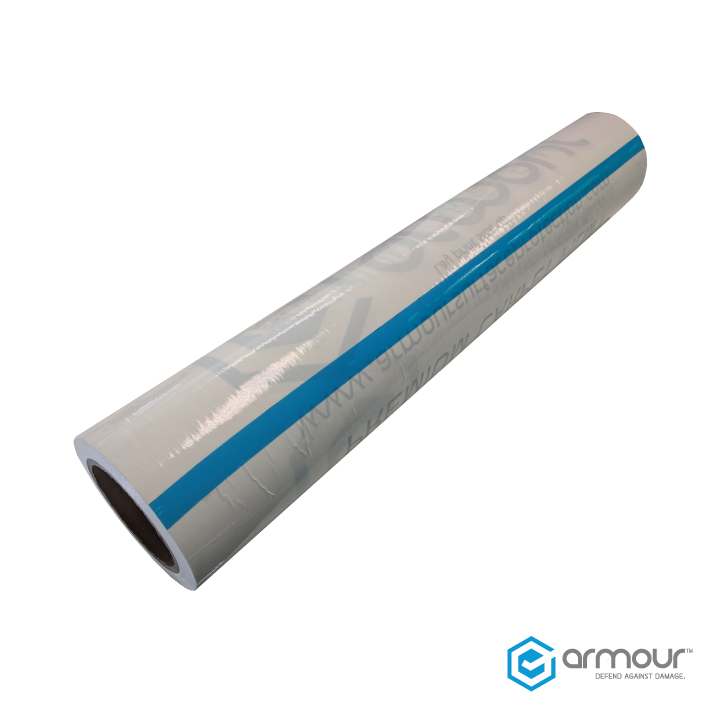 A little protection film know-how (or a quick call to our team) puts seriously high-performance damage reassurance in your hands.
That's why construction professionals rely on a range of Axiom film products including:
• Armour Multi-Use Protection Tape: Thicker than hard surface film, our protection tape offers better protection on hard and smooth surfaces wherever it's needed.
• Armour Premium Glass Film: Available in 90-day or 180-day options, this glass film simply performs and then removes cleanly with no residue.
• Armour Premium Countertop Film: Specially designed to work hard to protect granite, marble, quartz and various other countertop surfaces from scuffs, scratches, paint and more. Find out more here.
The secret to protection films? It's simple – The right adhesive for the right surface. We'll even give you free advice to make sure you have the right choice.
Using Protection Films (And More!) For a More Profitable Jobsite
We've become the market leader for jobsite temporary surface protection by helping our clients to save time, save money and look good on every jobsite.
We deliver for construction professionals like you in two ways: through exceptional advice and rapid delivery of professional surface protection products.
Explore temporary surface protection products you can trust to perform superbly well, every time, by following the links below:
✓ Floor protection: Including custom-printed Armour Protection Boards
✓ Door and edge protection: Including Armour Door Protection Sleeves
✓ Stair tread and riser protection: Including Armour Stair Tread Protector
✓ Kitchen and bathroom protection: Including Bathtub Protection Liner
✓ Adhesive protection tapes: Including Armour Multi-Use Protection Tape
✓ Glass and window protection: Including Armour Premium Glass Film
✓ HVAC protection: Our recommendation? Armour Premium Duct Film
✓ Dust control: Including Zipwall Dust Barriers
✓ Installation tools: Including Carpet Film Applicator
Need help? Because we know 'time is money' in the construction sector, our Ask Axiom virtual surface protection sessions are a quick, expert, no-fuss way to find the answers you need direct from an Axiom specialist.
Many customers then begin their partnership with Axiom through our famous Sample Box service. We even include a free pack of candy to say thanks!.
Once you've placed your order (just let us know using phone, text, email, or our online form) we'll work hard behind the scenes to make rapid delivery happen.
We can deliver as fast as next day thanks to our superb distribution centre network and substantial stock levels. Job done!
To start protecting your jobsites, your time and your budget against accidental finished surface damage, simply tell us how we can help!
Sample pack? Quote request? Or Ask Axiom virtual advice session?
Whichever option you choose, simply ask our temporary surface protection specialists today. We'll be proud to be in your corner.
See also: Must-See Jobsite Protection Board Advice, Accessing Help from Axiom is Easier Than Ever!