Floor Protection
Plywood vs. Armour Protection Board – Grey | Essential Jobsite Protection Board Advice
July 13, 2022
Stop Using Plywood as a Jobsite Protection Board! Here's Why…
At a time of rising costs and staff shortages, no construction professional can afford to waste time and money on a jobsite. That's why we suggest that you avoid using plywood as a temporary floor protection method.

Why? Because plywood installed as a jobsite protection board is a false economy on many levels. That's because it uses unnecessary time, causes extra labor, increases the risk of surface damage and creates a greater trip hazard than a purpose-designed alternative.

We asked our temporary surface protection specialists for a quick read overview of the reasons to avoid plywood on a jobsite.

Read on to find out more about this essential jobsite temporary surface protection tip PLUS discover our must-see recommendation for construction professionals.
Jobsite Protection Board Insights: Why Avoid Plywood?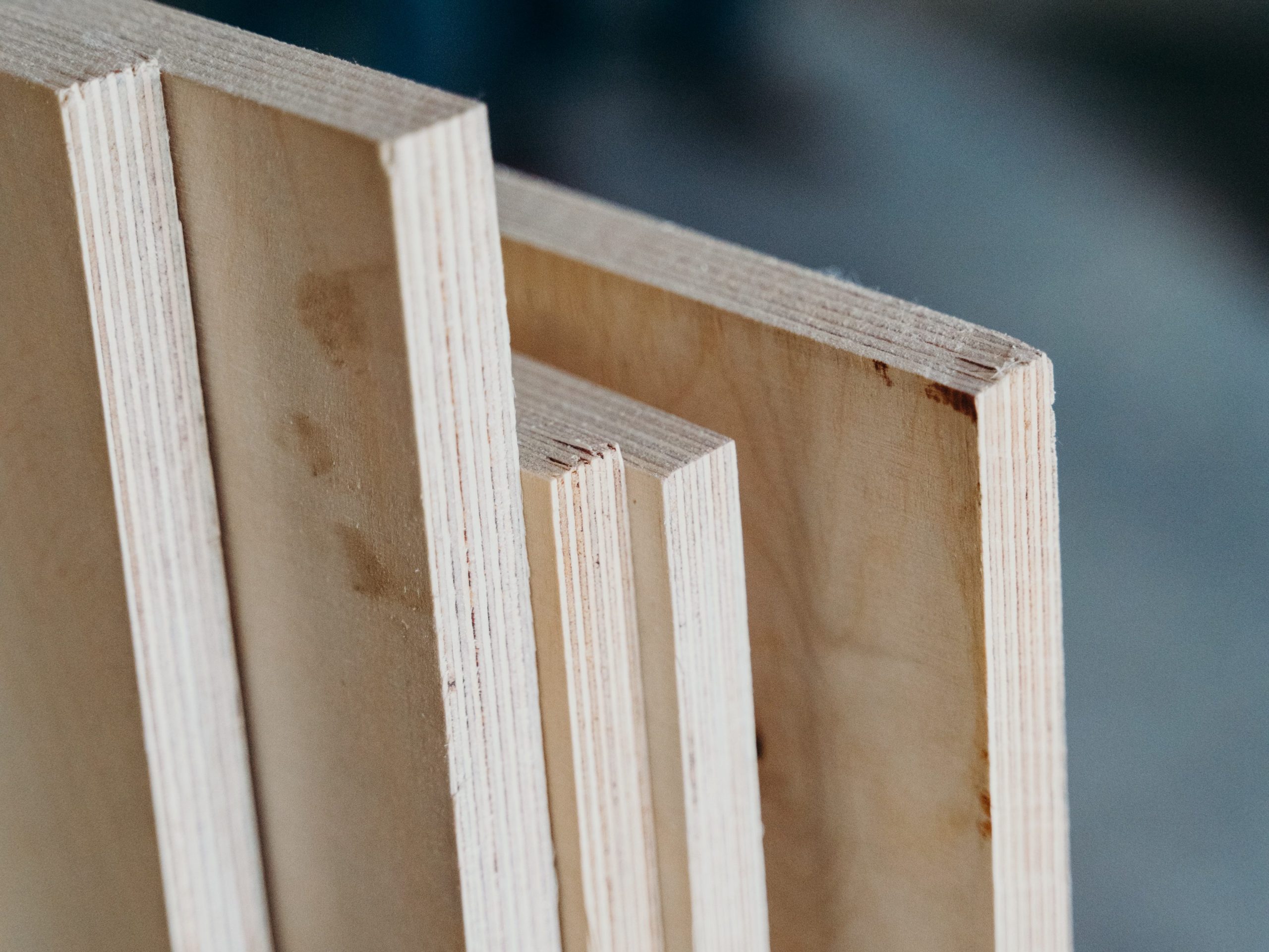 The definition of 'false economy' is "something that costs less at first but results in more money being spent later".
Our team of temporary surface protection experts (we eat, sleep and breathe temporary surface protection because it's the only thing we sell!) consider plywood as a protection board to be one of the most wasteful false economies in construction.

The reasons why are very, very simple:

✖Lack of waterproofing: Over time liquid will cause the plywood to swell, lose shape and split apart. Meaning a visually messy site and, worse, also an uneven surface and trip hazard underfoot.
✖Installation time: Because of the size of plywood sheeting, the choice on a jobsite is to risk injury with one person handling each sheet or use two people on the task of fitting the plywood into place. The issue? This is much more labor-intensive than using purpose-designed protection (our recommendation is below).
✖Storage time: Again, due to that standard size (usually 48in x 96in) plywood doesn't store well in a c-can or container and, in particular, isn't ideal for storing sideways. So, even just storing plywood is a drain on time and efficiency.
✖Damage to floors: No one would wash a vehicle or jobsite floor with a piece of wood! Why? Because the hard surface would simply trap grit or dirt and then move it around the finished surface. Placing plywood over a finished floor on a jobsite is no different.
✖Non-sealable design: Plywood, used as a jobsite protection board, doesn't allow any good method to seal each sheet together as the rough finish makes this task a big ask for even specialist tapes. This means a gap in the 'protection' and another way to potentially catch on someone's boot as they pass.
✖Unnecessary safety hazard: Yet another way plywood can cause a trip hazard comes to a jobsite due to the thick edge of the wood, something which is definitely not recommended underfoot.
Combining the visual, performance, installation, storage and safety issues surrounding plywood as a protection board makes it extremely hard to see any argument for its use aside from low cost. However, such a long list of negative impacts on a jobsite makes it easy to see why this cost-efficiency argument is actually a false economy.
Our recommendation (below) resolves each one of these issues and is strongly advised for any construction professional who values a safe, efficient and well-protected jobsite.
Jobsite Protection Board Insights: A Must-See Plywood Alternative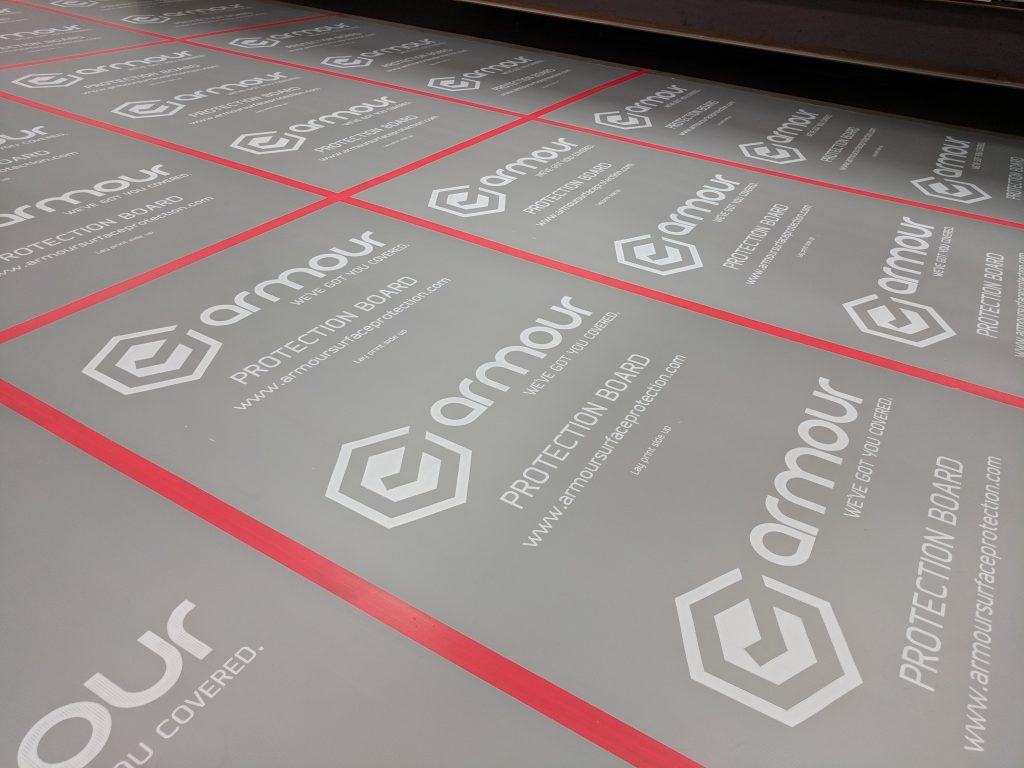 Instead of taking a chance with the time, money and even safety impacts of plywood as a jobsite protection board, our specialists highly recommend the superb Armour Protection Board – Grey.
Purpose-made for quick, easy and effective jobsite temporary floor protection, Armour Protection Board – Grey is a 4mm thick fluted plastic sheet product with some unmissable advantages over plywood:

✔Waterproof by design: Will remain waterproof, keeping liquid away from the finished surface below without losing its shape.
✔Faster fitting: Easy for one person to carry and install with less injury risk than plywood thanks to a weight of just 7.4lb per sheet
✔Easier storage: A smaller size of 48in x 87in makes Armour Protection Board – Grey is ideal for storage, including sideways storage.
✔Better floor protection: The fluted design of Armour Protection Board – Grey means more flex around grit or obstructions and each sheet absorbs impact compared to plywood's tendency to pass impact to the floor below.
✔Completely sealable: Simply using Armour Tape creates a firm seal between each Armour Protection Board – Grey.
✔Reduced trip hazard: The thin edge of each Armour Protection Board – Grey means a safer, lower profile protection board underfoot on every jobsite.
Each Armour Protection Board – Grey sheet is designed to withstand impact from carts, lifts and other heavy-duty traffic.

The product also offers some awesome additional benefits:
• Multi-purpose: Can be used to protect floors, walls, doors and countertops and, because Armour Protection Board – Grey is reusable, it can be adapted to suit the risk on each jobsite.
• Flexible: Its fluted design is extremely easy to cut or bend into shape.
• Lays flat: For rapid, easy installation.
Tip: For extended protection over a long period of time, Armour Protection Board – Grey can be used with Armour Protection Fleece or Armour Protection Foam underneath for enhanced finished surface protection.
What do our clients say about Armour Protection Board? Feedback from a construction professional, who used the product on a jobsite recently, described it as "a fantastic investment": "Not only did it remove the constant maintenance of papering and reappearing floors, but we saw an absurdly low number of flooring deficiencies throughout the latest phases of our project, saving time, coordination and most of all $$$$.
"Well worth the investment for a developer."
There are multiple ways to assess the benefits of easier, more efficient and safer temporary floor protection such as Armour Protection Board – Grey. Find the best fit for you in our 'next steps' section below.
Jobsite Protection Board Insights: Upgrading Your Protection
Ready to test the time and money savings the use of professional temporary floor protection has been proven to bring to jobsites?
Two things we recommend as next steps:
1. Trying a product sample where possible
2. Reaching out for free, specialist advice to find the right products for your needs.
Many construction professionals begin their project preparation using our renowned Axiom Sample Box service (we even include a free pack of candy to say thanks!).
We also offer project assistance at no charge. To access your session simply click here. We'll be glad to help.

And when you are ready to order we'll ship to your site as fast as the next day thanks to a network of distribution centres across Canada. In fact, our dispatch process begins the second your order is received.
Reminder: there's no need to take a chance on temporary surface protection. Need advice about which product to choose? Simply ask our temporary surface protection specialists today. We'll be proud to be in your corner.

See also: A Must-See For Temporary Floor Protection Buyers, How to Control Jobsite Floor Damage (Before It Controls You)