Floor Protection
New Product: Cheap Floor Protection Is About to Disappear From Jobsites!
April 27, 2023
Here's a big jobsite change you'll want to use to your advantage! We've just torn up the last remaining excuse for using low-quality paper floor protection.
Why? A new option now puts a feature-packed alternative to risky, cheap paper-based floor protection within reach of most budgets.

Read on to discover an awesome advance in temporary floor protection PLUS pro tips to make the most of this jobsite innovation.
Introducing Armour Defender-Guard Lite: Protection Not Cost
The Armour Defender-Guard Lite is a new surface protection product that allows construction professionals to protect floor surfaces on a budget!
Building on the reputation of the original Amour Defender-Guard, known for its toughness, durability, and ability to withstand tears and rips on the jobsite, the Armour Defender-Guard Lite offers similar strength at approximately half the thickness.
This fully waterproof product is incredibly grippy and provides excellent surface protection, making it an ideal alternative to paperboard products.
Perfect for projects with light foot traffic, such as multi-family residential suites, the Armour Defender-Guard Lite offers greater durability than paper-based products, making it a cost-effective choice for your next job!
For many projects, this means the protection you'll need but without the extra cost of the full-strength version!
Why Armour Defender-Guard Lite?
Like all our temporary surface protection solutions, Armour Defender-Guard Lite was developed because it brings real benefits to your jobsite:
• Saves time: Lightweight for easy storage plus rapid (lays flat!) installation reduces time spent on surface protection
• Saves money: Effective finished floor protection including liquid proofing means avoiding time on repairs or, worse, replacing a floor
• Looks good: A professional, clean and tidy jobsite sets the standard AND makes a great impression your clients will appreciate
Most of all, these benefits are available at a lower price than ever!
Reminder: Cheap floor protection with a risk of tearing adds a health and safety risk to your jobsite by creating a potential trip hazard underfoot.
Pro Tips! How to Use Armour Defender-Guard Lite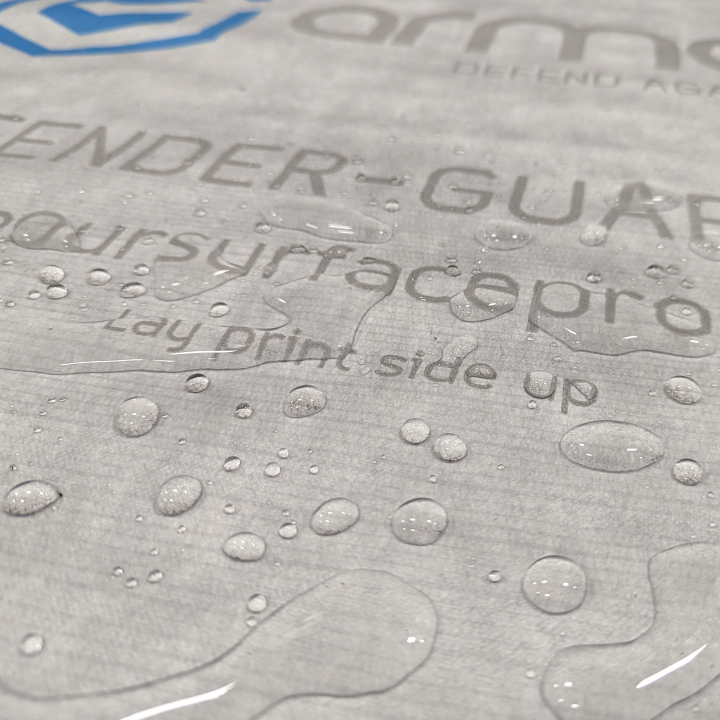 Armour Defender-Guard Lite is super simple to use:
✓ Before – assess your risk: Armour Defender-Guard Lite is ideal for finished floors with light foot traffic or only needing protection from dust, dirt, paint etc. It's durable enough for short-term use and rapid-fit enough for short-term applications but be sure to check your risk vs strength level needed and opt for the awesome Armour Defender-Guard non-lite version if it's needed.
✓ During – installation for maximum performance: Roll the product out and use Armour Tape to seam it together. For edges, also use Armour Tape or choose Clean Green Tape (offers up to 180-day clean removal when used indoors, and up to 60-day clean removal for outdoor applications) depending on how long you need your protection to stay in place.
✓ After – clean for reuse: Finishing up on your jobsite? Simply roll up your Armour Defender-Guard Lite and dispose of it, OR, if its condition allows, clean with a simple brush-down or vacuum to reuse.
Tip: The more often you use your temporary surface protection, the more you'll save!
Temporary Floor Protection is Just a Click Away

Ready for floor protection purpose-designed to work harder for you on your jobsites? There are three ways to find out more…
Browse our online store for a wide selection of floor protection products, available for fast shipping. Our user-friendly platform makes it easy to find the right products for your needs and purchase them hassle-free.
Our latest catalogue: available as a PDF or printed version – also has custom printing availability clearly marked, meaning you can plan all your temporary surface protection for a jobsite at a glance.
Expert advice: Simply use our FREE Project Assistance service and get personalised advice for your specific construction project.
Why trust our specialists? Well, we're the market-leading temporary surface protection specialist because temporary surface protection is all we do!

Discover the Axiom difference to find out how we help you save time, save money and look good on your jobsites.
See also: Ask These Two Questions or Risk Carpet Damage!, Tough Floor Protection With A Super Soft Side