Floor Protection
Ask These Two Questions Or Risk Jobsite Carpet Damage!
March 14, 2023
Damage to carpet during your work on a jobsite ruins more than just the carpet itself. That's because spills and staining will also make a mess of your jobsite budget, schedules and even reputation.

Thankfully, jobsite carpet is one of the easier finished surfaces to protect. Why? Simply because two quick questions will make sure the right protection will work hard for you to remove the risk of damage.

Keep reading to discover the questions you need to ask when you're working around a finished carpet on a jobsite…
Protecting Jobsite Carpet: A 101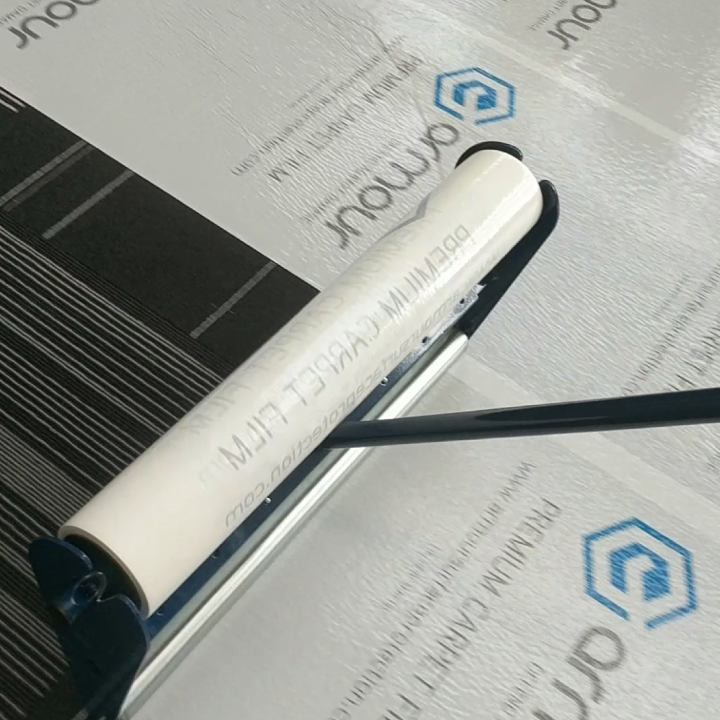 The essentials of jobsite carpet protection are straightforward and, once you're aware of them, it couldn't be easier to make sure you have an awesome level of protection in place.
Here's what you need to know…
• Carpet is impact-resistant by design!
Since carpet is one of the more forgiving flooring surfaces when it comes to impact unless there's a large level of impact you'll have one less risk to think about. This means protection against things like dust, dirt, debris, paint, drywall, and mud is the main focus.
• Lighter protection (normally) works 
Because carpet is usually installed in areas where there's only foot traffic or light construction traffic, a lighter level of protection than other jobsite risks can be used. Plus, in commercial projects carpet tiles tend to be fitted towards the end of the project so short-term protection tends to be more than enough.
• One product does it all
The good news? One product – Armour Premium Carpet Film – is trusted by construction professionals across North America for carpet protection because it simply works beautifully. BUT make sure to use our carpet protection questions below before you order because there are some exceptions!

We promised it would be nice and easy! Now, check out your must-ask carpet protection questions below to make carpet protection prep one of the quickest tasks on a jobsite you'll ever encounter.
(Product shown: Armour Premium Carpet Film)
Protecting Jobsite Carpet: Ask These Questions, Always!
• Question 1, Which Level of Protection?
Are you working with an area with more impact risk OR where protection is needed over a longer period of time? Then Armour Protection Board is the right solution as it will stay in place on the carpet and give you a hard surface without damaging the carpet below.
• Question 2, Synthetic or Natural Fibers?
The adhesive in carpet film won't work well with natural fiber carpets and isn't recommended for this use.

Instead, Armour Defender Guard is perfect for this risk as – unlike a paper-based product like Bulldog Board – when the protective surface flexes and confirms to any impact it won't tear and rip, even when the carpet underneath doesn't have the support of a hard surface such as concrete.

Armour Defender Guard is highly tear resistant, rolls out fast and flat, and works on carpet very well without having any adhesive on it so there is no worry of voiding a warranty or damaging the carpet from the application.
Questions? For free, expert help just request your Axiom Projection Assistance session to discuss your project with an Axiom specialist.
(Product shown: Armour Protection Board)
Sourcing Carpet Protection (As Fast As Next Day!)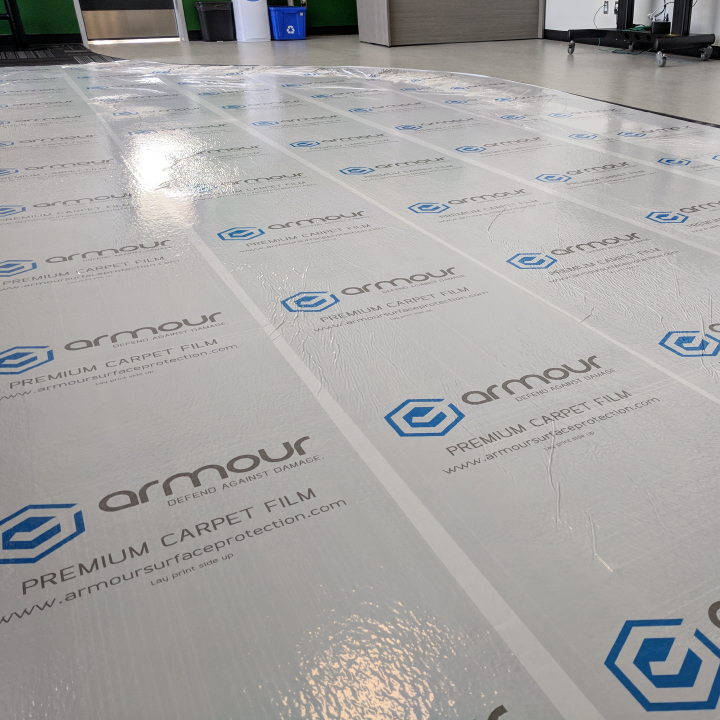 Construction professionals trust Axiom for jobsite carpet protection as we deliver from substantial inventory, held across Canada, as fast as the next day.
Plus, for every finished surface risk across your jobsite, a 'one stop' range of surface protection products and dust control solutions is separated into eight protection types to make finding the right product super-fast, every time:
✓ Floor protection: Including custom-printed Armour Protection Boards
✓ Door and edge protection: Including Armour Door Protection Sleeves
✓ Stair tread and riser protection: Including Armour Stair Tread Protector
✓ Kitchen and bathroom protection: Including Bathtub Protection Liner
✓ Adhesive protection tapes: Including Armour Multi-Use Protection Tape
✓ Glass and window protection: Including Armour Premium Glass Film
✓ HVAC protection: Our recommendation? Armour Premium Duct Film
✓ Dust control: Including Zipwall Dust Barriers
✓ Installation tools: Including Carpet Film Applicator
Remember, if you'd prefer to speak to a temporary surface protection specialist about your project first, our Axiom Projection Assistance sessions are available at no cost.
So, whether you order right away or reach out for advice first, we'll be proud to help you save time, save money and look good on your jobsites. It's what we do!
(Product shown: Armour Defender Guard)
See also: New Product! Floor Protection With a Super Soft Side, A Simple Path to Fewer Jobsite Injuries