Latest News
How To Protect Doors From Dust And Damage During Construction Projects And Renovations
March 29, 2018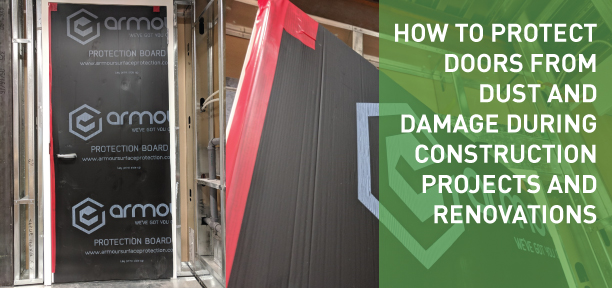 Doors are something that everybody uses, and often times they are hung during construction or renovation projects and painted or finished before all trades and contractors are finished on the job. This presents the challenge – how do I keep my doors clean and protected from dust and damage whilst the work is being completed?
Axiom has options for protecting your doors.
VIEW ARMOUR DOOR PROTECTION SLEEVES HERE
Armour Door Protection Sleeves are a simple and effective way to protect doors from dust, dirt and paint during renovations and building construction. Simply tear off a door sleeve on the perforated roll and slide it over the door to protect. Custom sizes are available upon request, however the Armour Door Protection Sleeves are a common door size of 37in X 86.5in to fit the majority of doors. A roll comes standard with 75 door sleeves for convenience and ease of use.
If you require heavier duty door protection, you need Armour Protection Board. The fluted plastic sheets of Armour Protection Board are easy to cut to size, to fit your doors perfectly, and can be taped to the door on the edges with Armour Tape.
VIEW ARMOUR PROTECTION BOARD HERE
Armour Tape does not leave any residue on finished surfaces, which makes for a hassle free, clean removal experience when you come to remove the protection from the doors. Simply pull off the tape, and your Armour Protection Board will come off, ready to be reused on another project.
#TemporarySurfaceProtectionProducts #DoorJambProtection #DoorFrameProtection #TemporarySiteProtection #DoorProtection #ConstructionDoorProtection #ConstructionSurfaceProtection #RamJamb #DoorJamb #ArmourBoard #ArmourProtectionBoard #DoorSleeves #ProtectiveDoorSleeves #DoorProtectionSleeves