Door & Edge Protection
This Jobsite "Damage-Magnet" Will Wreck Your Budget… And Fast!
March 29, 2023
Construction professionals like you often invest in purpose-made temporary surface protection for one big reason: no one can afford the time and money wasted by finished surface damage.
And there's one jobsite risk where this factor is clearer than ever.
Doors and door frames on a jobsite aren't just VERY prone to damage but they also leave you with a very expensive fix or a very slow replacement lead time when they do almost inevitably pick up scratches and dents.
But preventing knocks and scrapes to doors is, thankfully, easier than ever! Read on to find out why AND discover our door protection checklist…
Stopping Jobsite Door Damage: Doors Attract Destruction!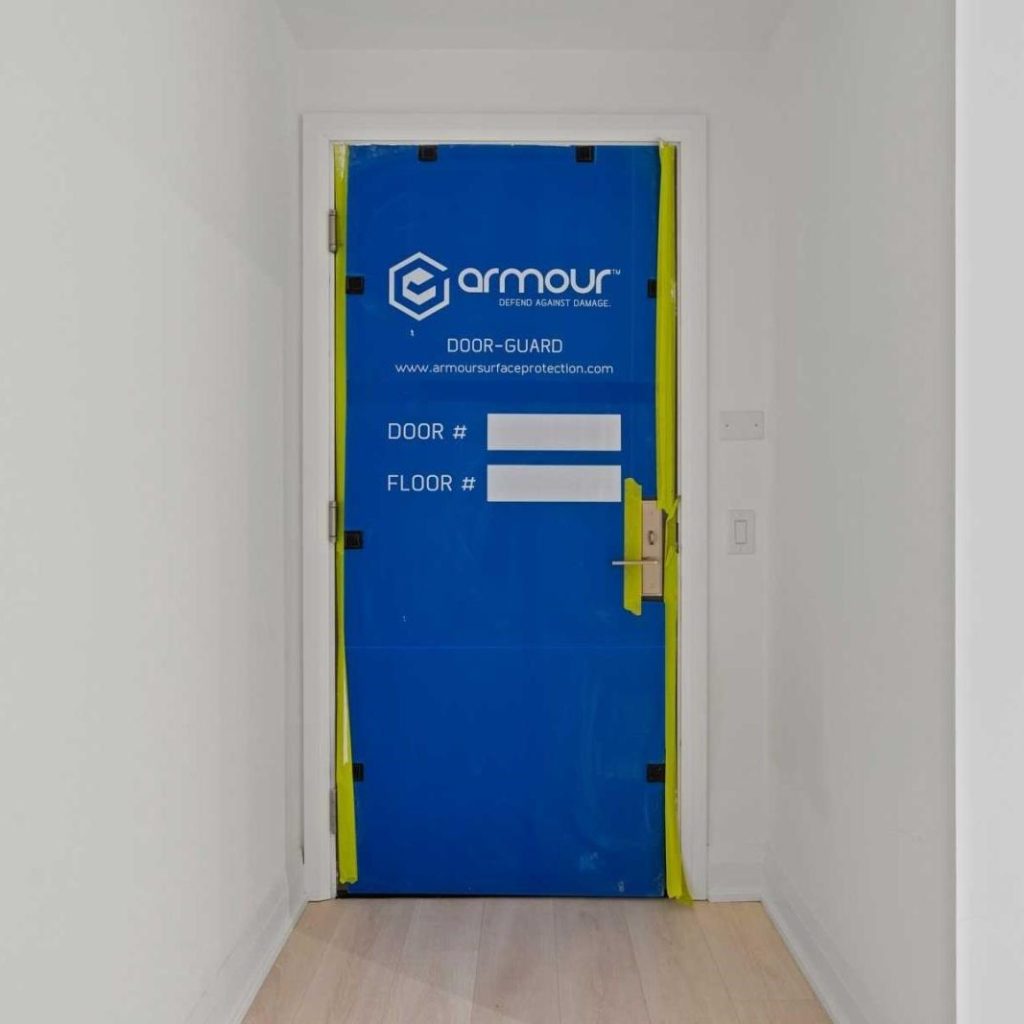 Doors on your construction site are often some of the first fixtures to go into place for some very good reasons:
• Security: You wouldn't leave so much as a tape measure behind overnight on a jobsite without doors!
• Access control: To keep public and construction areas apart.

• Environmental factors: Like temperature, humidity and air quality.
• Progress tracking: Even more doors are also added at times to show that part of a jobsite within a project is nearing completion.
The problem? Doors seem to love picking up scuffs and scratches. An even worse scenario – dings and dents to steel and aluminium doors and frames – is also caused by the usual culprit of trades causing damage as they pass through with tools and equipment.
And, with doors often ordered to a specific spec for each project, this means a great deal of time and money wasted to bring the door back to spec or even a lead time for a replacement and refitting.
Reminder: Doorways, by their very nature, are the exact points where trades and everything they carry will pass again and again. Yet their specific spec for each jobsite makes repairing or replacement a wrecking ball for the project budget!
(Image: Camrost Felcorp jobsite)
Stopping Jobsite Door Damage: The Solutions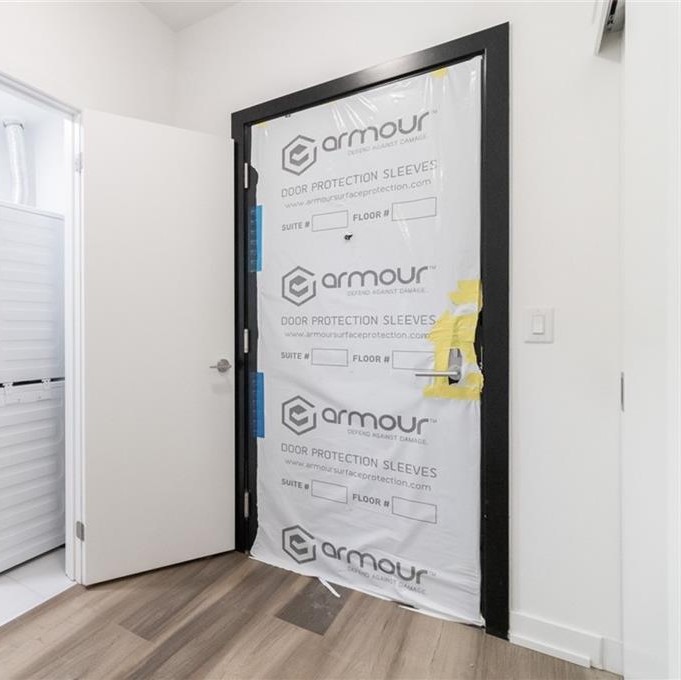 Some good news: tried and tested door protection products you can trust aren't just easily available, they're quick to use by design and available in a range of protection types:
• Protection against dust and paint plus minor scuffs and scratches: A layer of Armour Premium Hard Surface Film or Armour Multi-Use Protection Tape gives fast and effective shielding against liquid damage or light knocks.
• Rapid reassurance: Armour Door Protection Sleeves simply slide over a door to create an adhesive-free, durable barrier with the benefit of thick poly construction.

• Reusable, impact resistance: Using a high-performance Armour Door Guard adds even more damage prevention, especially against dents and dings, plus a reusable design!
• Custom size protection: Sheets of Armour Protection Board (Black, Translucent or Grey, depending on the level of protection needed) are easy to cut and then hold in place using Armour Tape or Clean Green Tape).
Tip: Thinking 'scale' will help make the most of door protection. How? Simply keep in mind that the time saved by using a rapid-fit product will multiply dramatically if you have many doors on a jobsite.
(Image: VanMar Constructors jobsite)
Stopping Jobsite Door Damage: Choosing & Using Door Protection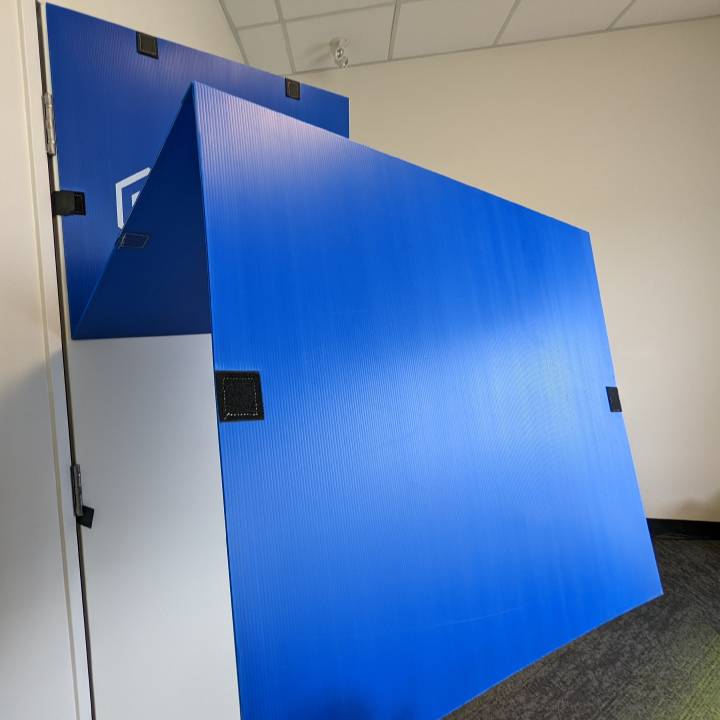 Along with the number of doors on your construction site, this door protection checklist will help you zero in on the right product for each jobsite:
• Door construction: Wood finish? Aluminium? Steel?
• Identify the risk: Liquids, drywall mud and dust and/ or a likelihood of impact?

• Set a timescale: How long will the product need to stay in place?
• Think budget: Your total available to protect every door?
• Single pass or phase-by-phase: Is reusing protection after each phase possible?
Tip: Take care when using adhesive film or tape to match the right product to the right surface. The risk? Residue or even removal of the door finish. If in doubt, just ask! We're here to help.
(Image: Armour Door Guard)
Every Door Protection Product You Could Need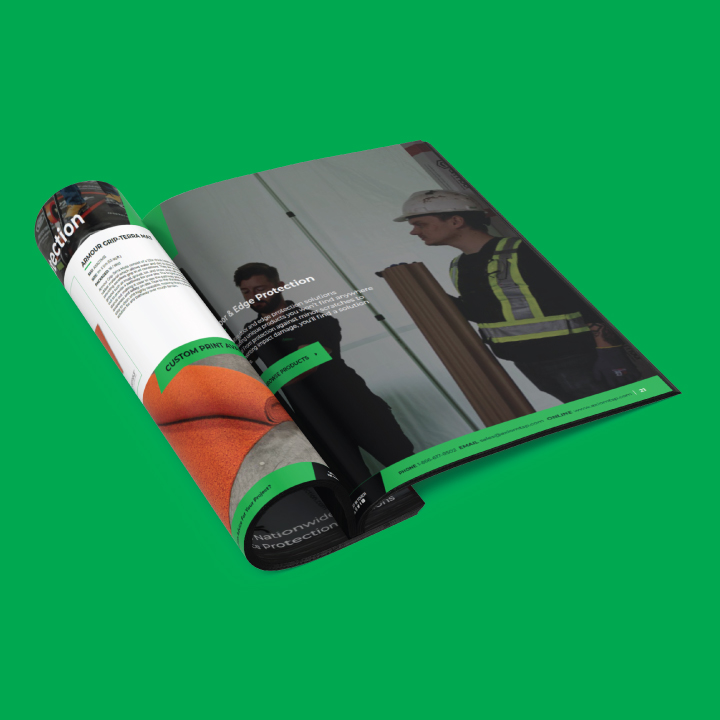 There are three awesome ways you can access door protection products as fast as the next day.
Our latest catalogue – available as a PDF or printed version – also has custom printing availability clearly marked, meaning you can plan all your temporary surface protection for a jobsite at a glance.
Browse our online store for a wide selection of door protection products, available for fast shipping. Our user-friendly platform makes it easy to find the right products for your needs and purchase them hassle-free.
Simply use our FREE Project Assistance service and get personalised advice for your specific construction project. Our team of experts will guide you through the entire process, from selecting the right door protection products to ensuring they are properly installed. With personalized support, you can be confident that your doors will be fully protected from any potential damage during construction.
Why trust our specialists? Well, we're the leading temporary surface protection specialist thanks to…
✓ More choice: We never stop searching for the very latest innovations to add to our range
✓ Buying direct: Our solutions come straight from the manufacturers, meaning we can work together on pace-setting news ideas
✓ Market-leading expertise: We're renowned as experts because temporary surface protection is all we do!

Most of all, we're proud to help you save time, save money and look good on your jobsites. And we think it shows in everything we do.

See also: Ask These Two Questions or Risk Jobsite Carpet Damage, NEW Tough Floor Protection With A Super Soft Side