Door & Edge Protection
Construction Pros: How To Choose The Right Temporary Surface Protection Film Every Time!
July 28, 2023
Picking the right temporary surface protection film for your construction project might look complex. After all, each film can be very subtly different.
But it doesn't have to be difficult!
Our quick read overview explains how each film works on your jobsite, the specific risk a film is designed to remove and an essential feature every film should have.
Plus! Read on to discover a temporary surface protection film checklist you can use to make sure you match the risk to the right film. We've even included information about sourcing free project assistance to make this process super simple.
Temporary Surface Protection Film: 101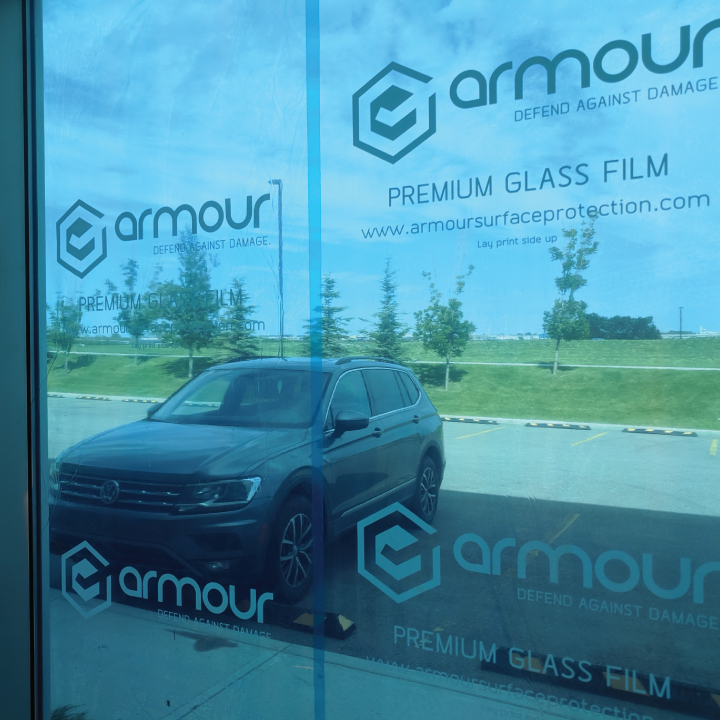 We'll explore essentials such as assessing when temporary surface protection film can be used as the most cost-effective solution vs other products, the different specifications of film and also the types of surfaces they can be used to protect.

Let's nail down the main types of temporary surface protection film…

Polyethylene (PE)
Pros: Versatility, low cost and excellent film-forming properties.
Used for: Good resistance to moisture, chemicals and abrasion.
Polypropylene (PP)
Pros: A commonly-used, readily available film.
Used for: Similar properties to PE, including moisture resistance and durability.
Polyvinyl chloride (PVC)
Pros: Preferred for heat resistance.
Used for: Withstanding higher temperatures without melting or deforming.
Polyethylene terephthalate (PET)
Pros: High clarity and strength.
Used for: Jobsites where transparent or glossy protective film is a priority, eg for electronic displays or polished surfaces.

In short, the materials used for the construction of your film will depend on the risk the film is designed to remove. Simple.
These materials can be modified or combined with other additives to make the film even more effective against that specific risk. For example, UV stabilizers to add resistance against sunlight or extra adhesion might be included.

The specific composition, though, can vary between manufacturers and product lines (keep reading for a highly recommended tip to ensure consistent performance!).
Plus, different films are designed for specific applications, such as protecting painted surfaces, glass, stainless steel, or automotive parts.

Tip: Combine your temporary surface protection film with temporary surface protection products like floor, stairway and dust control solutions to benefit from delivery as fast as the next day for your jobsite's complete surface protection package.
Temporary Surface Protection Film: Why Film?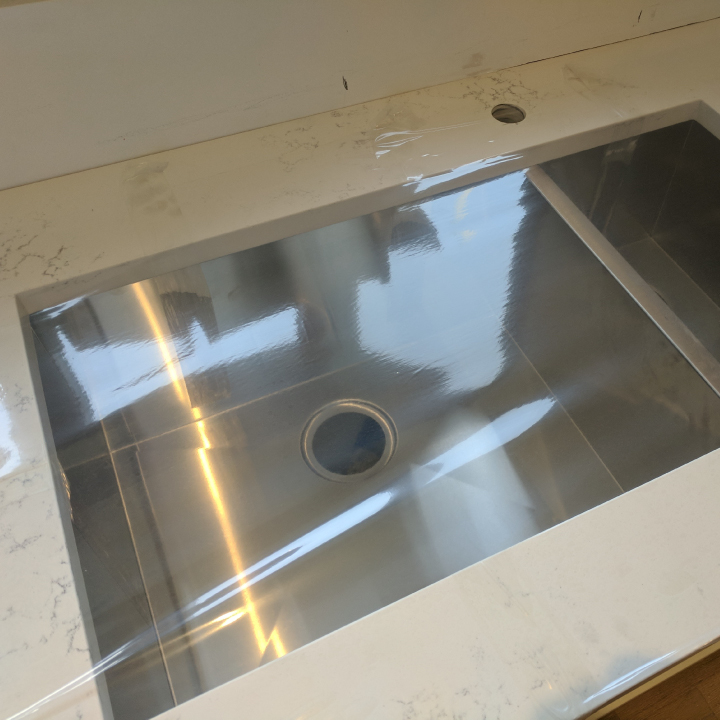 There's a big reason for choosing film over boards, fleece or other products.
Put simply, if impact resistance isn't needed then film may be the most cost-effective option as the thinner material found in film can be more than enough to prevent scrapes, mud, dust and spills from causing damage.
Temporary surface protection film often covers surfaces like window frames, mullions, sills, cabinets, sinks, bathtubs, and showers BUT a high-performance carpet film with its own applicator is also available and delivers great results for construction professionals.
Want to test a specific film for yourself before you order? Our famous Axiom Sample Box service lets you try before you buy (and we'll even include a free pack of candy to say thanks!).
Temporary Surface Protection Film: Your Checklist (And a Must-See Pro Tip)
Asking just four questions will go a long way towards choosing exactly the right film for each project.
1. What surface do you need to protect?
Why it's important: There's a big difference between a hard surface and a carpeted surface as each needs a different adhesive to ensure firm hold without damage. Plus, porous or chemical-finished surfaces need special consideration.
2. How long does the protection need to be in place?
Why it's important: Some films are rated for 45 days, some for 60 and some for as long as 365 days! You'll want to have confidence that the film will hold well and remove without leaving a residue.
3. Will the surface be in direct sunlight?
Why it's important: Choosing a UV-protected film for a surface like window frames means the product's performance will continue even in prolonged exposure to bright sunlight.
4. How much strength does the risk demand?
Why it's important: Different films have unique thicknesses to be more durable than others and can be matched to your jobsite.
Pro tip! Thinking through the full application you need AND the end result of using a film on your jobsite helps with working backwards to the right solution. 'Beginning with the end' helps to single out the right film options very quickly.
You, however, can access free Project Assistance to help match your risk factors to the right choice of film. Simply book your call (we even do site visits) to speak to an Axiom Temporary Surface Protection specialist.
But our biggest recommendation? Axiom's temporary surface protection films are purpose-made and have been tried, tested and proven by construction pros across the country like you. Taking a chance on a lesser brand, a generalist supplier or a cheap workaround can lead to costly and disruptive repairs on your jobsite.
Why take our word for it? Well, we eat sleep and breathe temporary surface protection because it's all we do! Click to find out what makes Axiom different from regular suppliers.
Temporary Surface Protection Film: A Better Source for Your Film
As well as our Project Assistance service, there are two ways to make choosing between surface protection films extremely easy…
Access to our latest catalogue – available as a PDF or printed version – means you can plan all your temporary surface protection for a jobsite at a glance.
Simply use our free Axiom Sample Box service to try a product before you buy.
Choosing Axiom for temporary surface protection means expert, rapid and personal help before, during and after your order.
Most of all, we're super passionate about helping you save time, save money and look good on your jobsites. And we think it shows in everything we do.
See also: Three Reasons Why You Should Use Surface Protection Samples, Why Surface Protection Can Fail in High-Traffic Areas!