Dust Control
How To Control Jobsite Floor Protection Damage (Before It Controls You)
April 4, 2022
Let's save time and be really blunt: you can either control floor damage on a construction jobsite OR finished floor damage will control your jobsite instead!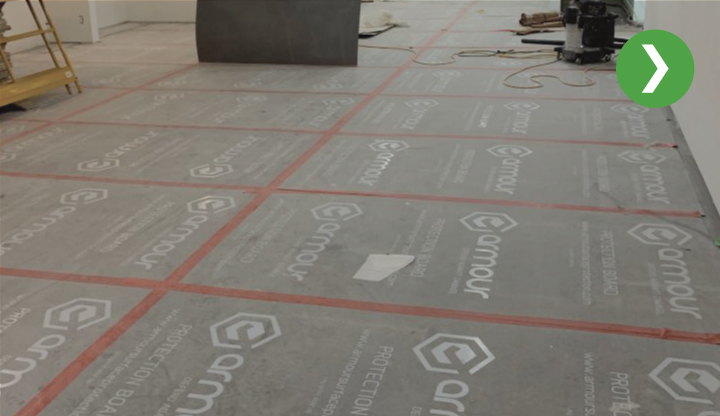 Why? It's simple: the impact on time, budget and client satisfaction caused by damage can arrive at any time and cause havoc for your jobsite profit and schedule.
That's why we've compiled some must-see jobsite floor protection essentials including some easily overlooked reasons why temporary surface protection is a must PLUS essential surface protection methods.
We've even included some product recommendations we think every construction professional with an interest in efficiency and maintaining a safe, tidy jobsite will want to see.
Read on to discover our quick-read guide to temporary floor protection during construction…
Construction Temporary Floor Protection: 1, Things You Need to Know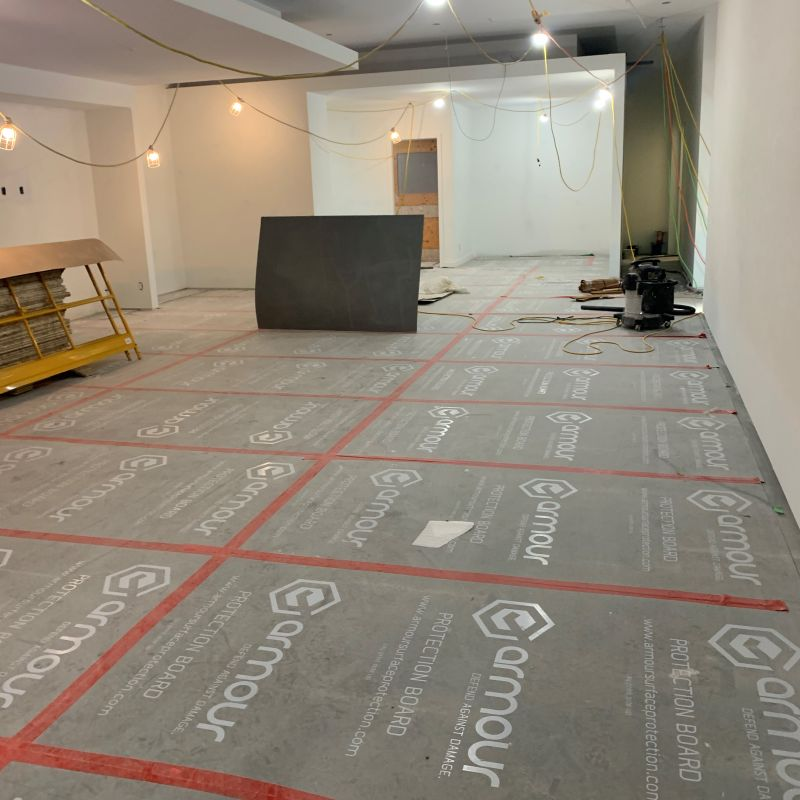 If we could pass a 'floor protection 101' to every single construction professional what would we say?
Easy. We'd – as always – tell construction professionals to remember these four things about protecting their project against costly floor damage…
✓ 1, Spend now = zero gambles later: Investing in finished floor protection BEFORE you start working means it's a known, planned cost.
On the other hand, keeping your fingers crossed and waiting to see if you'll need to repair the damage later means a mystery cost at a mystery time in the future. As Mark Wahlberg says in Deepwater Horizon, "hope is not a tactic"!
✓ 2, If it's protected, it stays protected: Taking time to seal a finished floor to prevent damage means you don't need to return to the area if a delivery is arriving or specific work has to be carried out.
Once protection is in place it can remain until the jobsite is completely finished.
Job done.
✓ 3, Protection promotes your work: A walkthrough with your client or boss can make a BIG impression when meticulously applied floor protection is in place.
It makes a statement to other trades too and sets the tone for a tidy, safer jobsite.
If you're proud of your work, why not make the jobsite itself work hard to show your professionalism.
✓ 4, What clean-up?!: Ever spent ages mopping and fussing over a finished jobsite floor to bring it back up to standard?! Simply rolling up temporary construction floor protection means a faster exit from a jobsite. Remember, packing away temporary floor protection means you're packing away most of the dust and grit. Meaning MUCH less time clearing up on-site!
✓ 5, On time, every time: Because floor protection removes the risk of having to return to the site to repair damage, your job won't be impacted by delays.
After all, starting on time puts a new job on the right footing from day one.
Plus, avoiding knock-on damage to your schedule is an investment worth every cent!
✓ Three words: Win, win, win!
If you're happier with a jobsite, the client is happy and sub-trades have a well-prepped, well-organized site to work on then everyone is happy!
The impact of a well-protected, professional and efficient jobsite really does 'ripple effect' across to others in a powerful way.
To discover some main floor protection types AND recommended products to watch out for simply read on!…
Construction Temporary Floor Protection: 2, Essential Info and Recommendations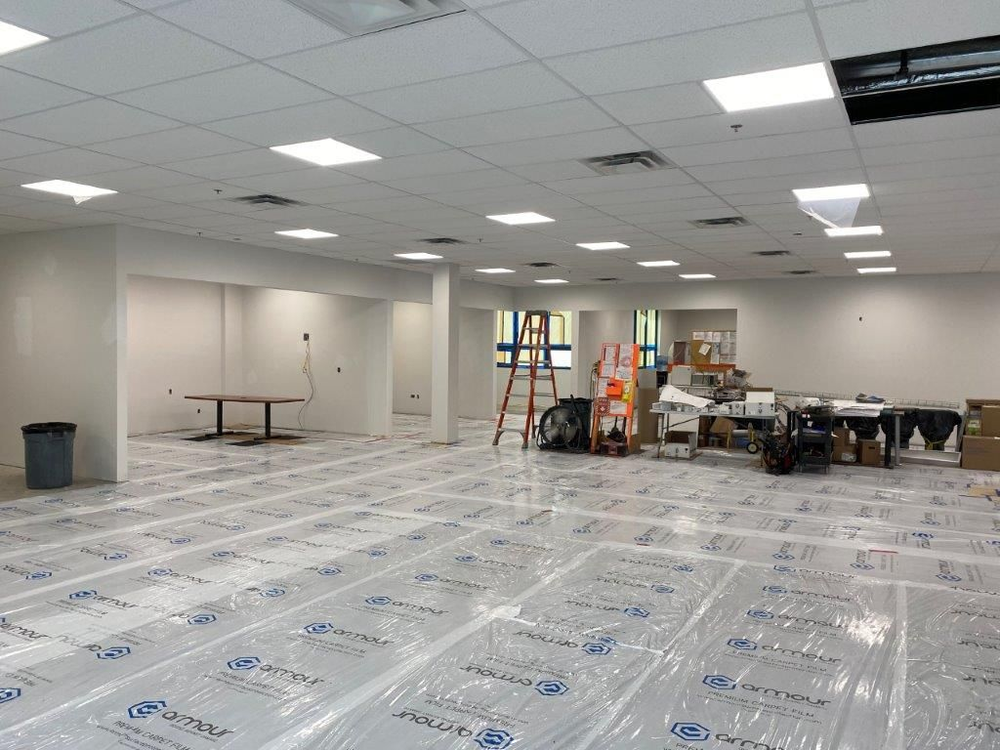 To make the right floor protection for your jobsite happen it pays to know about three main types of floor protection products as well as their pros and cons.
Axiom specialists recommend that construction professionals keep some key information about each product type in mind before making a choice…
• Boards: Ideal for smaller rooms, laying boards (cutting to size as needed) is quicker than working with short runs of rolled materials. Plus, boards and sheets will always lay out flat meaning for a quick set-up time.
• Films: Fast, budget-friendly and simple! Film offers less protection than other methods but is still more than enough for most jobsites.
• Mats/ Floor Runners: The re-usability of mats and floor runners means their durable, lasting design will keep on working hard for you across multiple jobsites.
However, there are two standout products – taking in mind the very latest product options and benefits – that we think deserve very serious consideration as a 'first step' to picking construction jobsite floor protection.
The Armour Defender-Guard is an extra high-strength, rolled temporary floor protection with some high-performance features…
• Absorbs liquids without weakening
• Grips surface and anti-slip under-side
• Lays flat every time
• Surprising affordable
• Long-term protection on a jobsite For hard floor protection, such as polished concrete, hardwood and LVT, Armour Protection Fleece is a superb go-to thanks to…
• Non-abrasive surface underside
• Stay-grip design
• Protection against liquid spills by design
Because every product offers different features and strengths, picking the right option can have a big impact on how floor protection performs on a jobsite. Read on to discover how we can help make your choice of product much, much easier.
Prefer to have your questions answered right now instead? Simply Ask Axiom for a fast, expert response. Every time.
Construction Temporary Floor Protection: 3, Your Next Step
Two things our construction clients always find useful when they're picking the right floor protection for their jobsite? One, trying a product sample where possible and two, reaching out for free, specialist advice!
Many customers begin their project preparation using our renowned Sample Pack service (we even include a free pack of candy to say thanks!).
To take the guesswork out of ordering floor protection products, we even offer project assistance at no charge. And it's a fast, no-fuss, expert resource. To access your session simply click here. We're glad to help.
Once you're ready to order just let us know using phone, text, email, or our online form and we'll get straight onto it. The dispatch process begins the second an order is received!
And because Axiom customers are based across North America, with a particularly large number of construction professionals relying on our surface protection in the Alberta, British Columbia, Saskatchewan, Manitoba and Ontario areas, we work very hard to make rapid delivery happen wherever you're located.
We can do this thanks to…
✓ Superb distribution centre network: including our just-launched Vancouver centre.
✓ Substantial stocks: For assured supply chain.
✓ Delivery, as fast as next day, to suit you: Tell us where and we'll do the rest.
So, which floor protection product would best protect your budget and schedule on your next construction jobsite?
For help to choose, simply ask our temporary surface protection specialists today. We'll be proud to be in your corner.
See also: Hard Surface Film vs Countertop Film, Five Ways Temporary Surface Protection Saves You Time
#TemporaryFloorProtection #TemporarySurfaceProtectionProducts #CanadaFloorProtection #Construction #FloorProtection #TemporarySurfaceProtection #CanadianConstruction #ConstructionProtection #ConstructionProfessional #SiteSuperintendent #SiteSupervisor #ConstructionManager #ArmourProtectionBoard #BulldogBoard #DefendAgainstDamage #BulldogBoardFloorProtection #FloorProtectionCanada #ConstructionFloorProtection #BulldogBoard #MullionProtection #TemporaryFrameProtection #TemporaryWindowProtection #GlazingProtection #WindowMullionProtection #AluminumMullionProtection #SlabOnGrade #ConcreteSlab #ConcreteProtection #ConcreteFloorProtection #ConcreteSlabProtection #AxiomSurfaceProtection #StairProtection #Stairs #TemporaryStairProtection #Canada #SiteProtection #StairTread