Floor Protection
3 Installation Tools You Need For Temporary Floor Protection
August 25, 2022
A Pro Tip for Increased Jobsite Margins!
As a construction professional, especially if you're a meticulous pro who takes extra care with your reputation and efficiency, you'll already 'get' how temporary surface protection saves time and money on your jobsites.
The difference, though, between simply protecting a jobsite and squeezing every bit of potential benefit from surface protection is powerfully simple.
AND it helps keep even more margin from a jobsite in your pocket!
The trusted method to make this happen? Simple. It's the use of purpose-made installation tools for fitting your temporary surface protection solutions.
Read on to discover how the right installation tools can mean even more time, extra damage risk reduction and even added safety benefits on your next jobsite.
Jobsite Surface Protection Installation Tools: Better Bottom Line Results
Research has shown that construction project rework can average 5% of construction projects.
During a time of increasing costs and hiring challenges, we reckon every single Axiom customer would agree that clawing back even a single percentage of jobsite margin is no longer optional. To see why, take a second to imagine what a 1% improvement would look like to your bottom line across one year then scale this across your entire career!
Using the right temporary surface protection and then pairing it with a matching specialist installation tool too can contribute BIG to this dollar and cents efficiency drive. (And we base this statement on years of jobsite risk removal experience).
Here are some must-see examples of how it works…
✔ Faster installation: All of our renowned products can be installed by hand or rolled into place, but using the likes of a carpet film applicator will be faster.
Tip: The bigger the project the bigger the time savings.

✔ Less waste: Sticking with the carpet film applicator, the tool's even pressure means the film will stick evenly to the carpet with reduced wrinkles or installation errors.
Tip: Especially with custom-printed products, an even application gives a much more professional look to a jobsite.
✔ Improved safety: Many of our recommended installation tools offer a safety benefit. For example, the Bulldog Board Knife makes it easy to avoid cutting yourself when trimming Bulldog Board.
Tip: For trimming a protection product to size, always check if a custom-made tool is available (and, if in doubt, just ask!).
✔ Added risk reduction: Imagine the frustration of damaging a surface while fitting a surface protection product! That's why our Bulldog Board Knife also (unlike a regular open-bladed knife) removes the risk of gouging a surface or floor.
Tip: Our free Project Assistance looks at your jobsite risk, and the right choice of temporary surface protection product, from every angle to help spot potential damage issues before they happen.

✔ Less jobsite fatigue (even injury!): Because no construction professional can afford the time lost to injury, especially in 2022, the Seam Tape Dispenser doesn't just speed up the time it takes to tape seams together but also protects your back and knees.
Tip: Using a tool to avoid stooping and bending, as well as less time smoothing out a temporary surface protection product you've just applied, is an investment in decreased opportunities for jobsite injury.

In short: surface protection installation tools are designed with the rule 'time is money' in mind, they improve the standard of the installation and even help prevent injury.
Jobsite Surface Protection Installation Tools: Recommended Tools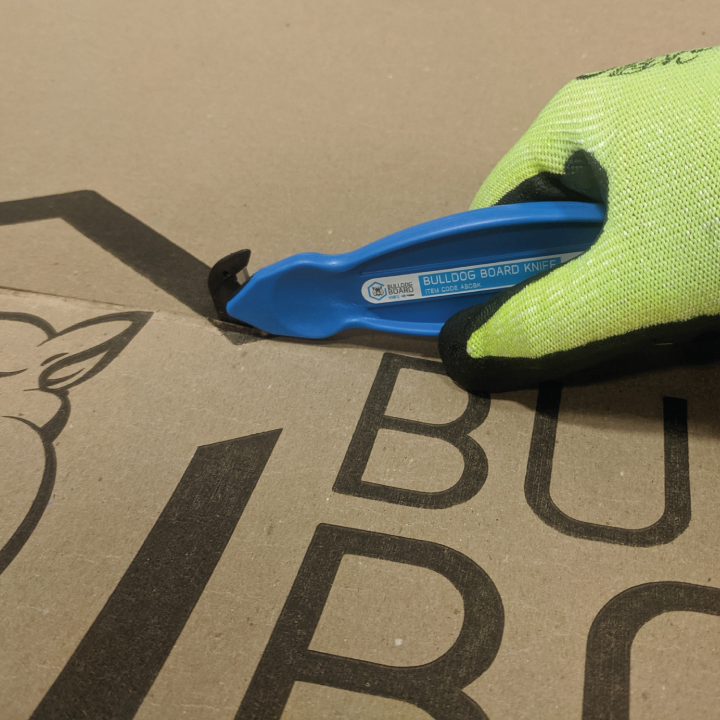 We – of course – highly recommend our range of temporary surface protection fitting tools. That's because we've selected each one by hand based on renowned risk removal expertise!
Let's take an even closer look at the surface protection essentials we mentioned above…
Usage advice: A superb product for fast, even and effective application of carpet film. Choose from the 24" to 36" wide adjustable and the 48" fixed-width adaptor.
Can also be used with Hard Surface Film but, due to the hard surface of the roller, we recommend only using this product on carpets and soft floors.
Usage advice: To avoid damaging a floor when cutting paperboard-based Bulldog Board at the end of a run, keep a Bulldog Board Knife on hand for safer cutting with no risk of surface damage.
Cutting with a normal construction knife near finished surfaces is not recommended.
Usage advice: A huge time saver! Smooths out the tape and applies it evenly and with adequate pressure to ensure the floor protection product is held in place securely.
Also means there are no trip hazards or tape pulling up due to ineffective installation by hand. This tool can take any type of single-sided tape such as Armour Tape, Bulldog Board Tape (and more!) up to 4" width.
Weighing up the benefits of a professional temporary surface protection fitting tool? Simply ask yourself what the risks of not using the tool would look like for your jobsite.
Jobsite Surface Protection Installation Tools: Three Ways to Choose the Right Tool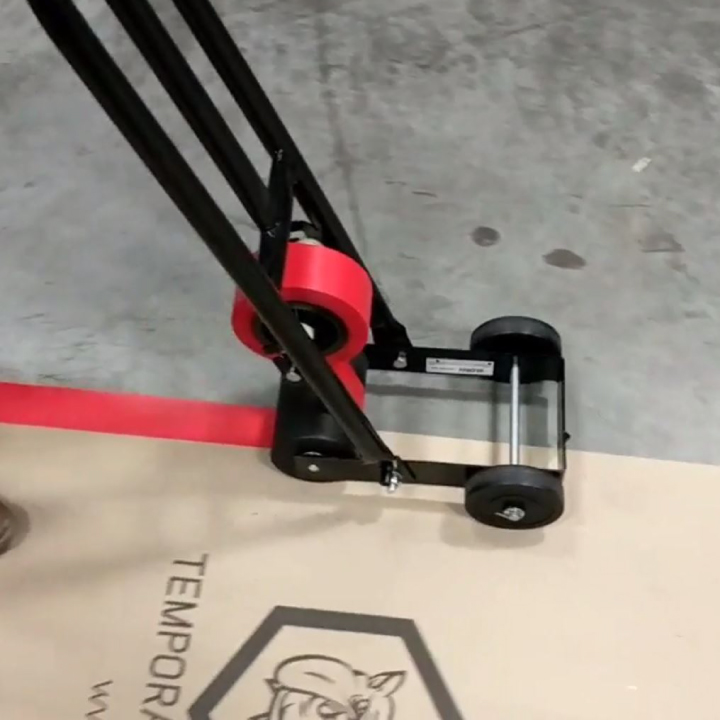 Our experts recommend asking yourself three quick questions when picking a temporary surface protection installation tool.
✓ 1, Is it needed? A smaller area like a residential home or apartment may mean hand-fitting is necessary due to the short runs and frequent cutting.
✓ 2, Have you assessed the benefits? It can be easy to dismiss a tool due to what seems like a high cost. But remember to put a value on factors like the time saved, reduced damage risk and the decrease in potential jobsite injuries.
✓ 3, Will it last? Less expensive plastic installation tools (we only use metal!) may be available BUT can be more likely to flex in use, meaning uneven application. Most of all, metal tools pass the 'buy once' well and can be stored for reliable use time and time again.
Reminder: Questions? Our expert Project Assistance is always free. Tell us about your jobsite and we'll help you remove damage risk. Simple.
Ordering Your Temporary Surface Protection Installation Tools
Simply order online, or speak to one of our experts today and you could have your installation tools, especially for jobsites in Canada, as fast as tomorrow.
Our dispatch process begins the second an order is received!
Don't forget: there's NO need for temporary surface protection guesswork thanks to our free Project Assistance service.
Whether you order right away or reach out for advice first, we'll be proud to help you save time, save money and look good on your jobsites. It's what we do!
See also: Read This If You Use Jobsite Carpet Protection, Faster Jobsite Temporary Door Protection