Hints & Tips
A New Year's Resolution for Your Jobsite? Unlock The Benefits of Jobsite Stair Protection
January 3, 2023
Let's face it, 2022 made ultra-efficient working an essential for pretty much every construction pro. Why? Simply because external challenges meant squeezing every dollar of margin from a project became more important than ever. And we all know 2023 is going to be the same, but hopefully with some improvements!
Our recommendation to face this working environment is simple: start the new year by putting a stop to at least one jobsite practice that's costing time, costing money and making your jobsite (and therefore your work) look unprofessional.
Read on to discover why jobsite stair protection is a GREAT place to begin this overhaul of your jobsite efficiency.
Why Jobsite Stair Protection (And How to Make It Easy)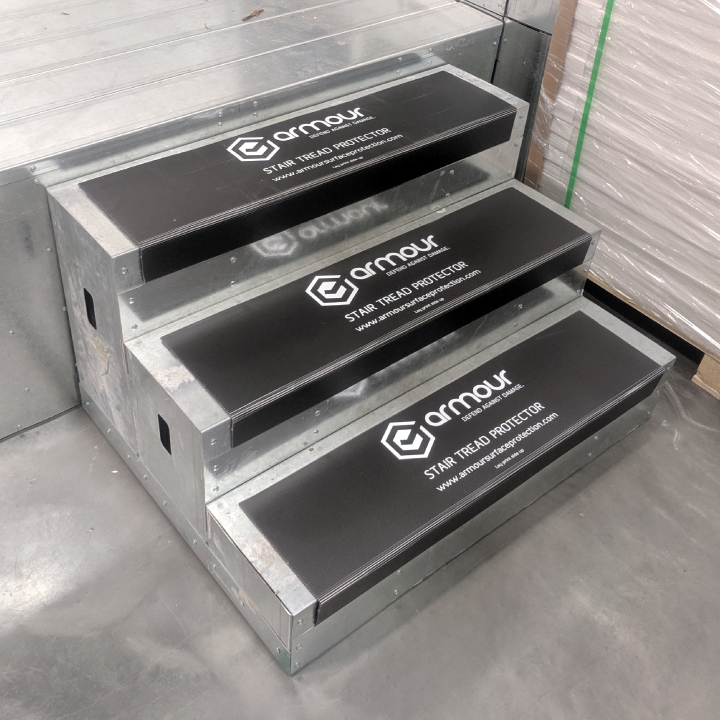 If you want better jobsite margins in 2023, stair protection is an awesome first step.
Jobsite stair protection is one of the easiest wins in surface damage protection thanks to some excellent, proven products already working hard out there across North America.

The job of those products is to…

✓ Be super quick to fit and remove
✓ Give awesome protection against costly surface damage
✓ Make your jobsite, and therefore your work, look good

The alternative? Wasting time and risking budget or even safety on a makeshift, untidy solution is unthinkable on a well-run modern jobsite.
The good news is that one product stands out as an essential go-to as the first product to consider for most projects. That's because the superb Armour Stair Tread Protector can be used on ANY material or surface, making it as versatile as it is durable.

Plus, it saves so much time as it can simply be thrown down on stairs and taped (commonly with Armour Tape) without having to cut it or bend it like a non-purpose-made material.
But how should you go about checking if Armour Stair Tread Protector is the right stair tread protection solution for you?
Simply ask three questions…

✓ What: Identify the surface to be protected (concrete? hardwood? carpet? LVT?)
✓ How long: The length of time the protection needs to stay in place
✓ How much: The amount of traffic expected in the area.
Then explore the range of available stair tread protection products available to you below, often with next-day delivery. TIP: remove the guesswork from this process by simply requesting free project assistance.
Thankfully, there's a great choice of tried and tested stair protection options…

• Armour Stair Tread Protector: Extremely durable, fluted protection with pre-formed nosing protection lip and anti-slip safety feature *custom printing available*.
• Armour Protection Fleece: Features non-woven synthetic fibres with a tacky anti-slip coating on the under-side and a waterproof layer on the top side *custom printing available*.
• Armour Premium Carpet Film: Tear-resistant protection for up to 45 days with clean removal, commonly used to protect carpeted rooms including hallways and stairs *custom printing available*.
• Armour Pro-Tack Felt: A super strong, self-adhesive non-woven material that offers effective temporary protection on stairs and many other surfaces such as walls, floors, stairs, elevators, cabinets, glass, and more.
• Armour Premium Hard Surface Film: Ideal for hard surface stairways, this blue tear-resistant film gives waterproof protection for up to 45 days with clean removal.
• Armour Neoprene Floor Runner – Red or Armour Neoprene Floor Runner -Blue: Durable and reusable as a 'roll away' design means your floor runner can be quickly removed and moved elsewhere. Lays flat with an anti-slip, non-adhesive underside.
• Armour Protection Board – Black: A 2mm thick fluted plastic sheet product which is versatile, easy to use and install. Can be used in many different applications including stairs thanks to its impact-resistant, easy-cut design *custom printing available*.

Remember, you can make the process of choosing the right product much quicker by simply claiming your free project assistance session.
Jobsite Stair Protection: We Can Help
Helping construction professionals to save time, save money and look good on their jobsites is simply what we do!
Our superb range is separated into eight protection types:
✓ Floor protection: Including custom-printed Armour Protection Boards
✓ Door and edge protection: Including Armour Door Protection Sleeves
✓ Stair tread and riser protection: Including Armour Stair Tread Protector
✓ Kitchen and bathroom protection: Including Bathtub Protection Liner
✓ Adhesive protection tapes: Including Armour Multi-Use Protection Tape
✓ Glass and window protection: Including Armour Premium Glass Film
✓ HVAC protection: Our recommendation? Armour Premium Duct Film
✓ Dust control: Including Zipwall Dust Barriers
✓ Installation tools: Including Carpet Film Applicator
Based in North America? Simply order online today for delivery as fast as tomorrow. Our dispatch process begins the second an order is received!
Whether you order right away or reach out for advice first, we'll be proud to help.
See also: Why 'Cheapest Price' Floor Protection Cuts Into Your Jobsite Margin, Three BIG Ways You Benefit From A Clean & Tidy Jobsite