Hints & Tips
Nationwide Delivery: Axiom's Rapid Direct-To-Jobsite Delivery Service
October 18, 2023
Time is money, and every day counts in construction. Whether it's a bustling urban development or a remote construction site, the need for materials and supplies is constant. That's where Axiom steps in with a game-changing solution – our Nationwide Delivery service.
At Axiom, we understand the importance of having the right temporary surface protection at the right time and place. That's why we've invested in a strategic network of distribution centres across Canada.

With fully stocked centres in Alberta, British Columbia, Manitoba, Ontario, and Quebec, we're closer to your jobsite than ever.
Our goal is simple: to provide rapid, direct-to-jobsite delivery that keeps your projects on track.
The Importance Of Nationwide Delivery
Efficient nationwide delivery is a game-changer for construction professionals. We know that this means more than just convenience; it's about staying competitive and meeting project deadlines. Here's why nationwide delivery matters:
Time Savings: With Axiom's temporary surface protection readily available nearby, you can avoid time-consuming delays caused by waiting for shipments from distant suppliers.
Cost Efficiency: Reduced transportation costs mean more budget flexibility for your construction projects.
Project Continuity: Smooth and timely deliveries minimize downtime so that your project stays on schedule.
Axiom's Distribution Centre Network
Our distribution centres are strategically located to serve construction professionals across Canada. Here's where you'll find them:
Alberta: Serving the western regions, our Alberta distribution centre ensures that projects in the province have quick access to the protection products they need.
British Columbia: From Vancouver to the Okanagan Valley to Victoria, our British Columbia distribution centre covers the entire province with ease.
Manitoba: In the heart of the country, our Manitoba distribution centre ensures that central Canada receives the same level of speedy service as bustling cities.
Ontario: Our Ontario distribution centre caters to the thriving construction hubs of the province, including the Greater Toronto Area.
Quebec: Our newest addition! Covering Quebec and the eastern regions, our distribution centre in Quebec ensures prompt deliveries to construction sites in Montreal, Quebec City, and throughout the province.

At Axiom, we take pride in serving construction professionals across Canada and beyond our borders.
While our distribution centres are strategically positioned in Canada, our commitment to delivering top-notch surface protection knows no bounds. If your projects are based in the United States, rest assured that Axiom is your trusted partner.
Contact us today, and one of our dedicated US specialists will be readily available to support you.
Rapid Direct-To-Jobsite Delivery Service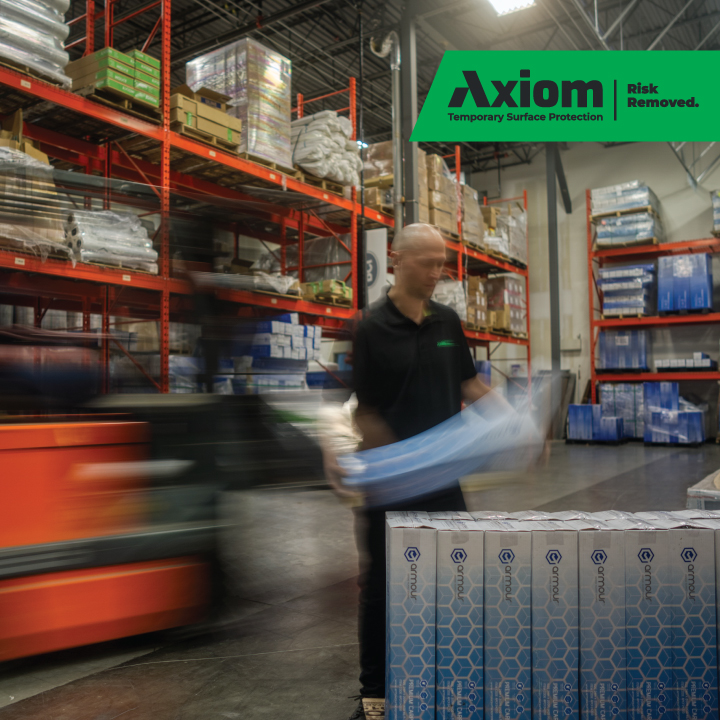 Axiom's commitment to rapid delivery is unwavering. Our distribution centres are strategically placed to minimize transit times and ensure that your orders arrive promptly.
Here's what sets our direct-to-jobsite delivery service apart:
Swift Response: When you place an order with Axiom, you can count on a rapid response and quick fulfilment.
Efficient Logistics: We've invested in state-of-the-art logistics systems to streamline our operations, so your orders reach you without unnecessary delays.
Real-Time Tracking: Our tracking systems allow us to monitor the progress of your shipments, giving you full visibility into delivery times.
Conclusion
Our Nationwide Delivery service is designed to put the right temporary surface protection at your fingertips, no matter where your project takes you. It's about more than just delivery; it's about keeping your construction projects on time, on budget, and on track for success.
When you choose Axiom, you're choosing a partner who is as committed to your project's success as you are.
Ready to experience Axiom's Nationwide Delivery for yourself?
Discover our range of temporary surface protection products by checking out our website.
Construction professionals can contact their Axiom Temporary Surface Protection Key Account Manager for help with their orders at any time.

Don't have an Axiom contact yet? There's an Axiom Key Account Manager for every region in Canada and the USA! Simply contact us to find yours.
Plus, our free Project Assistance service makes finding exactly the right combination of solutions as simple as booking a call.
Why trust our specialists? Well, we're the market-leading temporary surface protection specialist because we eat, sleep and breathe temporary surface protection.
See also: Not Using Surface Protection Product Samples? You're Missing Out! Here's Why…, 5 Ways Axiom's Complete Jobsite Surface Protection Delivers for You