Latest News
Why Use Temporary Surface Protection?
January 29, 2020
Construction professionals in Canada are increasingly seeing the benefits of using temporary surface protection to protect finished surfaces on their projects, however you may still be thinking – Why Use Temporary Surface Protection?
Here's why.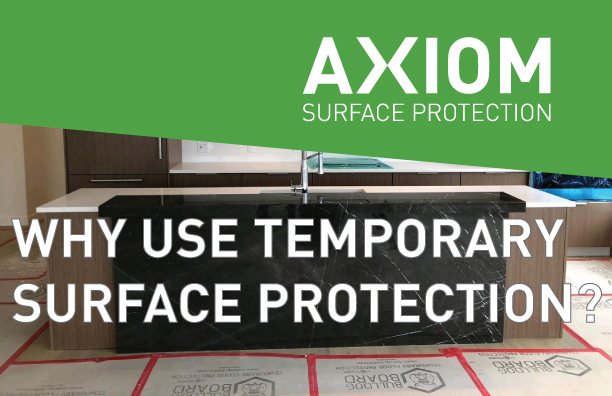 THE SAFE OPTION – PROTECTING YOUR FINISHED SURFACES WITH TEMPORARY SURFACE PROTECTION:
1) Protection costs are known, and budgeted for… up front.
2) Your job will flow better, ensuring on time completion, and no discrepancies resulting in delayed payment.
3) Happy customer = happy life, and your project will go more smoothly.
4) Your company image will be enhanced, from start to finish.
5) Containing noise, and dust, etc. is environmentally responsible and safe.
6) Effective protection, means reduced cleanup time and costs.
Or…
THE RISKY OPTION – CHOOSE NOT TO PROTECT YOUR FINISHED SURFACES, AND FACE THE CONSEQUENCES:
1) Repair and rectification costs are unknown. It's hard to budget for repairs at the end of your project when you don't know how much damage there will be.
2) Defects and deficiencies can delay your project, resulting in delayed payments.
3) Unhappy customers can make things very difficult for your whole project and your company reputation.
4) If your protection looks bad, you can be sure your reputation will follow suit.
5) Lack of care and protection for your personnel and the environment is unprofessional and irresponsible.
6) Unprotected projects, or incorrect protection solutions for the application can result in massive cleanup time and associated costs.
If you'd like to talk to an expert in temporary surface protection solutions, about your project anywhere in Canada, then reach out!
You can view our various Temporary Surface Protection products at www.axiomsp.ca/product/s
Please reach out to one of our specialists for your project needs to answer your questions and to help you with samples and pricing.
#TemporaryFloorProtection #TemporarySurfaceProtectionProducts #CanadaFloorProtection #Construction #FloorProtection #TemporarySurfaceProtection #CanadianConstruction #ConstructionProtection #ConstructionProfessional #SiteSuperintendent #SiteSupervisor #ConstructionManager #ArmourProtectionBoard #BulldogBoard #BulldogBoardFloorProtection #FloorProtectionCanada #ConstructionFloorProtection #BulldogBoard #MullionProtection #TemporaryFrameProtection #TemporaryWindowProtection #GlazingProtection #WindowMullionProtection #AluminumMullionProtection #SlabOnGrade #ConcreteSlab #ConcreteProtection #ConcreteFloorProtection #ConcreteSlabProtection #AxiomSurfaceProtection