Hints & Tips
A New Way To Combine Surface Protection & Sustainability!
August 15, 2023
We know sustainability is increasingly important for your projects so here comes some good news… We've already got you covered.

Because environmental impact has always been a priority for Axiom, we've been promoting recycled and reusable products for years. We've now added easy-use sustainability icons to our range to make choosing these solutions for your jobsite a quick and simple process!
Keep reading to discover why sustainable temporary surface protection is an unmissable 'win' for your project…
Sustainable Temporary Surface Protection: Why Choose Greener Products?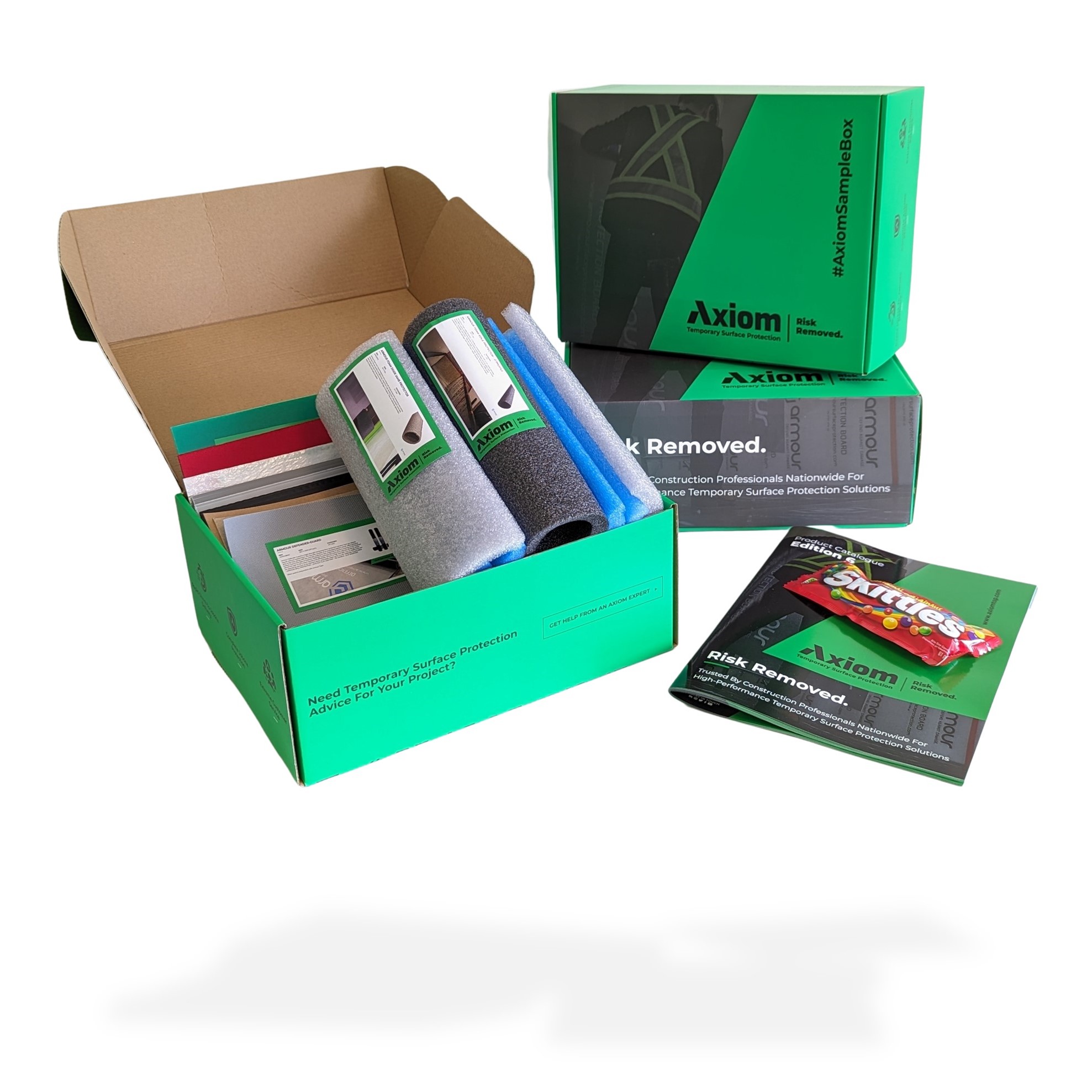 Sustainability is a big focus for the construction sector right now, and this isn't going to change any time soon. Aside from the commercial benefits of more sustainable work, the ethical decision to add a positive impact to your purchasing is valuable from a 'doing the right thing' ethos in and of itself.

But choosing a recycled or reusable temporary surface protection product also makes logical sense thanks to…
Greater efficiency: A product you can use again and again, rather than throw away after use, simply makes business sense due to the time and cost savings. Being able to keep temporary surface protection in your own inventory rather than ordering new products each time is a much more efficient approach.
Brand benefits: As well as making your bid for a contract more viable as a modern, forward-thinking business, the marketing advantages of having a sustainable purchasing policy are an open goal for a business of any size.

An effortless change: Very often, the sustainable surface protection option is among the products you would have been selecting from in any case. Meaning it costs zero to boost the sustainability factor of your order.
Discovering sustainable products and selecting the best fit for your needs has never been easier! Our new icons (detailed below) are designed to streamline the identification of sustainable surface protection options, allowing you to make informed choices swiftly.
Sustainable Temporary Surface Protection: How To Get Yours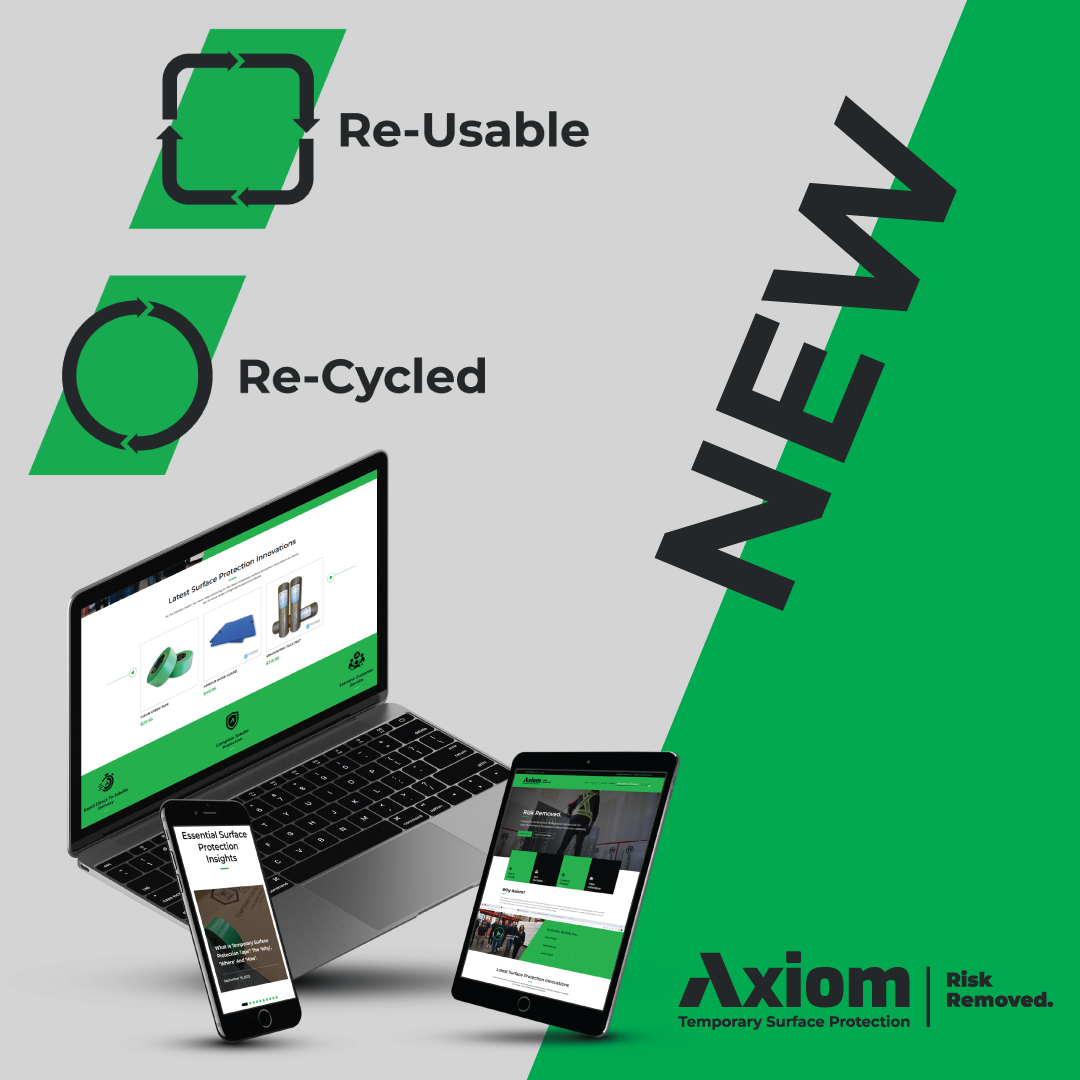 We believe, as industry-leading temporary surface protection specialists, in helping construction professionals stay one step ahead of the latest innovations.
It's also our policy to seek to be environmentally responsible, and transparent in terms of the sustainability of our actions, in everything we do.
That's why we've introduced labels clearly showing the recycled and reusable products in our range.
Because the 'circular economy' is going to be a bigger and bigger consideration in the construction sector, choosing recycled is a simple step to make your purchasing part of this change.

Axiom offers a very large number of products that contain recycled material, including our Bulldog Board and Bulldog Board Lite.

Simply look for our new icons to identify solutions featuring recycled content.
An awesome choice of products now labelled as being reusable makes it a breeze to up the sustainability of your temporary surface protection order…
Armour Defender-Guard
Armour Protection Fleece
Armour Protection Fleece – Breathable
Armour Protection Board – Black
Armour Protection Board – Translucent
Armour Protection Board – Grey
Armour Protection Board – White FR
Armour Protection Board – Green HD
Armour Neoprene Floor Runners
Armour Pro-Tack Felt
Armour Grip-Terra Mat
Armour Door-Guard
Armour Door Protection Sleeves
Armour Foam Edge Protectors
Armour Cardboard Door Jamb Protector
Armour Foam Door Jamb Protector
Armour Corner Guard Edge Protector
Armour Stair Tread Protector
Bathtub Protection Liner
Armour Tak-Mat Base
ZipWall Poles and accessories
All of our Installation Tools
Tip: Using an Axiom Sample Box can also reduce waste by making sure you have the right product for your jobsite, the first time every time.
We're Here To help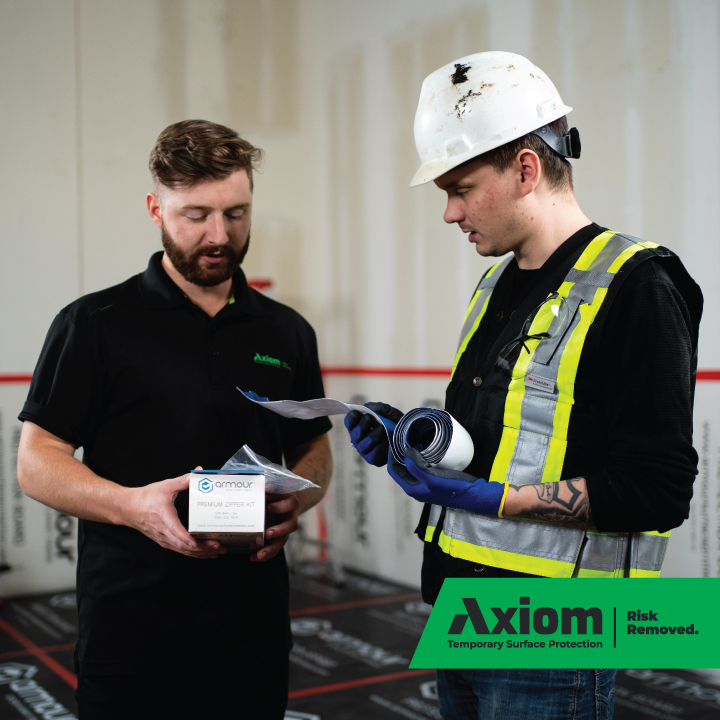 Construction professionals can contact their Axiom Temporary Surface Protection Key Account Manager for help with the sustainability of their orders at any time.

Don't have an Axiom contact yet? There's an Axiom Key Account Manager for every region in Canada and the USA! Simply contact us to find yours.
Plus, our free Project Assistance service makes finding exactly the right combination of solutions as simple as booking a call.
Why trust our specialists? Well, we're the market-leading temporary surface protection specialist because we eat, sleep and breathe temporary surface protection.
Questions? Let's talk temporary surface protection!
See also: Axiom Sample Box Service, Explore Every Temporary Surface Protection Product You Could Ever Need!