Latest News
What Is Armour Protection Board?
January 14, 2020
Armour Protection Board is the trademarked brand name of Axiom Surface Protection's corrugated plastic sheets. Corrugated plastic boards are essentially plastic cardboard, and are made from three layers of thin, polypropylene plastic substrate. The product consists of a fluted layer of plastic sandwiched between two smooth layers of plastic sheeting – also known as twin-wall plastic sheeting. Armour Protection Board's layered structure makes it incredibly lightweight and shock absorbent.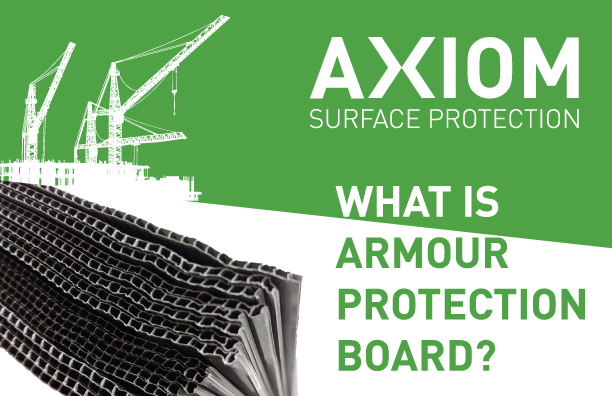 Polypropylene, often abbreviated as PP, is a thermoplastic polymer that is incredibly stable. Polypropylene is perfect for construction and renovation projects because it is chemically inert and has a neutral pH, meaning it can be exposed to heat, cold, chemicals, and solvents without degrading. Furthermore, polypropylene is chemically stable enough that it can be mixed with additives to produce unique solutions such as Armour Protection Board – FR.
So what are the advantages of using Armour Protection Board over against other products?
Armour Protection Board is a unique blend of durable, affordable, lightweight, and pliable. This combination makes it incredibly versatile such that it can be used in all sorts of projects to protect all different kinds of finished surfaces.
Durability – Armour Protection Board is not invincible, and it is not meant to be used forever, however it can take a serious beating from various types of traffic on construction projects before showing any signs of aging. Armour Protection Board is also impervious to damage from insects and rodents.
Affordability – Armour Protection Board is an inexpensive solution for protecting finished surfaces in the construction industry in Canada. Printing onto and cutting Armour Protection Board is a straightforward and inexpensive process that Axiom is able to offer for construction professionals.
Lightweight – Transporting, distributing, and using Armour Protection Board is easy.
Pliability – Armour Protection Board is sturdy enough to lay flat on its own, but flexible enough to give you a lot of options. Cut it, bend it, staple it, punch holes in it… whatever you need to do!
Is Armour Protection Board recyclable? Yes! Armour Protection Board is made from polypropylene and therefore 100% recyclable. How to recycle polypropylene depends on where you live, since not every curbside recycling program will accept it, however most recycling facilities will. Prior to recycling your Armour Protection Board, remove any accessories that are not made of polypropylene, such as tape. Your recycled corrugated plastic can be melted down and reformed for a wide variety of uses, especially for household wares made from plastic like bins, brooms, ice scrapers, and trays. Your old corrugated plastic sheets can be recycled into a number of common household plastic products. It is also important to note that polypropylene is not biodegradable, so it is best if you opt to recycle your used Armour Protection Board rather than throwing them in the trash where it will end up in a landfill.
You can view our various Temporary Floor Protection products at https://axiomtsp.com/floor-protection
Please reach out to one of our specialists for your project needs to answer your questions and to help you with samples and pricing.
#TemporaryFloorProtection #TemporarySurfaceProtectionProducts #CanadaFloorProtection #Construction #FloorProtection #TemporarySurfaceProtection #CanadianConstruction #ConstructionProtection #ConstructionProfessional #SiteSuperintendent #SiteSupervisor #ConstructionManager #ArmourProtectionBoard #BulldogBoard #BulldogBoardFloorProtection #FloorProtectionCanada #ConstructionFloorProtection #BulldogBoard #MullionProtection #TemporaryFrameProtection #TemporaryWindowProtection #GlazingProtection #WindowMullionProtection #AluminumMullionProtection #SlabOnGrade #ConcreteSlab #ConcreteProtection #ConcreteFloorProtection #ConcreteSlabProtection #AxiomSurfaceProtection