Latest News
This Expensive Carpet Protection Error Can Cost You Big!
February 8, 2022
We love helping our customers but we hate hearing that they've reached out after learning about advanced floor protection the hard way! One great example of this? Carpet Damage.
Even seasoned construction professionals can be tempted to use a carpet protection workaround. And that's a small decision leading to big risks.
Our quick-read guide explains how to avoid a common but costly error, how to have proper carpet protection on-hand and most importantly how we can help. Let's take a closer look… Carpet Damage During Construction: The Risks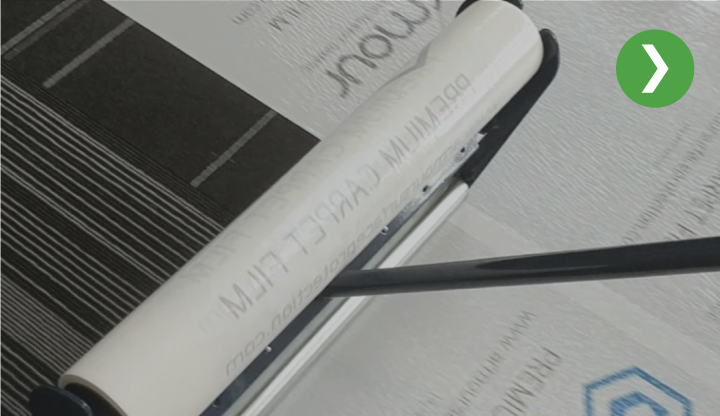 Damage to carpet on a jobsite can damage your reputation, cause conflict with clients and even lead to expensive repairs or cleaning treatments.
On commercial jobsites with extremely large carpets in-situ the risks, and costs, are magnified.
We still see scenarios where a construction professional, working to a tight budget and ignoring factors such as thick pile carpet needing proper protection, decides to select cheap paperboard solutions to cover a carpet.
The issues with this?
✖ Paperboard tearing: Some surfaces will cause paperboard to tear with use.
✖ Lack of spill protection: Meaning the risk of paint or debris damage is magnified.
✖ Wasted time: Working hours spent repairing a product bought to be a solution!
✖ Trip hazards: Caused by torn paperboard.
✖ Unsightly mess: Making a negative impression on clients.
✖ Replacement needed: As the paperboard is now unfit for reuse.
What is the best floor protection for carpets? We strongly recommend carpet film and in particular Armour Premium Carpet Film. Why? Because it's a trusted and proven way to protect carpets for up to 45 days with no-slip hazard.
Carpet film saves time, looks good and helps keep jobs on budget wherever carpet is present in OR near the jobsite area. Remember: even a small amount of construction foot traffic can destroy a carpet.
Carpet Damage During Construction: Where is Protection Needed?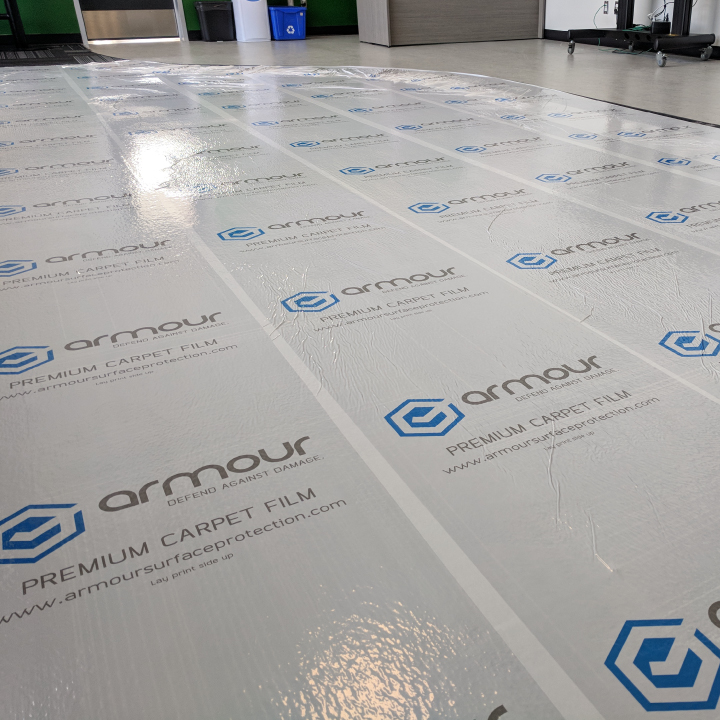 Carpet protection is needed more often than you might think! Does the carpet cover a route used by tradespeople even just occasionally? Is the carpet in a building where the furniture will be relocated and foot traffic/ dust created? Could works nearby, such as stages set-up or exhibition set-up, cause debris? Is there any risk of flood damage?
That's why the advantages of professional carpet protection simply can't be repeated too often:
✓ Carpet wear: Prolongs the life of a carpet.
✓ Multi-purpose protection: Against any kind of high-volume work in the area.
✓ Protects budget: The risk of spills, foot traffic and building or renovation residue damage is removed.
✓ Maintains client satisfaction: By avoiding disputes over damage.
✓ Creates a positive image: Thanks to a clean, professional jobsite presentation.
The best way to unlock these benefits? Using Armour Premium Carpet Film – means your film protection will give carpets waterproof and tear-proof protection from tracked-in dirt, paint spills, dust, construction debris and damage as well as remaining easy to remove.
It's flexible and stays in place making it ideal for stairs PLUS the product's white film means it's easy to protect areas not yet covered.
Is Armour Premium Carpet Film right for you? Read on to discover how to order your free samples and access advice to take the guesswork out of the right carpet protection for your next project.
How to Order Your Armour Premium Carpet Film Sample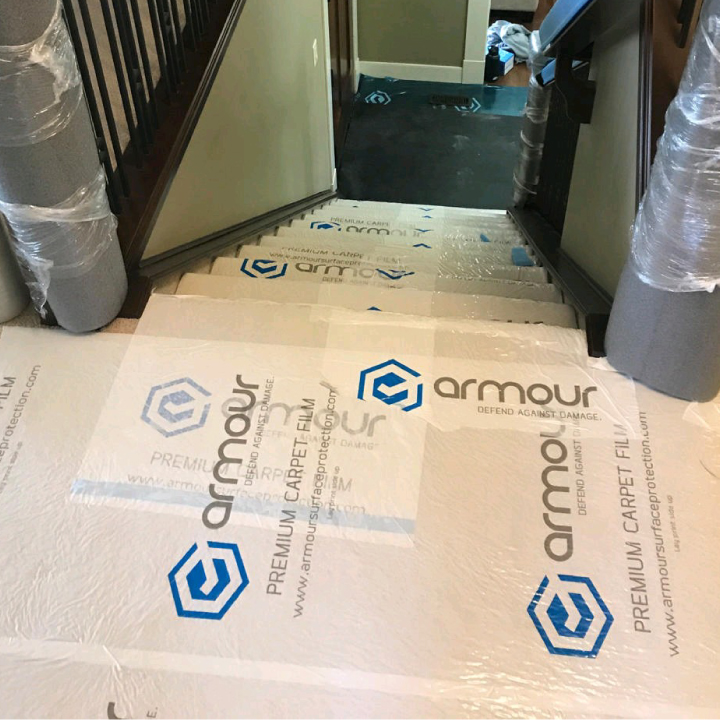 You can find full order details, including pricing, for Armour Premium Carpet Film here. And a downloadable spec sheet is available here.
Requests for a sample to assess the high quality of the film and check how it can work for your projects are very welcome.
To order your sample (and a free pack of candy as a thanks from us!) simply send us your details here and we'll send it out without delay.
To go ahead and request a competitive quote, or if you have any questions, simply Ask Axiom for a fast, expert response.
The Axiom Difference
Why Axiom? It's simple. We don't believe in 'traditional customer service'. We believe, passionately, in going much, much further.
Our free Project Assistance for construction pros means live, expert and in-depth help with temporary surface protection challenges. Every time. Book your virtual session here.
The Axiom expert you'll speak to eats sleeps and breathes temporary surface protection. After all, we're the subject specialists because it's all we do! Plus, our renowned, rapid delivery service is about to get even faster across Canada thanks to a Vancouver Distribution Centre joining our centres in Calgary and Toronto.
This means delivery to your site as fast as next day. Questions? Ask our temporary surface protection specialists today. We're here to help.
See also: How to Protect Elevators from Jobsite Damage, Avoiding Bathtub Damage During Construction
#TemporaryFloorProtection #TemporarySurfaceProtectionProducts #CanadaFloorProtection #Construction #FloorProtection #TemporarySurfaceProtection #CanadianConstruction #ConstructionProtection #ConstructionProfessional #SiteSuperintendent #SiteSupervisor #ConstructionManager #ArmourProtectionBoard #BulldogBoard #DefendAgainstDamage #BulldogBoardFloorProtection #FloorProtectionCanada #ConstructionFloorProtection #BulldogBoard #MullionProtection #TemporaryFrameProtection #TemporaryWindowProtection #GlazingProtection #WindowMullionProtection #AluminumMullionProtection #SlabOnGrade #ConcreteSlab #ConcreteProtection #ConcreteFloorProtection #ConcreteSlabProtection #AxiomSurfaceProtection #StairProtection #Stairs #TemporaryStairProtection #Canada #SiteProtection #StairTread