Floor Protection
Temporary Floor Protection For School Gymnasium Floors
June 4, 2020
Gyms are often used for storage for reasons such as:
Waxing the floors throughout the rest of the school
Renovations during holiday seasons
New construction of schools
They are used for storage and as a place for putting things because they are usually wide open rooms which makes it easy to put everything into.
The challenge with this, is that gym floors are often a hardwood floor that can easily be damaged if not protected properly.
ARMOUR PROTECTION FLEECE
Tacky anti-slip coating on the underside, and a waterproof breathable layer on top for excellent protection
160 gsm polyester
Great for concrete, hardwood, tile, carpets, linoleum, and any other hard surfaces
Manufactured from non-woven synthetic fibres
The top side acts as a barrier against liquids and the underside acts as an anti-slip material
Armour Protection Fleece works great as a temporary protection solution on all hard floors as it stays in place and can be further secured with Armour Tape.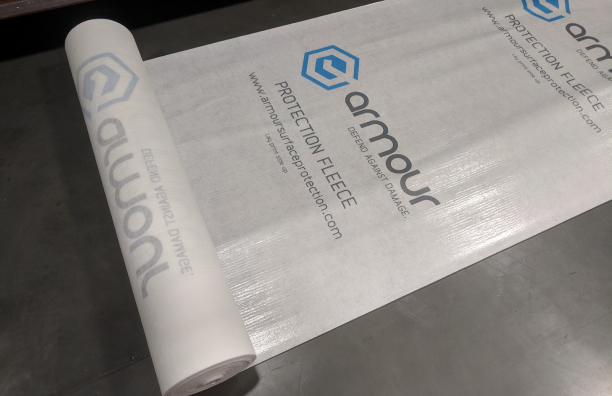 ARMOUR PROTECTION BOARD
Lightweight, waterproof, flexible, and easy to cut
Impact resistant
Easy to use and install
Lays flat and easily bends and flexes
Armour Protection Board works very well for protecting gym floors because it is fully waterproof, easy to cut to the exact required size, and can be held in place with Armour Tape to secure it. We have different thicknesses and densities of Armour Protection Board, depending on the level of protection you require for your project, anywhere from 2mm to 4mm thick and different density levels.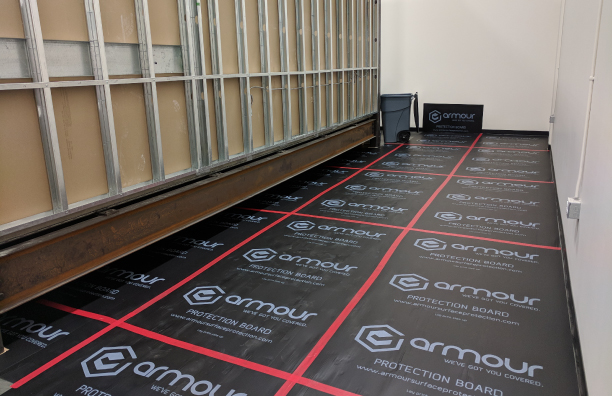 BULLDOG BOARD
Bulldog Board has a reputation in the industry as a high quality temporary floor protection solution that defends against damage. Bulldog Board comes standard with more features packed into it than any other paperboard floor protection on the market. All of this is wrapped up with exceptional value in an easy solution to keep your floors protected from damage during construction and renovations.
ARMOUR SPILL PROTECTION
LAYS OUT FLAT AND FAST
ARMOUR BREATHE TECHNOLOGY
HEAVY DUTY PROTECTION
ARMOUR WALL PROTECTION
CONTRIBUTES TO LEED CREDITS
IMPACT RESISTANT
RE-USABLE AND 100% RECYCLABLE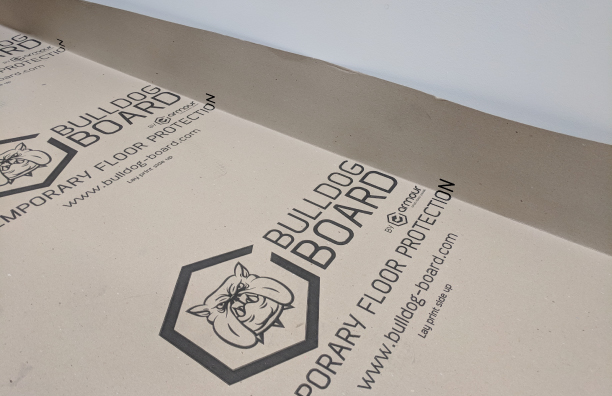 If you'd like to talk to an expert in temporary surface protection solutions, about your project anywhere in Canada, then reach out!
You can view our various Temporary Surface Protection products at ,www.axiomsp.ca/product/s
Please reach out to one of our specialists for your project needs to answer your questions and to help you with samples and pricing.
#TemporaryFloorProtection #TemporarySurfaceProtectionProducts #CanadaFloorProtection #Construction #FloorProtection #TemporarySurfaceProtection #CanadianConstruction #ConstructionProtection #ConstructionProfessional #SiteSuperintendent #SiteSupervisor #ConstructionManager #ArmourProtectionBoard #BulldogBoard #BulldogBoardFloorProtection #FloorProtectionCanada #ConstructionFloorProtection #BulldogBoard #MullionProtection #TemporaryFrameProtection #TemporaryWindowProtection #GlazingProtection #WindowMullionProtection #AluminumMullionProtection #SlabOnGrade #ConcreteSlab #ConcreteProtection #ConcreteFloorProtection #ConcreteSlabProtection #AxiomSurfaceProtection #CanadaWide #DefendAgainstDamage