Floor Protection
Rolls Or Sheets? A Temporary Floor Protection Guide.
September 30, 2019
When choosing a solution for protecting your floor surface temporarily, there are a few factors that come into consideration, however one important factor that isn't always discussed is installation time – How long does it take to install product A versus product B? Can 1 person install this product, or does it take 2 people, essentially doubling the man hours required?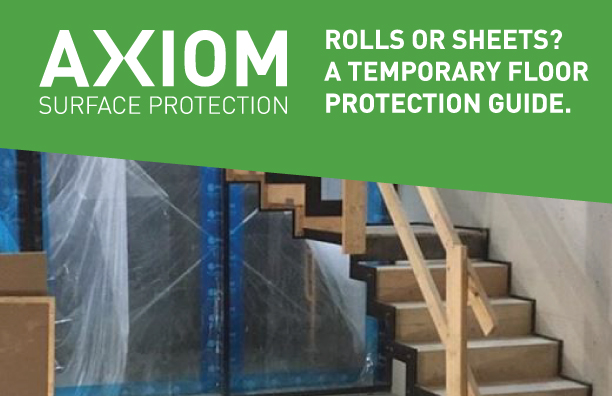 Roll products are often quicker to lay out in larger open spaces such as hallways and large rooms. They require less seams to tape, and therefore can speed up the installation process significantly compared to laying sheets down. However, in smaller spaces such as bathrooms or apartments, etc. rolls of floor protection can be more hassle, more cuts, and cumbersome to move the roll around in a small space.
Sheet products are easy to lay down and install in smaller spaces as they can be overlapped easily requiring less cuts. Armour Protection Board is available in sheet format and weighs far less than other comparable products such as Masonite and Hardboard, making it easy for 1 person to install. This is a popular option for construction professionals across Canada.
You can view our various Temporary Floor Protection products at https://axiomtsp.com/floor-protection
Please reach out to one of our specialists for your project needs to answer your questions and to help you with samples and pricing.
#TemporaryFloorProtection #TemporarySurfaceProtectionProducts #CanadaFloorProtection #Construction #FloorProtection #TemporarySurfaceProtection #CanadianConstruction #ConstructionProtection #ConstructionProfessional #SiteSuperintendent #SiteSupervisor #ConstructionManager #RamBoard #BuilderBoard #Caraustar #Protectafloor #Skudo #BulldogBoard #BulldogBoardFloorProtection #FloorProtectionCanada #ConstructionFloorProtection #BulldogBoard #BulldogBoard #RamBoardToronto #RamBoardOntario #BuilderBoardToronto #BuilderBoardOntario #builderboard #ramboard #carpetshield #MullionProtection #TemporaryFrameProtection #TemporaryWindowProtection #GlazingProtection #WindowMullionProtection #AluminumMullionProtection #SlabOnGrade #ConcreteSlab #ConcreteProtection #ConcreteFloorProtection #ConcreteSlabProtection