Latest News
Nous Avons Maintenant Un Nouveau Catalogue De Produits Disponible | French Catalogue Now Available
May 3, 2021
Nous sommes excitées de partager notre nouveau catalogue de produits en Français avec vous. C'est une ressource utile pour soutenir les professionnels de la construction francophone au Canada. Ceci nous aide à maintenir notre position dans l'industrie canadienne de la construction en tant que leader comme fournisseur de solutions de protection temporaire des surfaces. Nous sommes un partenaire qui comprend et travaille avec les équipes de construction et des individus tout partout au Canada pour rendre vos travaux plus faciles.
Voici quelques façons qu'on aide l'industrie de la construction francophone.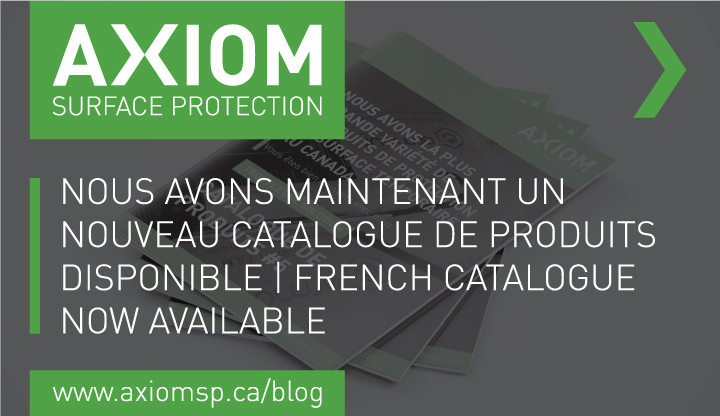 1) NOUS AVONS UN GESTIONNAIRE DE COMPTE RÉGIONAL BILINGUE POUR VOUS FOURNIR DES CONSEILS SUR VOS BESOINS EN MATIÈRE DE PROTECTION TEMPORAIRE DES SURFACES.
2) UN CATALOGUE DE PRODUITS EN FRANÇAIS POUR VOIR NOTRE VARIÉTÉ DE PRODUITS ET TROUVER UNE SOLUTION POUR VOTRE PROJET.
3) UN GUIDE DE PRIX FRANÇAIS POUR VOUS AIDER À IDENTIFIER FACILEMENT LE COÛT DES SOLUTIONS DE PROTECTION.
4) LIVRAISON RAPIDE TOUT PARTOUT AU CANADA À PARTIR DE NOS ENTREPOTS DE L'OUEST ET DE L'EST DU CANADA.
Visitez notre page Catalogue sur le site Web pour voir, télécharger et demander une copie de notre nouveau catalogue Français produits.
Visitez-nous-en-ligne pour voir, télécharger et demander une copie de notre nouveau catalogue de produits en Français.
Chez Axiom Surface Protection, nous avons les solutions protectives pour protéger vos surfaces efficacement et à répondre à tous vos besoins. Si vous avez besoin d'aide à choisir la meilleure solution pour protéger votre projet, contactez votre gestionnaire de compte #TeamAxiom.
---
We are excited to launch our NEW French Product Catalogue as a helpful resource supporting French speaking construction professionals Canada Wide. This further solidifies our position in the Canadian Construction Industry as the leader in temporary surface protection solutions. We are a partner that understands and works with construction teams and individuals from coast to coast, to make your jobs easier and hassle free.
Here are some of the ways we support French speaking Canadians.
1) FULLY BILINGUAL REGIONAL KEY ACCOUNT MANAGER TO CHAT WITH FOR ADVICE ON YOUR TEMPORARY SURFACE PROTECTION NEEDS.
2) FRENCH PRODUCT CATALOGUE TO BROWSE OUR PRODUCT RANGE AND FIND A SOLUTION.
3) FRENCH CONTRACTOR PRICE GUIDE TO HELP YOU EASILY IDENTIFY THE COST OF A SOLUTION.
4) FAST DELIVERY CANADA WIDE FROM OUR WESTERN AND EASTERN CANADIAN DISTRIBUTION CENTRES.
Visit our Catalogue page on the website to view, download, and request a copy of our new French Product Catalogue.
https://axiomtsp.com/catalogue
Here at Axiom Surface Protection we have a solution for your temporary protection problem! If you need assistance in choosing the correct temporary surface protection solution for your project, please reach out to the friendly #TeamAxiom wherever you are in Canada.
#TemporaryFloorProtection #TemporarySurfaceProtectionProducts #CanadaFloorProtection #Construction #FloorProtection #TemporarySurfaceProtection #CanadianConstruction #ConstructionProtection #ConstructionProfessional #SiteSuperintendent #SiteSupervisor #ConstructionManager #ArmourProtectionBoard #BulldogBoard #DefendAgainstDamage #BulldogBoardFloorProtection #FloorProtectionCanada #ConstructionFloorProtection #BulldogBoard #MullionProtection #TemporaryFrameProtection #TemporaryWindowProtection #GlazingProtection #WindowMullionProtection #AluminumMullionProtection #SlabOnGrade #ConcreteSlab #ConcreteProtection #ConcreteFloorProtection #ConcreteSlabProtection #AxiomSurfaceProtection #StairProtection #Stairs #TemporaryStairProtection #Canada #SiteProtection #StairTread