Floor Protection
New Product | Introducing Defender-Guard Temporary Floor Protection
May 26, 2021
NEW PRODUCT IN STOCK
Introducing Armour Defender-Guard by Armour Surface Protection!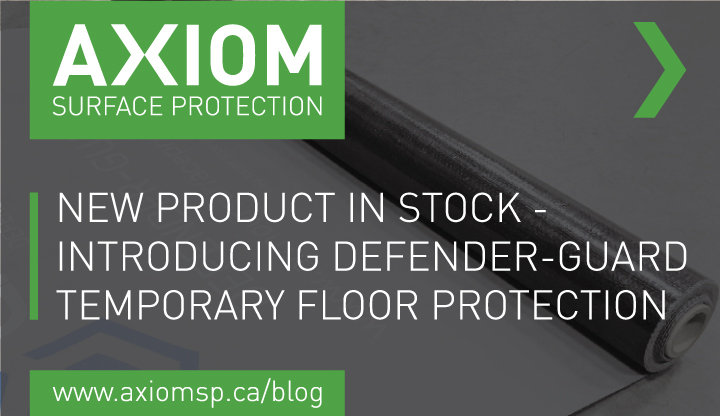 Armour Defender-Guard is a high strength #temporaryfloorprotection solution that can absorb liquids without weakening it. The top-side consists of an embossed pattern which offers extreme grip under foot, along with the anti-slip coating on the under-side to avoid it moving on the finished surface. Due to the type of material, Defender-Guard lays flat every time without recoiling, which allows the user to lay it down quickly and effectively. Since it is high strength, it is re-usable and can be cleaned by vacuum or by wiping it down, and easily rolled up for re-use.
View more info and request free samples here – https://axiomtsp.com/product/armour-defender-guard
Here at Axiom Surface Protection we have a solution for your temporary protection problem! If you need assistance in choosing the correct temporary surface protection solution for your project, please reach out to the friendly #TeamAxiom wherever you are in Canada.
#TemporaryFloorProtection #TemporarySurfaceProtectionProducts #CanadaFloorProtection #Construction #FloorProtection #TemporarySurfaceProtection #CanadianConstruction #ConstructionProtection #ConstructionProfessional #SiteSuperintendent #SiteSupervisor #ConstructionManager #ArmourProtectionBoard #BulldogBoard #DefendAgainstDamage #BulldogBoardFloorProtection #FloorProtectionCanada #ConstructionFloorProtection #BulldogBoard #MullionProtection #TemporaryFrameProtection #TemporaryWindowProtection #GlazingProtection #WindowMullionProtection #AluminumMullionProtection #SlabOnGrade #ConcreteSlab #ConcreteProtection #ConcreteFloorProtection #ConcreteSlabProtection #AxiomSurfaceProtection #StairProtection #Stairs #TemporaryStairProtection #Canada #SiteProtection #StairTread