Floor Protection
New Product | Discover Armour Pro-Tack Felt
May 5, 2022
How This GAME-CHANGING Surface Protector Will Improve Your Jobsites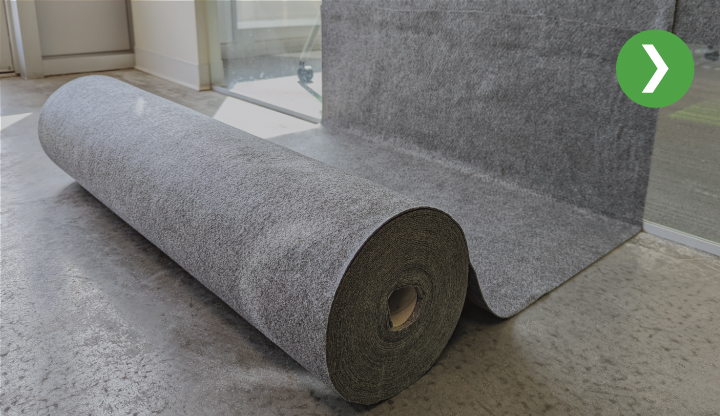 We eat, sleep and breathe jobsite temporary surface protection, so a product that stops us in our tracks doesn't come along too often. Then, boom! We set eyes on the awesome Armour Pro-Tack Felt.
And we're excited for you and all our clients.
Here's why: the versatility of this revolutionary product, thanks to its ability to self-adhere to almost any surface vertical or horizontal plus protect HARD when it's in place, means for some jobsites it could be almost the only product you need.
Here's why the Armour Pro-Tack Felt should be one of your top go-to products for high-performance temporary surface protection… Why You Need to Know About Armour Pro-Tack Felt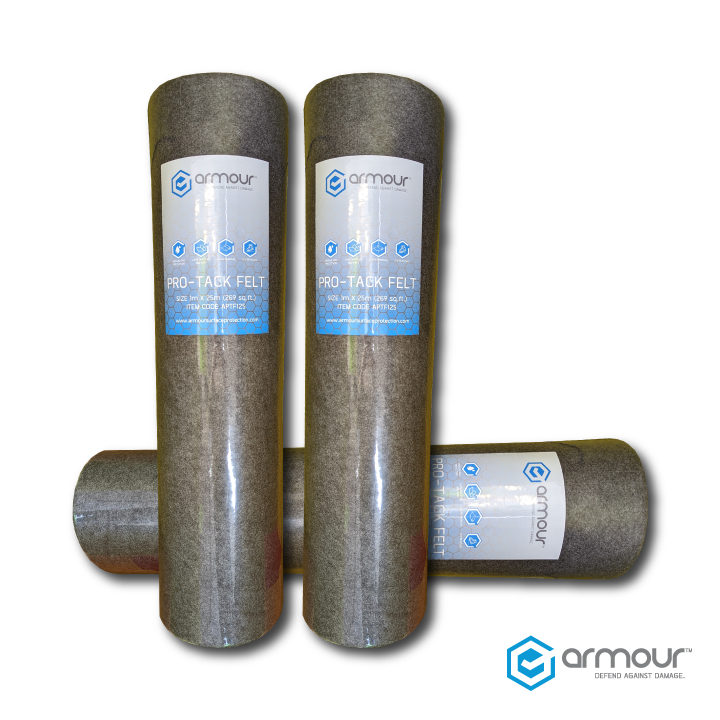 Some surfaces on a jobsite, like glass partitions and elevators, would leave your profits in pieces if damage occurred.
That's where Armour Pro-Tack Felt steps in.
Not only does it guard these essential surfaces with BIG impact protection and spill-proofing, but it has the flexibility – thanks to its roll and cut design – to be secured into place fast for a short jobsite set-up time.
Yes, you might need floor protection for some jobsites too, but for some projects the advantage of a single, multi-purpose surface protection solution you can trust to perform this well is a huge innovation.
Here's a closer look at the awesome features Armour Pro-Tack Felt brings to jobsite surface protection:
• What: A very strong non-woven felt product, Armour Pro-Tack Felt offers a waterproof bottom layer meaning the felt layer can absorb liquid while keeping the protected surface completely dry. Its self-adhesive design means it can simply be unrolled, cut and applied!
• Where: Particularly suitable for areas where high-performance impact protection is needed thanks to its thick design and strength. Armour Pro-Tack Felt stays in place beautifully meaning shower pans/trays, bathtubs, glass, mirrors, walls, elevators, doors, countertops, cabinets and more can all be protected.
Read on to discover how to use the Armour Pro-Tack Felt as well as some essential jobsite tips.
What You Need to Know About Armour Pro-Tack Felt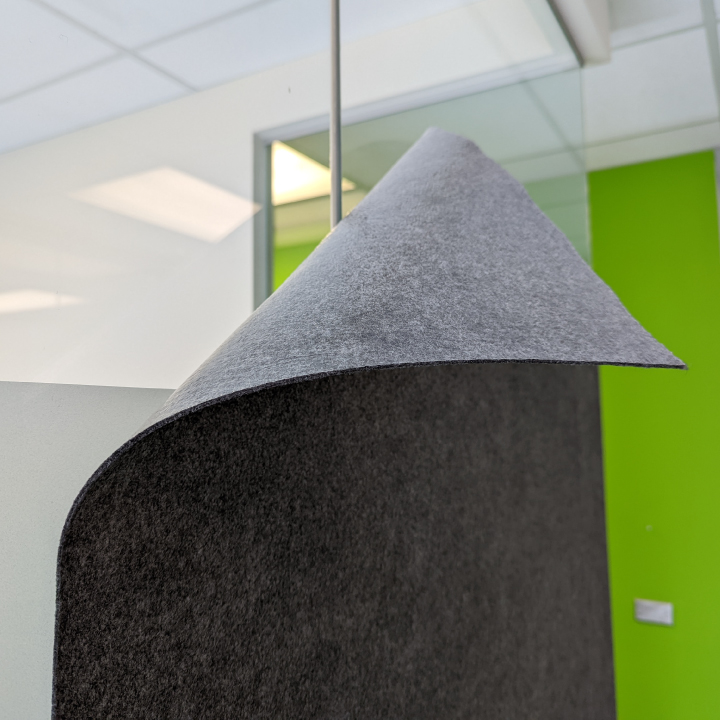 Because Armour Pro-Tack Felt is exceptionally user-friendly, there are a huge number of ways to use it with ease and only two exceptions to watch out for.
The steps to add the benefits of Armour Pro-Tack Felt to your next jobsite are simple:
• Order to size: Armour Pro-Tack Felt comes in 1m x 25m rolls, meaning 269 sq.ft. of coverage, making it easy to keep the quantity you'll need close to hand. Most of all, it's an incredibly handy material to have in your corner and is well worth keeping in reserve as an ad hoc timesaving temporary surface protector too.
• Roll and cut: Cut to size and apply, horizontally or vertically, using the product's own self-adhesive, waterproof lower layer.
• Use almost anywhere: We've mentioned surfaces like shower pans/trays, bathtubs, glass, mirrors, walls, elevators, doors, countertops, and cabinets but the flexibility of Armour Pro-Tack Felt means you may well find even more uses for it. If you do, let us know!
However, our experts recommend that two things are kept in mind…
• Clean removal timescale: Armour Pro-Tack Felt has been designed to offer clean removal for up to an impressive 90 days, but should be removed or replaced after this time has elapsed.
• Indoors only: Armour Pro-Tack Felt isn't designed for outdoor use but if you need help to pick a more suitable product just ask. We're here to help.
Here's a reminder…
Find an Armour Pro-Tack Felt spec sheet here or to speak to an Axiom temporary surface protection expert with any questions simply click here.
How to Get (or Even Sample) Your Armour Pro-Tack Felt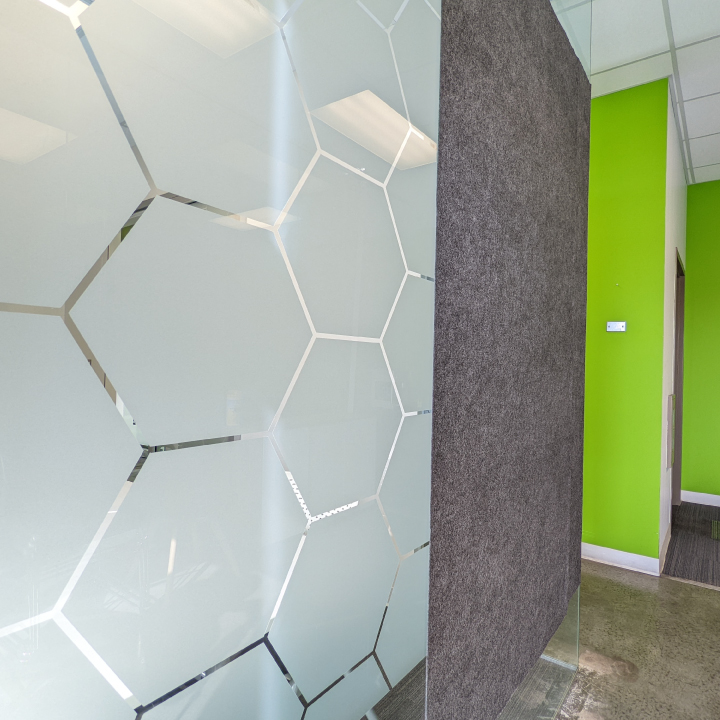 At Axiom we love to do three things: save you time, save you money and help you look good!
Armour Pro-Tack Felt has been purpose-designed to make this happen… • Saves time: Rapid set-up and removal means superb efficiency plus, of course, no time wasted on damage repairs.
• Saves money: The cost of replacing valuable finished surfaces like glass partitions is avoided.
• Looks good: Armour Pro-Tack Felt looks great on a jobsite, promotes a professional image for your work and gives outstanding reassurance to clients.
How can you bring Armour Pro-Tack Felt to your jobsite?
• Option 1, expert help: We take the hard work out of choosing the right surface protection in a simple way our construction professional clients LOVE: our free Project Assistance means live, expert and in-depth help with temporary surface protection challenges. Every time. Book your virtual session here.
• Option 2, try before you order: Use our free sample box service. We'll even include a free pack of candy to say thanks!
Once you're ready to order, simply order online or let us know and we'll get you the information you need. Fast. When you place your order our renowned, rapid delivery service across Canada and North America is now faster than ever thanks to our Vancouver Distribution Centres joining our centres in Calgary and Toronto.
Finally, why trust Axiom? Well, We're the market leaders because we never stop searching for the latest temporary surface protection innovations to add to our product range. Adding this to our passion for extreme customer service makes us the leader!
Questions? Ask our temporary surface protection specialists today. We're here to help.
See also: A Must-See for Temporary Floor Protection Buyers, Hard Surface Film vs Countertop Film
#TemporaryFloorProtection #TemporarySurfaceProtectionProducts #CanadaFloorProtection #Construction #FloorProtection #TemporarySurfaceProtection #CanadianConstruction #ConstructionProtection #ConstructionProfessional #SiteSuperintendent #SiteSupervisor #ConstructionManager #ArmourProtectionBoard #BulldogBoard #DefendAgainstDamage #BulldogBoardFloorProtection #FloorProtectionCanada #ConstructionFloorProtection #BulldogBoard #MullionProtection #TemporaryFrameProtection #TemporaryWindowProtection #GlazingProtection #WindowMullionProtection #AluminumMullionProtection #SlabOnGrade #ConcreteSlab #ConcreteProtection #ConcreteFloorProtection #ConcreteSlabProtection #AxiomSurfaceProtection #StairProtection #Stairs #TemporaryStairProtection #Canada #SiteProtection #StairTread