Glass & Window Protection
Mastering Glass & Window Protection: Best Practices For Construction Sites
September 1, 2023
In the midst of the bustling activity at construction sites, one element remains particularly vulnerable – glass and windows.
With their inherent fragility, these surfaces demand a level of protection that goes beyond aesthetics. Understanding the significance of safeguarding this investment, we're here to shed light on the risks associated with glass surfaces during construction.

Discover how Axiom's comprehensive protection solutions alleviate these challenges, empowering our valued construction professionals to focus on their core expertise.
Why Is Glass And Window Protection So Important?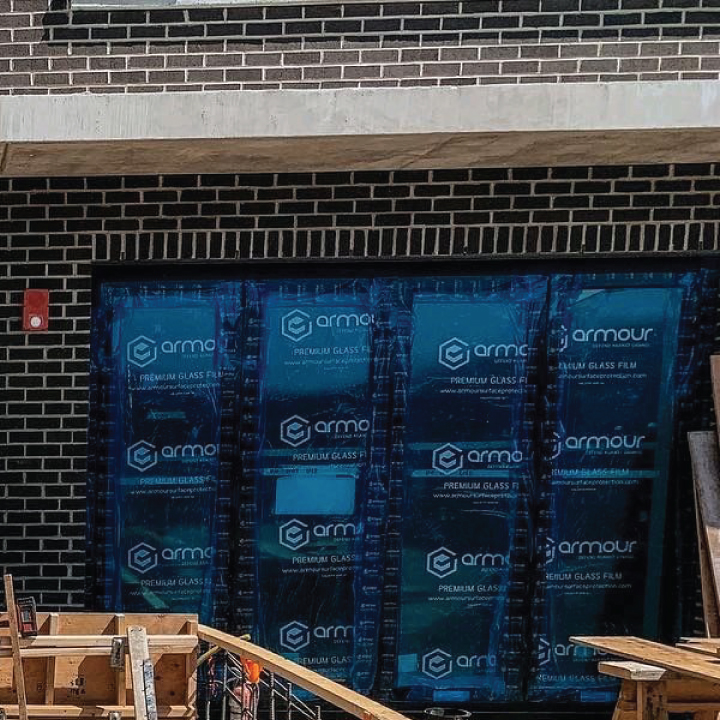 Glass surfaces, despite their elegance, face an array of risks on construction sites. Impacts from tools and equipment, scratches, debris, drywall mud, and even paint overspray pose a threat.
Cost-Efficiency at its Best:: Investing in high-quality glass and window protection during the early stages of construction yields remarkable returns. Preventing damage outright eliminates the need for costly repairs or replacements down the line.
Time is of the essence: We know how busy our construction pros are and we understand that time is a critical factor. Replacing custom-sized glass can be a time-consuming endeavor, potentially derailing project schedules. Quick and easy application of advanced protection ensures that projects proceed without delays caused by glass and window damage.
Sustainability: Embracing protective measures not only shields your glass surfaces but also plays a role in reducing waste. Opt for reusable solutions like our Armour Protection Board, designed to be used multiple times, aligning perfectly with the ethos of sustainable job sites.
Customer Satisfaction: The appearance of a building speaks volumes about its construction quality. Immaculate glass surfaces demonstrate meticulous attention to detail, leaving clients satisfied and earning your project the glowing reviews it deserves.
Easy Cleanup: By protecting glass and windows up front, it can save huge amounts of time and cost at the final post construction cleanup stage.
Best Practices For Glass & Window Protection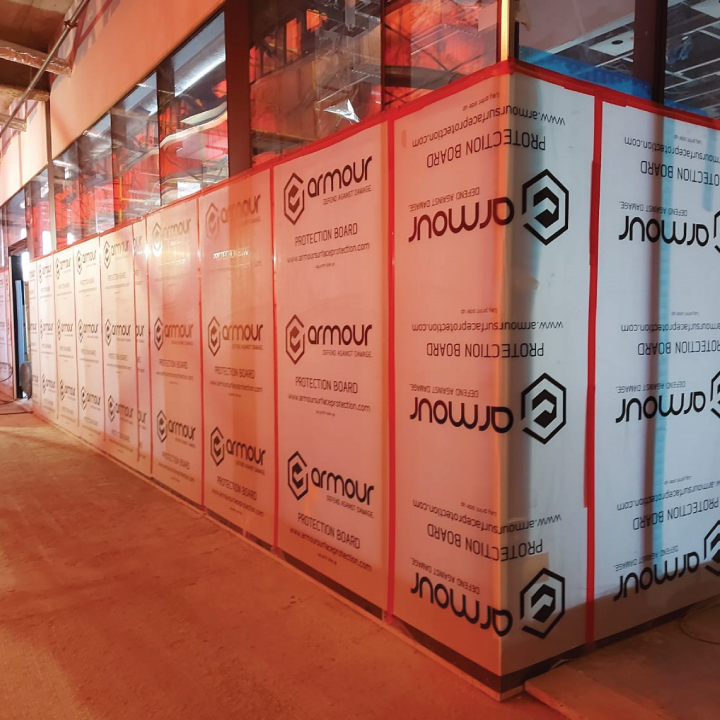 In the realm of modern architectural design, glass and windows wield transformative power – from elevating aesthetics to enhancing energy efficiency. However, their vulnerability to damage on a dynamic construction site cannot be overlooked.
Debris, impacts, and even inclement weather pose threats to these delicate surfaces. The ever-present possibility of human error adds another layer of concern, where even the most minor misstep can lead to significant repercussions.
To counter these challenges, effective implementation and precise protection become pivotal. Below, we outline the best practices we recommend for glass and window protection.
Early Intervention is Key:
In construction, timing is everything. It's the same old story – the day before your protection arrives, a rogue piece of debris scratches the most expensive window on the jobsite. Avoid this by implementing protection measures right from the start of construction.
The Armour Liquid Mask is the ideal protection to always have on hand. Simply paint it on and peel it off when the project is complete.
Regular Inspection and Maintenance: Vigilance pays off, especially when it comes to your glass and windows. Keeping an eye on windows and glass helps to ensure protection is optimal. By identifying potential issues early on, you can mitigate risks before they escalate into costly and time-consuming problems.
Be Weather Aware: Building in your project in December and a window breaks? Being aware of your climate is essential in protecting your windows and glass. Shielding from rain, wind-blown debris and temperature fluctuations helps prevent damage and the resulting increased costs.
Measure, Measure, Measure: Even the slightest millimeters of error in measurement can lead to issues like peeling protection and unsightly air bubbles, ultimately diminishing the effectiveness of your protective measures. Ensuring accurate measurements contributes significantly to the longevity and reliability of your glass protection.
Selecting The Right Glass Protection Products
Axiom's commitment to comprehensive protection solutions extends to recognizing the distinct needs of glass surfaces. Our range of tailored products provides a solution for every scenario, ensuring that your project's glass and windows receive the care they deserve.
When it comes to choosing the appropriate protection product, aligning with your project's unique requirements is pivotal. Here are some key considerations to guide your selection process:
How Long Do You Need To Protect The Glass For?
We have glass protection for every project length. From our 90-day Armour Premium Glass Film or 365-Day Armour Premium Glass Film. 
Using high-quality film is essential. Temporary surface protection films are a versatile way to protect windows and glass no matter the project's length. These films are easy to apply, offer great protection against drywall, mud, and dust, and are easily removed.
What Level Of Protection Do You Need?
Is your glass in a high-traffic area? Maybe it's a particularly expensive piece of glass? High-impact protection such as our Pro-Tack Felt is a super strong, self-adhesive temporary protection that has clean removal.
Do You Still Need Natural Light To Shine Through?

Our construction pros know there's a difference between natural light and artificial light. If natural light is important to your project, use ARMOUR PROTECTION BOARD – TRANSLUCENT. This 4mm thick plastic sheet is lightweight, waterproof, impact impact-resistant while still allowing light to shine through.

Glass and window surfaces might seem vulnerable amidst the chaos, but with the right protection, you're ensuring more than just a pristine finish. Axiom's range of solutions is tailored to your needs, whether it's a short project or a long-term endeavor.
By choosing the right protection, you're not just shielding glass – you're safeguarding your time, your budget, and your client's trust. And with Axiom at your side, you're not just building structures; you're building a reputation for excellence in every detail.
We're Here To Help
Based in North America? Simply order online today and you could have your window protection as fast as tomorrow. Our dispatch process begins the second an order is received!
We don't just supply window protection, our superb range is separated into eight protection types for your convenience:
✓ Floor protection: Including custom-printed Armour Protection Boards
✓ Door and edge protection: Including Armour Door Protection Sleeves
✓ Stair tread and riser protection: Including Armour Stair Tread Protector
✓ Kitchen and bathroom protection: Including Bathtub Protection Liner
✓ Adhesive protection tapes: Including Armour Multi-Use Protection Tape
✓ Glass and window protection: Including Armour Premium Glass Film
✓ HVAC protection: Our recommendation? Armour Premium Duct Film
✓ Dust control: Including Zipwall Dust Barriers
✓ Installation tools: Including Carpet Film Applicator
Remember: there's NO need for guesswork when it comes to figuring out the best products for your next jobsite, simply call our free Project Assistance service.
Whether you order right away or reach out for advice first, we'll be proud to help you save time, save money and look good on your jobsites. It's what we do!