Dust Control
How To Stop Dust From Tracking Into Your Finished Space With 1 Simple Solution
March 2, 2020
Sticky mats. Sticky pads. Dust pads. Dust sheets. Clean room mats. Tak Mats. Tak Pads.
We call them Armour Tak-Mat Pads, and here's what they are.
A 24in X 36in mat that is sticky on the top side, so that when you walk on it the dust from your footwear sticks to the mat, and stops it from tracking into a finished space. Armour Tak-Mat Pads grab dirt and debris from footwear, leaving floors clean and damage free which is great for dust control in environments such as hospitals and healthcare facilities, or any finished project that has been cleaned and ready for handing over.
Each mat has 30 sheets, so when the top layer clogs up, you just peel it off and dispose of it, and start using the remaining sheets below.
You can view a video of the product in use here – https://www.youtube.com/watch?v=fX-bBVPNMFE or view the product on our website here – https://axiomtsp.com/product/tak-mat-pad-30-sheets-blue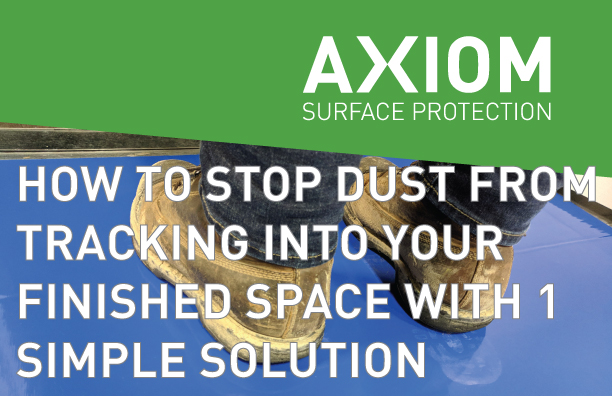 If you'd like to talk to an expert in temporary surface protection solutions, about your project anywhere in Canada, then reach out!
You can view our various Temporary Surface Protection products at www.axiomsp.ca/product/s
Please reach out to one of our specialists for your project needs to answer your questions and to help you with samples and pricing.
#TemporaryFloorProtection #TemporarySurfaceProtectionProducts #CanadaFloorProtection #Construction #FloorProtection #TemporarySurfaceProtection #CanadianConstruction #ConstructionProtection #ConstructionProfessional #SiteSuperintendent #SiteSupervisor #ConstructionManager #ArmourProtectionBoard #BulldogBoard #BulldogBoardFloorProtection #FloorProtectionCanada #ConstructionFloorProtection #BulldogBoard #MullionProtection #TemporaryFrameProtection #TemporaryWindowProtection #GlazingProtection #WindowMullionProtection #AluminumMullionProtection #SlabOnGrade #ConcreteSlab #ConcreteProtection #ConcreteFloorProtection #ConcreteSlabProtection #AxiomSurfaceProtection