Latest News
How To Effectively Protect Polished Concrete From Construction Damage
June 23, 2021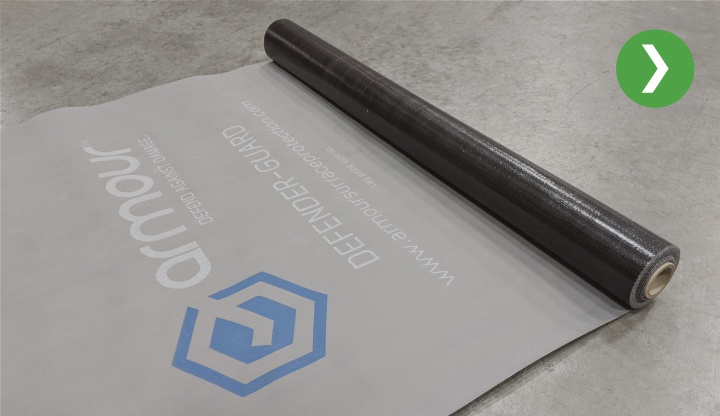 Polished concrete is often seen on projects ranging from industrial settings to commercial offices and even residential spaces. It can easily be damaged and is expensive to rectify. A question we get a lot here at Axiom is – How do I effectively protect polished concrete? Here are some suggestions.
Armour Protection Fleece is made from 160 gsm non-woven synthetic fibres with a tacky anti-slip coating on the under-side, and a waterproof layer on the top-side. This ensures that it stays in place without sliding around on the finished surface, and protects from any liquid penetration. Since it is soft and non-abrasive, it protects from scuffs and scratches especially on smooth high shine surfaces such as polished concrete. This can be used on its own, or with a higher impact protection product on top of it, depending on the traffic that will be going over the floor, and the level of protection required.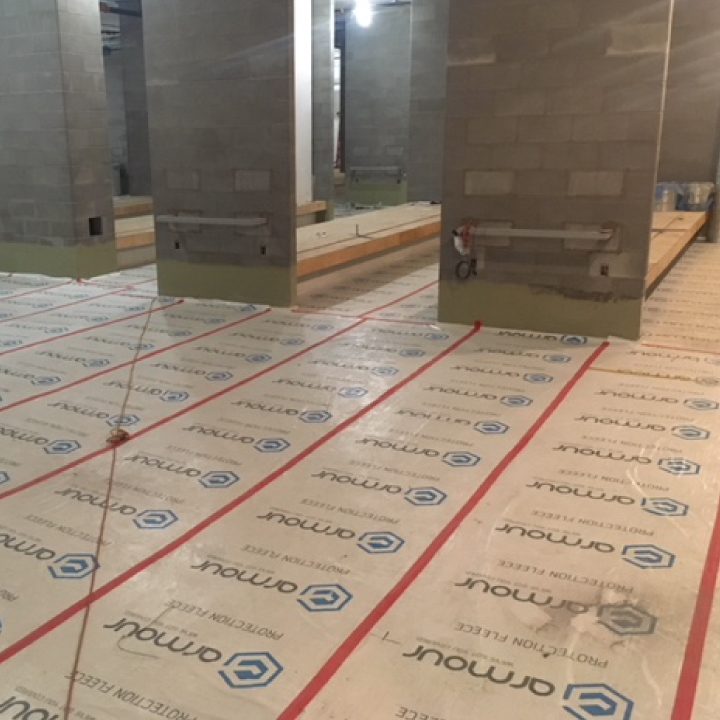 Armour Protection Board is available as a 2mm, 4mm, or 4mm thick fluted plastic sheet product which is versatile, easy to use and install, and can be used in many different applications as a temporary surface protection solution. Commonly used to protect floors such as polished concrete because it is lightweight, waterproof, flexible, impact resistant, easy to cut, and it lays flat. The Grey version is the most heavy duty one available at 4mm thick and made from a high density formula. This will protect from high impact traffic and when combined with the Armour Protection Fleece, this will make a top notch polished concrete floor protection solution.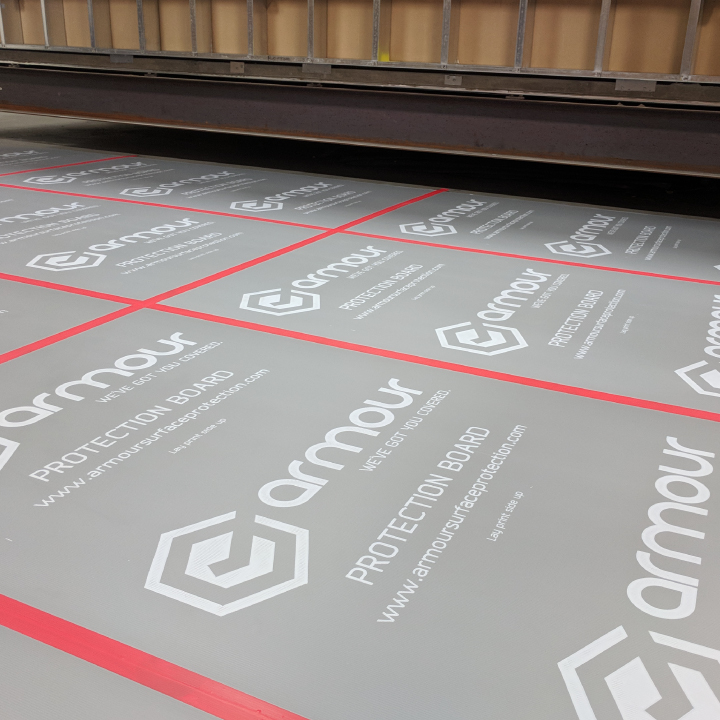 Bulldog Board has a reputation in the industry as a high quality temporary floor protection solution that defends against damage. Bulldog Board comes standard with more features packed into it than any other paperboard floor protection on the market. All of this is wrapped up with exceptional value in an easy solution to keep your polished concrete floors protected from damage during construction and renovations. With it being a paper based product, there are 2 main things to consider:
How long will my polished concrete need to be protected for?
What type of traffic will be going over my protected polished concrete?
If your project is a long term project and will need to be protected for the duration of it, or if you intend to have a lot of heavy traffic going over your floor, then a paper based product like Bulldog Board would not be your ideal solution. Instead you should consider something such as Armour Defender-Guard.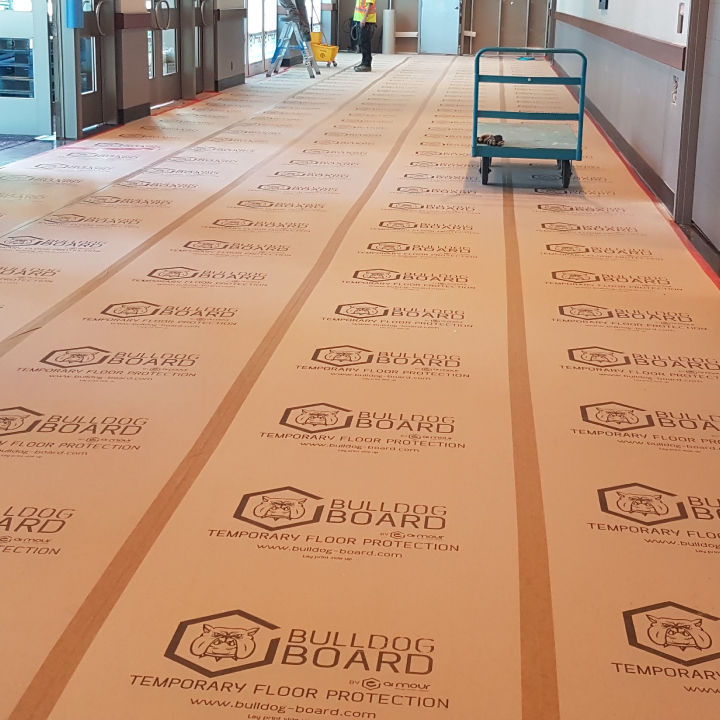 Armour Defender-Guard is a high strength temporary floor protection solution that can absorb liquids without weakening it. The top-side consists of an embossed pattern which offers extreme grip under foot, along with the anti-slip coating on the under-side to avoid it moving on the finished surface. Due to the type of material, Defender-Guard lays flat every time without recoiling, which allows the user to lay it down quickly and effectively. Since it is high strength, it is re-usable and can be cleaned by vacuum or by wiping it down, and easily rolled up for re-use. This solution is perfect for protecting polished concrete from foot traffic and even carts, etc. since it can handle high traffic scenarios without breaking down and tearing for long periods of time.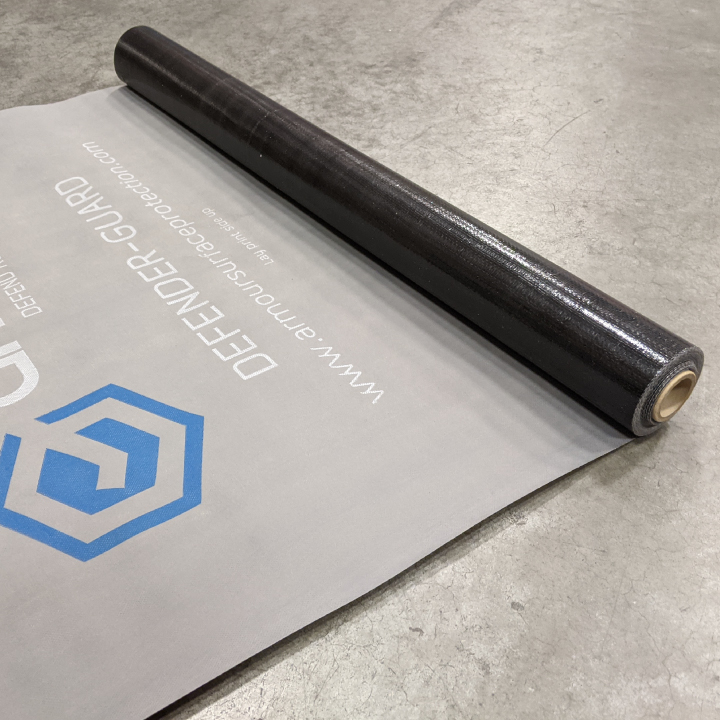 Here at Axiom Surface Protection we have a solution for your temporary protection problem! If you need assistance in choosing the correct temporary surface protection solution for your project, please reach out to the friendly #TeamAxiom wherever you are in Canada.
#TemporaryFloorProtection #TemporarySurfaceProtectionProducts #CanadaFloorProtection #Construction #FloorProtection #TemporarySurfaceProtection #CanadianConstruction #ConstructionProtection #ConstructionProfessional #SiteSuperintendent #SiteSupervisor #ConstructionManager #ArmourProtectionBoard #BulldogBoard #DefendAgainstDamage #BulldogBoardFloorProtection #FloorProtectionCanada #ConstructionFloorProtection #BulldogBoard #MullionProtection #TemporaryFrameProtection #TemporaryWindowProtection #GlazingProtection #WindowMullionProtection #AluminumMullionProtection #SlabOnGrade #ConcreteSlab #ConcreteProtection #ConcreteFloorProtection #ConcreteSlabProtection #AxiomSurfaceProtection #StairProtection #Stairs #TemporaryStairProtection #Canada #SiteProtection #StairTread