Latest News
How Can Axiom Save Me Time, Save Me Money, And Make Me Look Good?
April 25, 2018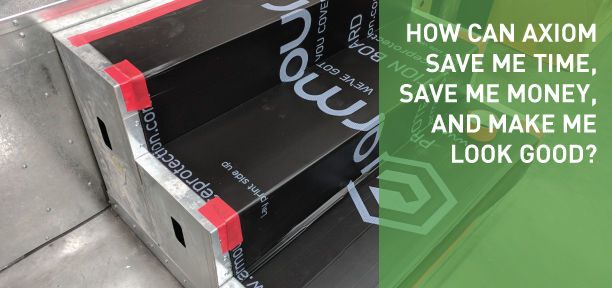 We understand Surface Protection. We will help you choose the best solution for your project to ensure that you save time and money, avoid disruption to your construction schedule, maximize profitability on your projects, and prevent damage to your reputation.
​Simply put, we help you
SAVE TIME
PROTECT NOW SO YOU DON'T HAVE TO DEAL WITH TIME CONSUMING REPAIRS AT THE END OF YOUR PROJECT
SAVE MONEY
AVOID COSTLY REPAIRS OF DAMAGED SURFACES BY PROTECTING THEM CORRECTLY
​LOOK GOOD
PORTRAY A PROFESSIONAL IMAGE TO YOUR CLIENTS AND THE GENERAL PUBLIC BY GOING THE EXTRA MILE
Many construction and renovation companies across Canada are trusting Axiom with their Temporary Surface Protection solutions because of our vast knowledge of the best products on the market, and what works in what situation. We stock a large range of unique protection products for protecting floors and countertops and many other surfaces.
BROWSE OUR TEMPORARY SURFACE PROTECTION PRODUCTS HERE
#TemporarySurfaceProtectionProducts #TemporarySurfaceProtectionSolutions #ArmourSurfaceProtection #ArmourFleece #ArmourProtectionFleece #ArmourBoard #ArmourProtectionBoard #ArmourFoamDoorJamb #FoamDoorFrameProtectors #ArmourPremiumCountertopFilm #ArmourCounterTopFilm