Latest News
Hard Surface Film VS. Countertop Film: Which Armour Premium Product Should I use?
March 21, 2022
One of the (many!) construction professionals who rely on Axiom for surface protection advice asked a great question recently: when should Armour Premium Hard Surface Film be used and when should Armour Premium Countertop Film be used?
Why was it such a good question? Because these two popular and trusted products are kind of interchangeable. Sometimes.
Confused? We'll fix that! Read on for a quick explanation we think every construction professional should see…
Premium Hard Surface Film vs Premium Countertop Film: The Big Question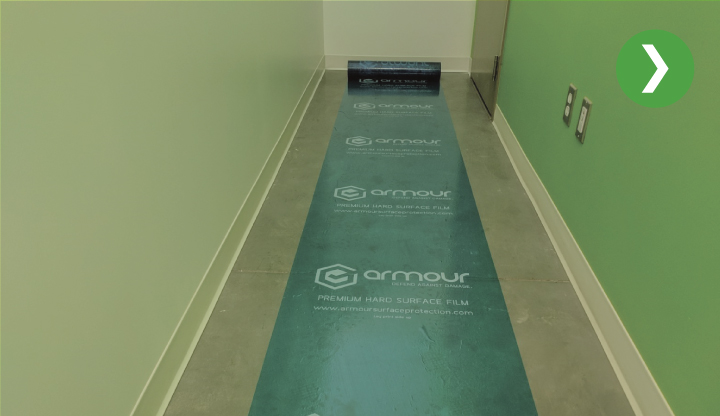 Knowing when to use Armour Premium Hard Surface Film and when to use Amour Premium Countertop Film comes down to one word: 'where?'. Knowing where the products will be used will help make the right choice and deliver the best possible surface protection performance on a jobsite. Firstly, let's take a look at what each type of film was designed to do…
In the case of Armour Premium Hard Surface Film…
• What: A thin, blue, tear-resistant and waterproof film with an adhesive backing you can rely on to keep scuffs, scratches, dust, paint, drywall mud and more off finished surfaces on a jobsite. Simple.
• Where: Trusted to protect surfaces like hard floors, cabinets and lockers. • How: A choice of six different sizes of rolls are offered to suit every application, simply pull the film off the roll and apply for up to 45 days. Because it's a thin film it simply scrumples into a small ball on removal for quick and easy disposal.
Now turning to Armour Premium Countertop Film…
• What is it: A slightly thicker, clear film with a special adhesive purpose-made to protect any type of countertop surface • Where can it be used: Keeps granite, marble, quartz, and various other countertop surfaces safe from scuffs, scratches, paint and much more. • How is it used: Apply the film and peel away within 45 days for quick and clean removal
These two excellent products have a SLIGHT overlap in their capabilities. But for some specific tasks, one product will perform better than the other. See below for a breakdown.
Premium Hard Surface Film vs Premium Countertop Film: Making Your Choice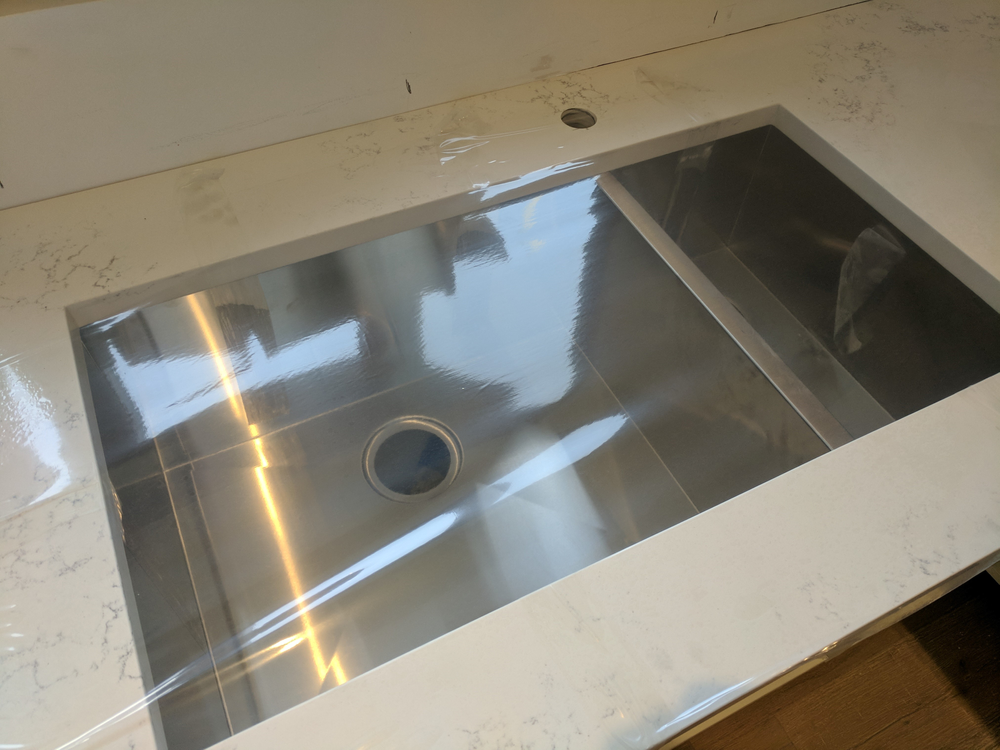 It's worth repeating that knowing when to use Armour Premium Hard Surface Film and Amour Premium Countertop Film comes down to one word: 'where?'. Taking an even closer look at where these Armour films are at their best reveals some important differences… Armour Premium Hard Surface Film…
• Great for: Almost all hard surfaces but especially hard floors and cabinetry
• Not ideal for (but usable): Countertops, however, because they're a flat horizontal surface often used to set tools etc onto Armour Premium Countertop Film should ideally be used for extra strength and tear protection
Armour Premium Countertop Film…
• Great for: Every kind of countertop
• Don't use for: Hard floors (or any surface aside from countertops)
This can broken down into a quick comparison we'd recommend keeping close to hand when kitting up for a jobsite…
All in all, Armour Premium Hard Surface Film is ALMOST a one size fits all product but Armour Premium Countertop Film will perform even better for countertops (and countertops alone).
Jobsite Surface Protection WITHOUT Guesswork: Here's How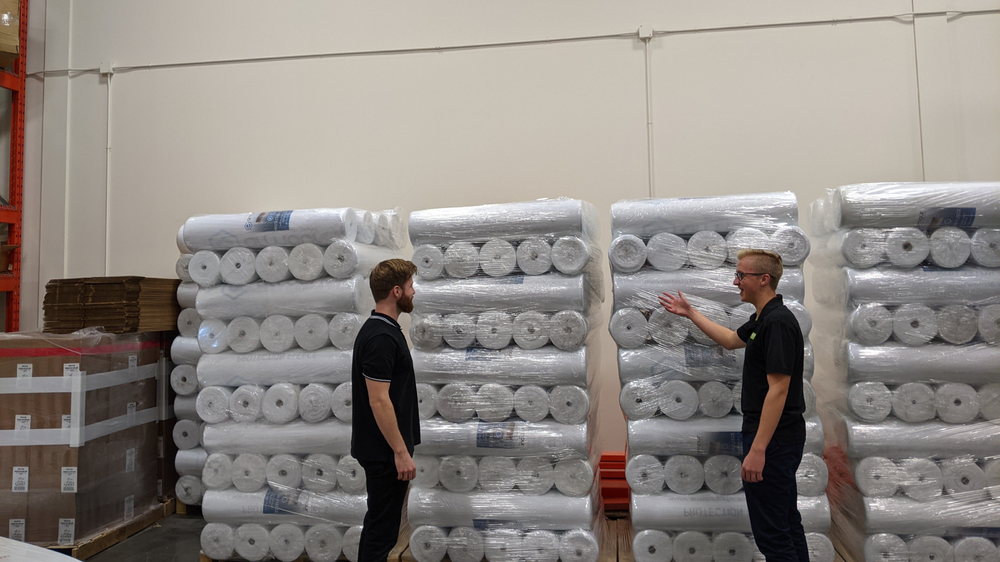 Of course, if in doubt always remember that we take the hard work out of choosing the right surface protection in a simple way that our construction professional clients LOVE: our free Project Assistance means live, expert and in-depth help with temporary surface protection challenges.
Every time. Book your virtual session here.
The Axiom expert you'll speak to eats, sleeps and breathes temporary surface protection. After all, we're the subject specialists because it's all we do!
Plus, you can even try before you buy thanks to our free sample box service. We'll even include a free pack of candy to say thanks!
When you place your order our renowned, rapid delivery service across Canada and North America is now faster than ever thanks to our Vancouver Distribution Centres joining our centres in Calgary and Toronto.
This means the advice you need right now and delivery to your site as fast as the next day. Job done. Questions? Ask our temporary surface protection specialists today. We're here to help.
See also: How to Order Jobsite Surface Protection Products, A Must-See All-Terrain Surface Protection Solution
#TemporaryFloorProtection #TemporarySurfaceProtectionProducts #CanadaFloorProtection #Construction #FloorProtection #TemporarySurfaceProtection #CanadianConstruction #ConstructionProtection #ConstructionProfessional #SiteSuperintendent #SiteSupervisor #ConstructionManager #ArmourProtectionBoard #BulldogBoard #DefendAgainstDamage #BulldogBoardFloorProtection #FloorProtectionCanada #ConstructionFloorProtection #BulldogBoard #MullionProtection #TemporaryFrameProtection #TemporaryWindowProtection #GlazingProtection #WindowMullionProtection #AluminumMullionProtection #SlabOnGrade #ConcreteSlab #ConcreteProtection #ConcreteFloorProtection #ConcreteSlabProtection #AxiomSurfaceProtection #StairProtection #Stairs #TemporaryStairProtection #Canada #SiteProtection #StairTread