Latest News
Get Your Free 2022 Wall Calendar Planner
December 15, 2021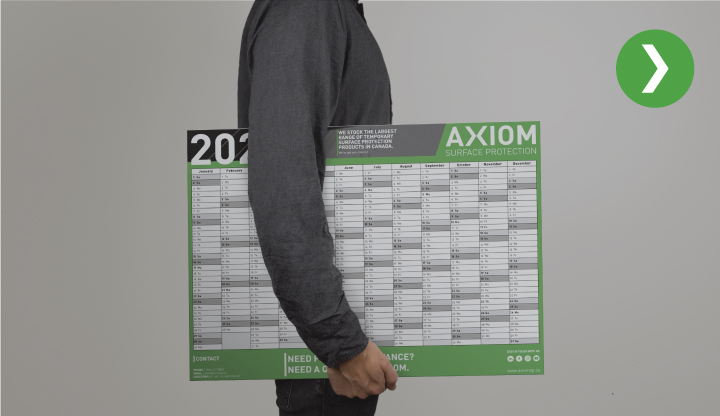 We'd like to share a quick update of our holiday hours and also let you know that you can get a FREE 2022 Wall Calendar Planner – details below!
But First… we need to thank you. 2021 has been a year full of challenges as well as opportunities, and thankfully #TeamAxiom has overcome many challenges with a goal of keeping our customers satisfied. We're a positive team here, and are always looking for ways to improve in any area of our company – we always strive to do better.
We have lots of exciting things in the works for 2022, and we can't wait to share them with you! Stay in touch with us through our LinkedIn, Facebook, Instagram and we'll make sure you're the first to know!
So again – THANK YOU for your business, your support, and your interest in Axiom this year. It means a lot as we continue on our journey of being the leader in Temporary Surface Protection #CanadaWide!
REQUEST YOUR FREE 2022 WALL CALENDAR PLANNER HERE
Here at Axiom Surface Protection we have a solution for your temporary protection problem! If you need assistance in choosing the correct temporary surface protection solution for your project, please reach out to the friendly #TeamAxiom!
#TemporaryFloorProtection #TemporarySurfaceProtectionProducts #CanadaFloorProtection #Construction #FloorProtection #TemporarySurfaceProtection #CanadianConstruction #ConstructionProtection #ConstructionProfessional #SiteSuperintendent #SiteSupervisor #ConstructionManager #ArmourProtectionBoard #BulldogBoard #DefendAgainstDamage #BulldogBoardFloorProtection #FloorProtectionCanada #ConstructionFloorProtection #BulldogBoard #MullionProtection #TemporaryFrameProtection #TemporaryWindowProtection #GlazingProtection #WindowMullionProtection #AluminumMullionProtection #SlabOnGrade #ConcreteSlab #ConcreteProtection #ConcreteFloorProtection #ConcreteSlabProtection #AxiomSurfaceProtection #StairProtection #Stairs #TemporaryStairProtection #Canada #SiteProtection #StairTread