Latest News
FINALLY, A TAPE THAT WON'T LEAVE RESIDUE!
January 21, 2019
When running a construction project, you need to save time and save money wherever possible to stay within your budget and time frame. Tape is a commonly used solution for fastening materials to keep them in place around the job site, but if you use the wrong tape it can cost you a lot more than just the purchase price. What we mean by this, is that many tapes are not designed to remove from the surface cleanly, and therefore leave residue behind on the surface where they were stuck. Fortunately, that is not the case now with Armour Tape!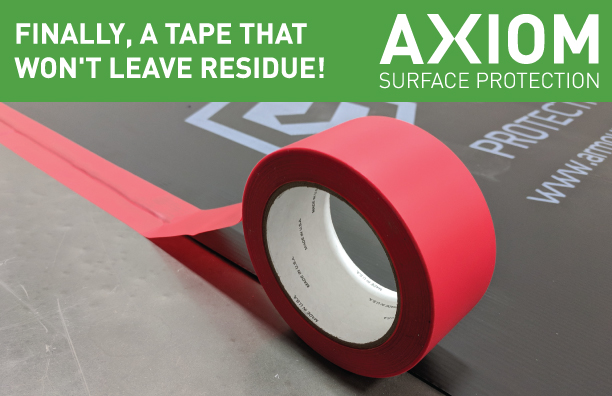 Armour Tape is designed with the same or higher tackiness as many other tapes, so it can be used to hold most construction materials in place. It is also UV resistant, which means it can be placed in direct sunlight and will not be affected by the UV rays. With clean removal for up to 60 days, this tape has you covered!
Excellent tape for use with floor protection products as well as protecting thresholds and bathtubs and other objects on construction sites during renovations and construction work, including stucco
Polyethylene backed, UV Stabilized
Also available in blue and white
Alternative to duct and tuck tape
Stucco work
Glass and window protection
60 day clean removal
Threshold protection
Mullion protection
View the video here.
https://www.youtube.com/watch?v=ootMfax-4v0
REQUEST A FREE SAMPLE ROLL HERE
#TemporaryFloorProtection #TemporarySurfaceProtectionProducts #CanadaFloorProtection #Construction #FloorProtection #TemporarySurfaceProtection #CanadianConstruction #ConstructionProtection #ConstructionProfessional #SiteSuperintendent #SiteSupervisor #ConstructionManager #RamBoard #BuilderBoard #Caraustar #Protectafloor #Skudo #BulldogBoard #BulldogBoardFloorProtection #FloorProtectionCanada #ConstructionFloorProtection #BulldogBoard #BulldogBoard #RamBoardToronto #RamBoardOntario #BuilderBoardToronto #BuilderBoardOntario #builderboard #ramboard #carpetshield #MullionProtection #TemporaryFrameProtection #TemporaryWindowProtection #GlazingProtection #WindowMullionProtection #AluminumMullionProtection