Latest News
6 Ways To Properly Protect Stairs During A Construction Project
December 2, 2020
Stairs are vulnerable on construction projects for a few reasons.
They WILL be used. Unlike a separate room that has new flooring installed and the door can be closed once finished, to stop anyone from walking there – Stairs will be used. They are a means to get from floor to floor and back down again, so it's inevitable that they are going to get foot traffic on them.
They are often one of the first things to be installed on a project, to make it run smoother allowing easy access from floor to floor. This means they will see a lot of use right from the beginning, through the whole lifetime of the project.
Due to the nature of stairs, the edges are vulnerable from boots and shoes hitting, scraping, or kicking the nosing and all other areas of a step.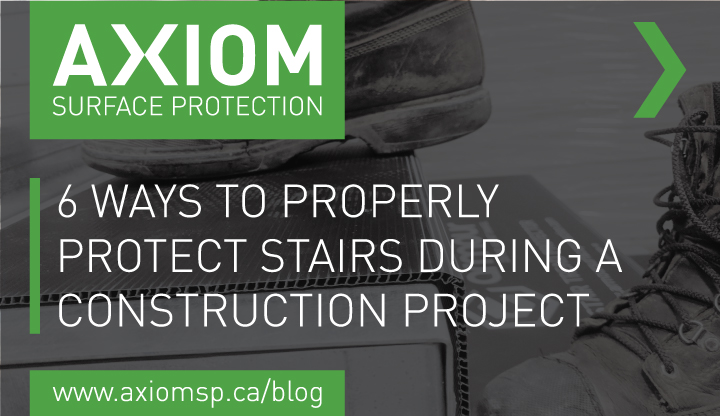 With this in mind, it makes a lot of sense to temporarily protect the stairs with a suitable solution for the duration of your project.
There are several options to consider, depending on the length of time the protection needs to be in place for, what material the stairs are made from, and the amount of foot traffic that the stairs will be getting.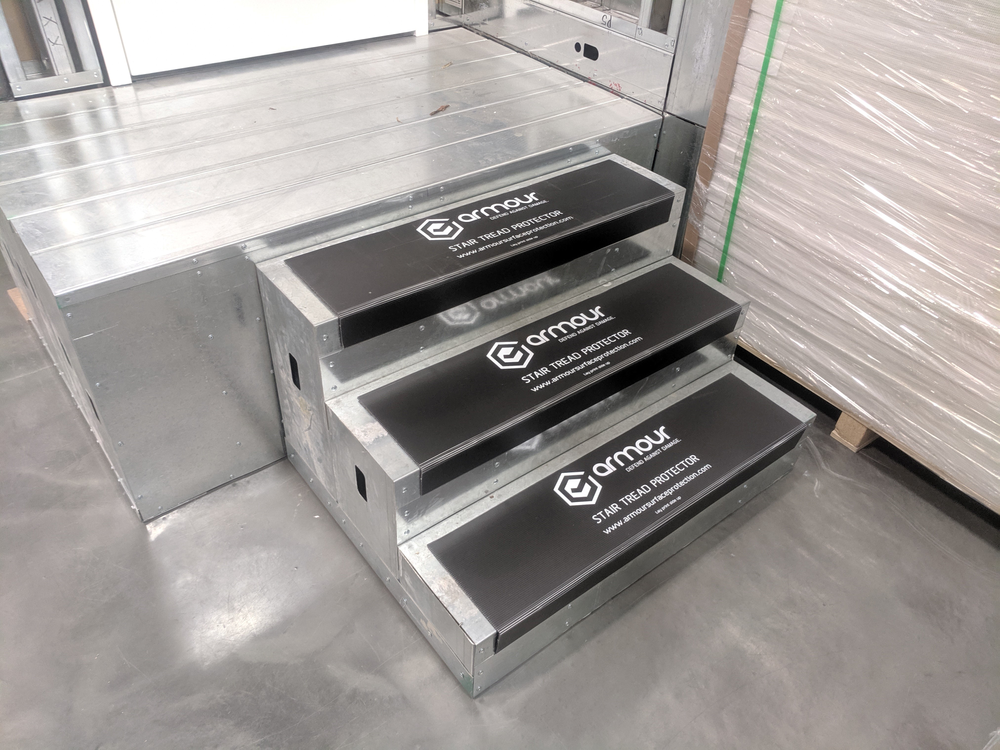 This product provides durable protection for quickly and effectively protecting stairs from getting damaged. They are pre-formed stair tread protectors with a 3in lip designed to cover and protect the riser. Being lightweight, waterproof, super durable, and easy to cut to size for smaller stairs makes them a first choice for many construction professionals Canada Wide. Due to the durability of them, they are often reusable too, which then reduces the cost every time you use them on a new project!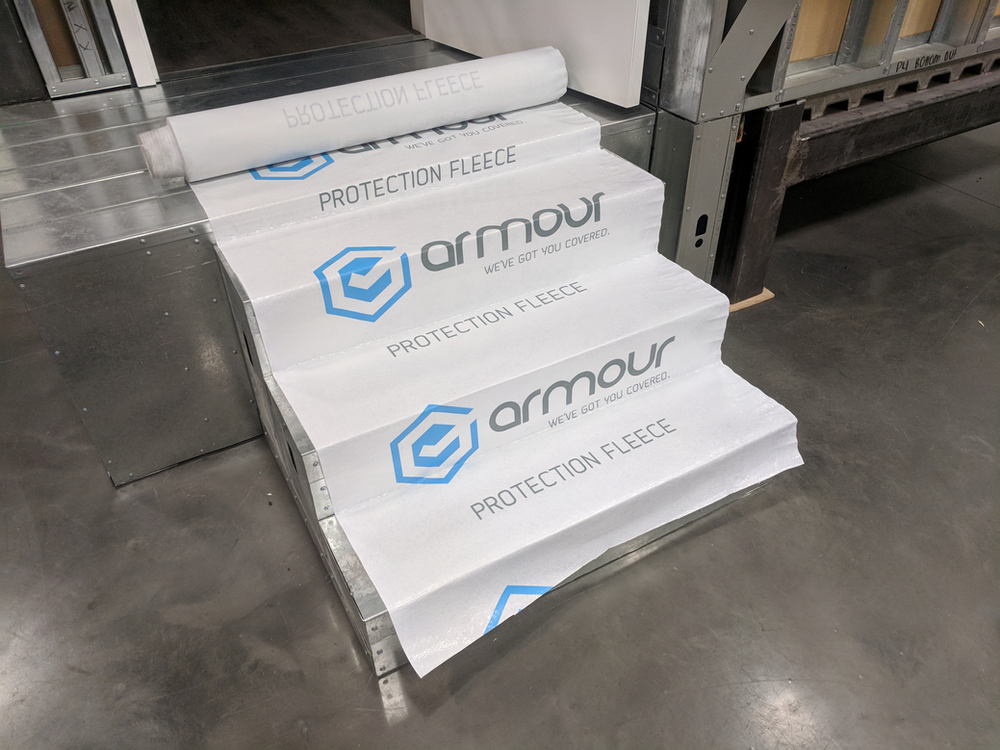 With a tacky anti-slip underside, this product will stay in place on your stairs without slipping underfoot. It's soft, non abrasive, and will not scuff or scratch any hard stair surface. With a fully waterproof top layer, it will be sure to protect from any moisture being tracked in from mud, snow, or rain. It is super flexible and easy to work into every stair tread and nosing, making it a great choice for protecting any type of stairs.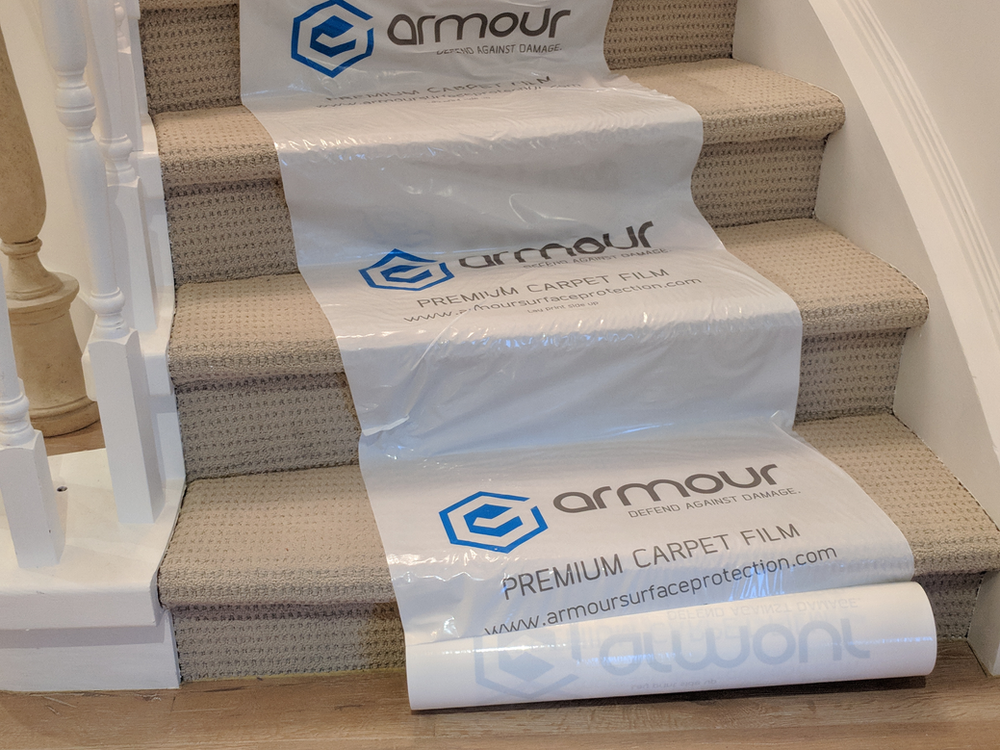 Armour Premium Carpet Film is a temporary, yet extremely effective way to protect carpets from tracked in dirt, paint spills, dust, construction debris, and damage. Carpet Film protects up to 45 days with clean removal. Fully waterproof with white tear resistant film which makes it easy to see areas that have not been covered and protected. If you have carpeted stairs, this product is the answer for you. It's flexible, and stays in place so there's no trip or slip hazard.
ARMOUR PREMIUM HARD SURFACE FILM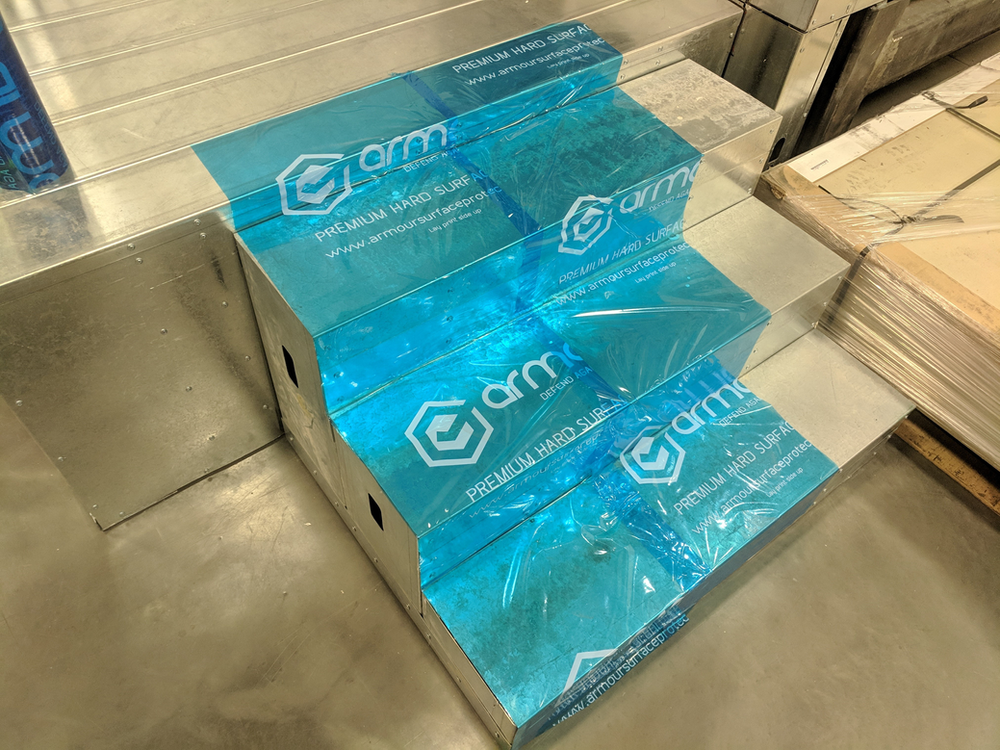 Hard Surface Film effectively protects semi-smooth surfaces such as hardwood and ceramic tile floors from tracked in dirt, paint spills, dust, construction debris, and damage. Designed for use during high-traffic conditions, our 3mil thick floor protection film offers temporary protection of up to 45 days with clean removal. If you need an easy, fast, and effective solution to protect your stairs from minor scuffs, scratches, dirt, dust, paint, or drywall mud – the Armour Premium Hard Surface Film is a perfect solution!
ARMOUR PROTECTION BOARD – BLACK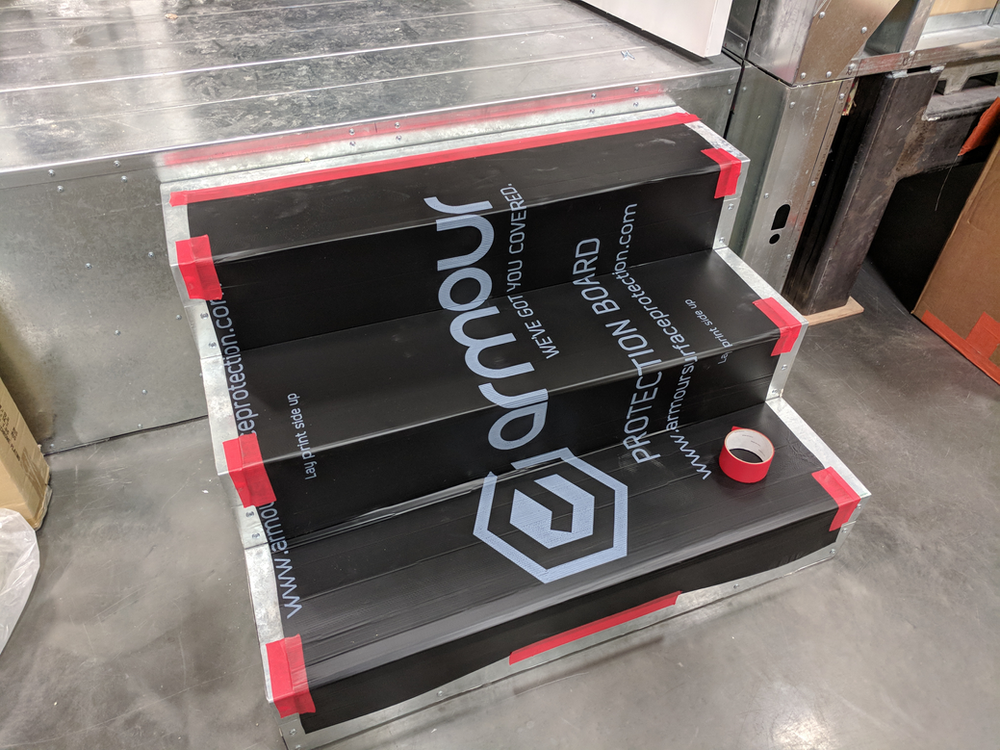 It's lightweight, waterproof, flexible, easy to cut, bends along the flutes nicely to conform to the stair profile, and it's durable! Armour Protection Board – Black is 2mm thick which allows it to bend and flex, but also means it's durable enough to take a beating on your stairs! This product can be used on all stair surfaces including hardwood, tile, carpet, steel, aluminum, marble, lino, lvt, vct, and more!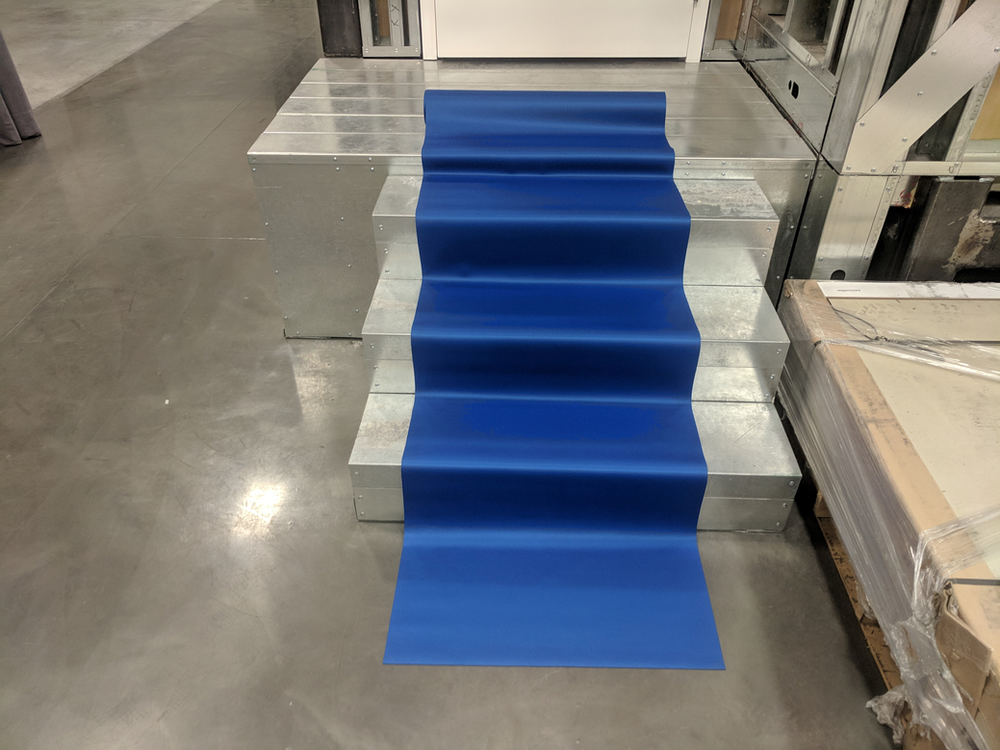 If you are looking for a quick and reusable temporary stair protection solution, then the Armour Neoprene Floor Runner is for you! Available in both red and blue, this is a great solution for service based companies, or for construction projects that are nearing the end and a quick solution is required for final deficiencies or QC and service checks. Neoprene floor runners are grippy on all surfaces due to the rubber bottom side, and waterproof. Most of all, they are super durable so will last a long time for many uses.
In conclusion, we hope this blog post brought you value, and helps you choose the best solution to protect your stairs! Here at Axiom Surface Protection we have a solution for your temporary stair protection problem! If you need assistance in choosing the correct temporary surface protection solution for your project, please reach out to the friendly #TeamAxiom!
#TemporaryFloorProtection #TemporarySurfaceProtectionProducts #CanadaFloorProtection #Construction #FloorProtection #TemporarySurfaceProtection #CanadianConstruction #ConstructionProtection #ConstructionProfessional #SiteSuperintendent #SiteSupervisor #ConstructionManager #ArmourProtectionBoard #BulldogBoard #DefendAgainstDamage #BulldogBoardFloorProtection #FloorProtectionCanada #ConstructionFloorProtection #BulldogBoard #MullionProtection #TemporaryFrameProtection #TemporaryWindowProtection #GlazingProtection #WindowMullionProtection #AluminumMullionProtection #SlabOnGrade #ConcreteSlab #ConcreteProtection #ConcreteFloorProtection #ConcreteSlabProtection #AxiomSurfaceProtection #StairProtection #Stairs #TemporaryStairProtection #Canada #SiteProtection #StairTread