Latest News
3 Ways To Protect Your Countertops During Construction And Renovation Projects
March 30, 2021
Although countertops are usually quite durable, they all seem to be used for 1 thing during a construction or renovation project… a work bench!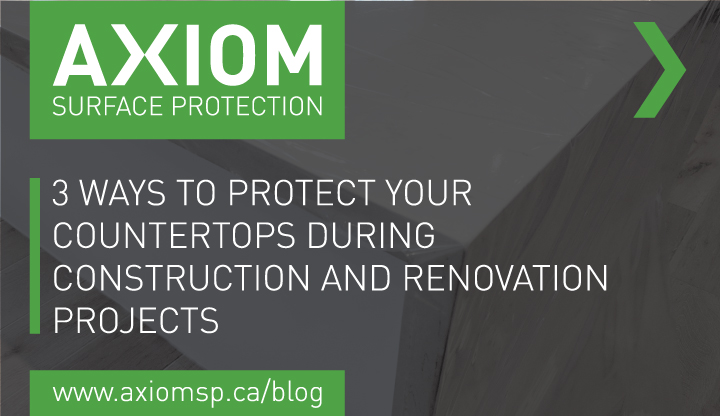 Let's face it, a countertop is the perfect height to store tools or use as a work bench, and after a while it quickly becomes a gathering point for general construction items! This brings the potential for scratches and scuffs, and even perhaps chips or cracks on your brand new countertops!
Here are 3 ways you can protect your countertops to avoid damaging them.
1) ARMOUR PREMIUM COUNTERTOP FILM Armour Premium Countertop Film can be safely applied to the surface without damaging the countertop or leaving residue. With 45 day clean removal, this works as a great solution for protecting granite, marble, quartz, and various other countertop surfaces from scuffs, scratches, paint, and more.

2) ARMOUR PROTECTION FLEECE Armour Protection Fleece is made from 160 gsm non-woven synthetic fibres with a tacky anti-slip coating on the under-side, and a waterproof layer on the top-side. This ensures that it stays in place without sliding around on the finished surface, and protects from any liquid penetration. Since it is soft and non-abrasive, it protects from scuffs and scratches especially on smooth high shine surfaces. Commonly used to protect hard floors, cabinets, countertops, shower bases, stairs, and more.

3) ARMOUR PROTECTION BOARD – BLACK
Armour Protection Board – Black is a 2mm thick fluted plastic sheet product which is versatile, easy to use and install, and can be used in many different applications as a temporary surface protection solution. Commonly used to protect floors, cabinets, walls, countertops, showers, doors, and more. It is lightweight, waterproof, flexible, impact resistant, easy to cut, and it lays flat, making it a first choice for many construction professionals Canada wide.

Here at Axiom Surface Protection we have a solution for your temporary protection problem! If you need assistance in choosing the correct temporary surface protection solution for your project, please reach out to the friendly #TeamAxiom wherever you are in Canada.
#TemporaryFloorProtection #TemporarySurfaceProtectionProducts #CanadaFloorProtection #Construction #FloorProtection #TemporarySurfaceProtection #CanadianConstruction #ConstructionProtection #ConstructionProfessional #SiteSuperintendent #SiteSupervisor #ConstructionManager #ArmourProtectionBoard #BulldogBoard #DefendAgainstDamage #BulldogBoardFloorProtection #FloorProtectionCanada #ConstructionFloorProtection #BulldogBoard #MullionProtection #TemporaryFrameProtection #TemporaryWindowProtection #GlazingProtection #WindowMullionProtection #AluminumMullionProtection #SlabOnGrade #ConcreteSlab #ConcreteProtection #ConcreteFloorProtection #ConcreteSlabProtection #AxiomSurfaceProtection #StairProtection #Stairs #TemporaryStairProtection #Canada #SiteProtection #StairTread