Latest News
How To Protect Window & Door Frames From Damage During Construction And Renovations
November 21, 2018
In Canada, every year there are thousands of renovation projects, construction projects, DIY jobs, and situations where there is a high risk potential for door frames and window frames and mullions to get damaged. Here are some excellent ways to keep your door jambs, window frames, and other surfaces from getting damaged.
ARMOUR MULTI-USE PROTECTION TAPE
A thicker and more durable film for temporary protection of hard surfaces during construction or renovations
Clean removal without leaving residue
Protection for door thresholds, sinks, countertops, bathtubs, shower bases, window frames, door frames, mullions, bathroom fixtures, and other uses on projects
ARMOUR FOAM DOOR JAMB PROTECTOR
Foam Door Jamb Protectors are a unique yet simple product for protecting door jambs and door frames
Quick and easy way of protecting vulnerable door jambs and door frames from passing damage
High density thick foam
Easy to install
Reusable and long lasting
The Cardboard Door Jamb Protector is the ideal solution for any jobsite including building, construction, renovation and moving jobs. The durable construction board material protects door frames from damage including gouges, nicks, dents and scratches. Easy to install and remove, the reusable door jamb protector is a low-cost solution for protecting expensive trim. Fits all standard door jambs.
Reusable
Easy to install
Prevents gouges, nicks, dents and scratches
Fits all standard door jambs
Economical, durable protection
Protect your corners from damage with these easy to use freestanding corner guards. The base is bright orange which stands out so it's easy to see where the corners are. Since it's freestanding, you don't have to worry about taping or fastening the corner guard to a finished surface which may cause more damage. Reusable time after time making them a low cost but effective way to protect any corner from damage.
VIEW ALL OF OUR DOOR & EDGE PROTECTION PRODUCTS HERE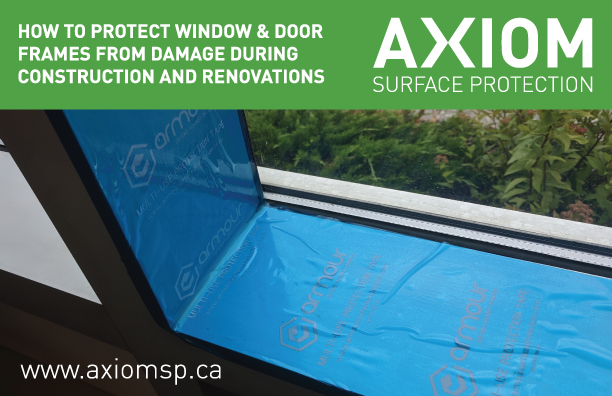 Feel free to reach out to our team at 1-866-617-8502 or sales@axiomsp.ca to get your questions answered and to help you find the best solution for your temporary surface protection needs.
#TemporaryFloorProtection #TemporarySurfaceProtectionProducts #CanadaFloorProtection #Construction #FloorProtection #TemporarySurfaceProtection #CanadianConstruction #ConstructionProtection #ConstructionProfessional #SiteSuperintendent #SiteSupervisor #ConstructionManager #RamBoard #BuilderBoard #Caraustar #Protectafloor #Skudo #BulldogBoard #BulldogBoardFloorProtection #FloorProtectionCanada #ConstructionFloorProtection #BulldogBoard #BulldogBoard #RamBoardToronto #RamBoardOntario #BuilderBoardToronto #BuilderBoardOntario #builderboard #ramboard #carpetshield